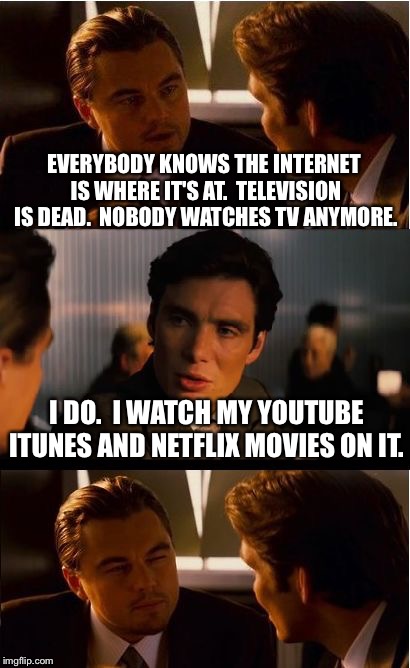 Congratulations to NBC. It passed CBS last year as the most-watched network on television -- because NBC's viewership fell by only 7%, while CBS lost 8% of its viewers.
45 of the top 50 TV channels and networks lost viewers. Only 3 gained (ESPN, ESPN 2 and the Paramount Network). TV Land and Bounce TV neither gained nor lost viewers.
The drop in viewers came despite an Olympics, a popular war and a federal election.
It is pretty spectacular that people tuned out coverage of a very close election. Fox News viewership dropped 1%, MSNBC dropped 22% and CNN dropped 34%.
You cannot blame the drop in viewers on cable cutting.
Variety said, "There may come a time when it just doesn't make sense to rank the broadcast and cable networks anymore. Actually, that time is probably already here, with most viewing now taking place via streaming and other means. And yet, Nielsen's numbers — which include time shifting and other ways people watch, not just live — are still the best barometer of who's watching what in the linear world."
Timothy Leary declared in 1968, "Turn on, tune in, drop out."
55 years later, people are tuning out, turning off and playing video games. Video killed the radio star. Video games are killing the TV star.
As is the Internet.
But viewership is not the measure of success. Revenues are. And some viewers are more important than others. Cable viewers are a cash cow to television.
The cow is on a diet.
Fierce Video reported, "Digital TV Research said the U.S. will lose $23 billion in revenues between 2019 and 2025, and that after peaking at $105 billion in 2015, U.S. pay TV revenues will drop to $56 billion in 2025."
Cord cutting is strangling that cash cow as its revenues will fall nearly in half over 10 years. While that directly affects cable and other TV providers, much of that pay TV money goes to networks as subscription fees. Local TV stations get extra channels on TV for use of their content on cable. Those extra channels are the rerun stations such as MeTV.
Broadcasting & Cable reported that national advertising revenues are projected to fall 6.3% in 2023.
NBC's top rated show is Sunday Night Football, which has nearly four times the viewers that NBC averages overall.
Meanwhile, Amazon and YouTube are circling the NFL like vultures, waiting for its contracts with ABC/ESPN, CBS, Fox and NBC to expire. Amazon already plucked off the Thursday night games and next season the NFL Sunday Ticket show moves from Direct TV to YouTube.
Maybe 2023 won't be as bad as predicted but the drop in audiences and the revenues that go with those audiences continues with no end in sight.
***
This week's Substack column is "The year of the fascists."
Enjoy!