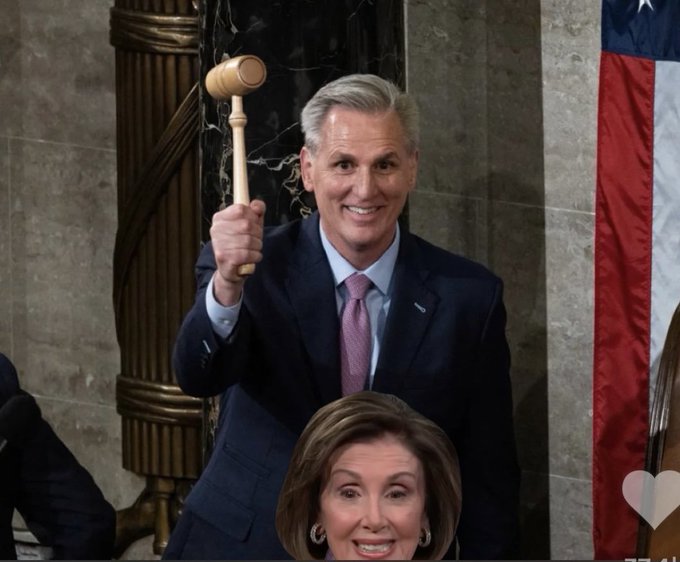 Kevin McCarthy kicked Ilhan Omar, Adam Schiff and Eric Swalwell off powerful committees, just as he said he would do in November. The move comes two years after Pelosi banned Marjorie Taylor Greene and Paul Gosar from all committees.
Paybacks aren't a bitch. Pelosi is.
He bounced Swalwell and Schiff from the intelligence committee and barred Omar from the foreign affairs committee. Swalwell slept with Fang Fang, a spy for Red China.
McCarthy said, "'It's not like it's anything new. Remember, this is what Nancy Pelosi – this is the type of Congress she wanted to have.
"Swalwell can't get a security clearance in the private sector. I'm not going to give him a government security clearance."
McCarthy also said, "Schiff has lied too many times to the American public. He should not be on Intel."
This will affect their ability to collect bribes in the form of campaign donations from corporations and others interested in our spies and foreign relations. Red China now has no need to send a honeypot to Swalwell.
The Daily Mail reported, "Greene was booted off the Budget and then Education and Labor panels in February 2021 over a series of offensive comments she made before being elected to Congress – including pushing conspiracy theories about Jewish people.
"The Democrat resolution to remove her from her committee was backed by 11 House Republicans, as well.
"It's expected that McCarthy will place the Georgia Representative on the Oversight and Accountability Committee, among other potential panel assignments."
As Ed Driscoll said, "As with Harry Reid and the filibuster, why do Democrats think the rules they change won't apply to them when they're the party out of power?"
My gut tells me they believe they never will lose power.
Bouncing the Traitorous Trio from their committees is proof that the fight over the speakership was worth every penny. Not only did it keep Congress inactive for a week, but it forced McCarthy to be tough on Democrats for fear of losing his job.
Of course, he planned to do this all along. The 15 ballots to get elected, however, served as a great reminder of that promise.
In response, Omar played the race card.
She whined on Fox, "I do have to say for a speaker that has faced a historic humiliation — that had gotten elected after 15 rounds, surpassing a record that was set pre-Civil War — there is an opportunity here, as he has said to not do things in the way in which it has been done before.
"I think it would be [hypocritical] for him to remove, you know, the first African born on the subcommittee on Africa on the Foreign Affairs Committee, where I've had the opportunity to not only represent my constituents but the voice of so many people who have never had a voice on the Foreign Affairs Committee."
If all you are is the color of your skin, then you are nothing.
And if you do not do your job as speaker, you will not last.
***
Follow me on Substack too.