Here's the play that caused Damar #Hamlin to collapse. #pray4hamlin #hamlinisland #BillsMafia pic.twitter.com/ODDfeXcaYc

— oldmag5 (@magswrldd) January 3, 2023
ITEM 1: CBS reported, "Bengals vs. Bills 'Monday Night Football' game suspended after Buffalo's Damar Hamlin suffers scary injury."
The player made a tackle, got up and fell to the ground on his back.Pray for him.
24 Hour Rule is in effect.
ITEM 2: Just the News reported, "The Centers for Disease Control and Prevention is pushing for school administrators, nurses, and teachers to embrace the LGBT movement and embrace related curricula in educating students."
The CDC neither controls nor prevents disease. But, man, can it push PC.
ITEM 3: Life News reported, "The Arizona Court of Appeals ruled at the end of last week that the state's 15-week abortion ban is now in force. That's the good news.
"The bad news for pro-life advocates in the Southwestern state is that the state's pre-Roe abortion ban will not go into effect. The fate of the law is depending on whether the Arizona Supreme Court upholds the abortion ban."
I don't see how the old ban did not take affect immediately once Roe was vacated. But I ain't a lawyer, am I?
ITEM 4: The New York Post reported, "A teenage pilot saved his life and the lives of three passengers when he made an emergency landing onto Route 66 in California Monday morning after his small plane lost power.
"Brock Peters, 18, was flying a single-engine plane with family members onboard when he said he heard a pop from the engine while flying above Cajon Pass just before 10 a.m., KTLA reported.
"Peters was soaring over the pass between two large mountain ranges — the San Bernardino Mountains and the San Gabriel Mountains — when he realized he had no other choice but to land, he told Inland News."
Cool, calm and collected.
ITEM 5: Breitbart reported, "U.S. Border Patrol agents apprehended more than 220,000 migrants who crossed the southwest border in December. The number of apprehended illegal aliens sets a record for December and is the second-largest month since the Clinton administration. This brings the total apprehensions for the first quarter of FY23 to more than 631,000."
I doubt that's even half the number of illegal aliens who jumped the border in October, November and December.
ITEM 6: The Daily Caller reported, "With less than 24 hours before the 118th Congress gavels in, a small group of House Republicans are still pledging to kill a Kevin McCarthy speakership in the cradle.
"With 222 Republican representatives, California Rep. Kevin McCarthy can afford only four defections. Five Republicans are maintaining opposition to him, and nine others have signaled that the Californian's rule change promises are insufficient to earn their support. McCarthy's concession, which would allow any five members to present a motion remove the speaker, has not swayed his opponents, although it has frustrated some of his moderate supporters. Under current rules, only the majority or minority leader can introduce a motion to vacate the speaker's chair."
He's had two years to line up support and less than a day away, he was still one vote shy.
Oh my.
That is some leadership he has there. He'll be the Lord Laryngitis of House Speakers.
ITEM 7: Roger Stone released his Best Dressed/Worst Dressed list of 2022.
Of Biden, he said, "Yes, I know I'm going to take a lot of crap for it but the President's selection of neckwear is impeccable and always has been. Biden wears the perfect style and size of collar for his face and his necktie choices. He also sticks to solid color suits because he knows they make you look taller. I even like his aviator shades. FDR had his cigarette holder and naval cape. LBJ had his "Open Roader" cowboy hats, and Joe has his aviators. No further political comment in the spirit of the non-partisan, non-political nature of the Best and Worst List."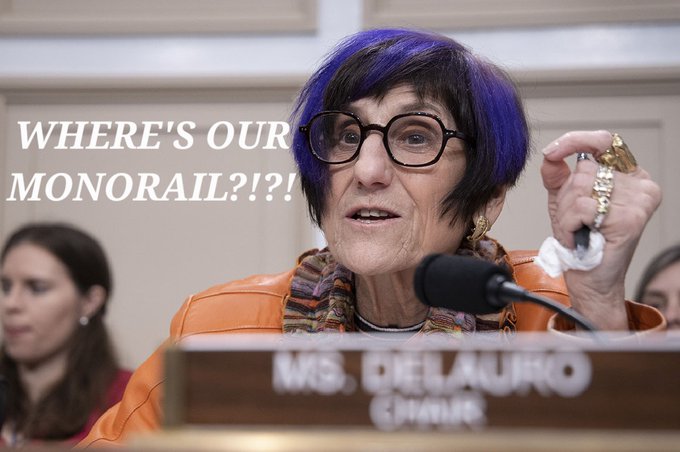 Of Democrat Congresswoman Rosa DeLauro, he said, "Connecticut is known as the Land of Steady Habits and the state has been returning this repugnant looking Democrat to Congress since 1990. Her purple hair looks juvenile, her clothing appears to have been taken from a dumpster, her look is vile, tasteless, and revolting."
Some dress for success. Some dress to detest.
ITEM 8: Life News reported, "Six months after the Supreme Court overturned Roe v. Wade and several months after the leak of the Dobbs decision that prompted a wave of pro-abortion violence across America, the FBI still hasn't arrested a single person for attacking over 230 churches and pregnancy centers."
Republicans who take pro-life voters for granted should have the courtesy to demand answers from Chris Wray.
You know, the guy they put in charge of the FBI.
ITEM 9: The Washington Examiner reported, "Five Biden administration investigations House Republicans plot to launch in 2023."
1. Joe Biden and the Afghanistan withdrawal.
2. Dr. Anthony Fauci and the COVID-19 pandemic.
3. Hunter Biden and his laptop.
4. Alejandro Mayorkas and the southern border.
5. Merrick Garland and bias within the Department of Justice.
They talk a good game. Let us see how they play it.
ITEM 10: The Blaze reported, "Months after telling Republicans to 'head down to Florida where you belong,' New York Governor Hochul says the state has to figure out how to stop people from leaving."
She's an idiot. The only thing she knows how to do is talk down to people.
ITEM 11: The Daily Caller reported, "President Joe Biden spent nearly 40% of 2022 in Delaware, Camp David and vacation destinations.
"A Daily Caller analysis of Biden's 2022 public schedule shows that the president spent 92 days or partial days at one of his Delaware properties, and 32 days or partial days at Camp David.
"Biden also vacationed seven days in South Carolina, five days in Nantucket, and five days in the U.S. Virgin Islands, bringing his total getaway days to a total of 141, or 38.6% of his first full calendar year."
Nice report but I want to know, who did he meet on those vacations? At his age, travel is not easy. My guess -- and it is just a hunch -- is that he uses vacations to meet people he does not want the public to know he's meeting.
ITEM 12: Breitbart reported, "A southern California school district voted to ban Critical Race Theory in the new school board's first meeting.
"California's Temecula Valley Unified School District voted 3-2 to ban CRT just after a conservative majority had been sworn in."
Toni McAllister of the Patch wrote, "Critical race theory as a whole is not taught in TVUSD K-12 schools."
Well, then no one should have a problem with the ban.
ITEM 13: Sundance reported, "Virgin Islands Attorney General Who Filed Lawsuit Against JPMorgan Chase Over Epstein Crimes Has Been Terminated."
Now we know why Biden vacationed there.
ITEM 14: The Hill reported, "Ukrainian President Volodymyr Zelensky signed into law a controversial statute expanding the government's power to regulate media groups and journalists in the country.
"Zelensky signed the legislation on Thursday over the objections of media unions and press freedom organizations that warned it will have a chilling effect on free speech."
Ukraine has journalists. We don't.
When the FBI manipulated the news to cover up Hunter's admission of crimes in his laptop, the American media quietly aided and abetted the FBI.
ITEM 15: The Daily Mail reported, "Justice Department is concealing 400 pages of 'sensitive documents' laying bare payoffs and gifts to Hunter and Jim Biden from China, Russia and Ukraine -- after acknowledging the records exist -- lawyer claims in suit."
Once again a London tabloid does the work NYT, WSJ and WaPo are too lazy to do.
FINALLY, This week's Substack column is "The year of the fascists."
Enjoy!