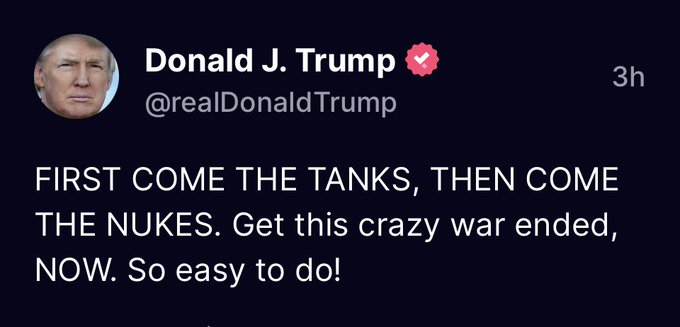 ITEM 1: Trump tweeted to end the war in Ukraine. The peacemaker is the guy they warned us would start World War III.
He didn't but maybe Biden, the guy they replaced him with, will.
ITEM 2: Truth About Guns reported, "After Two Mass Shootings, California Rep. Judy Chu Demands Gun Control Laws That Are Already On the Books."
Note to journalists, if I have to tell readers, "this is not the Babylon Bee," you are doing it right.
ITEM 3: The Babylon Bee babbled, "After Priest Exorcises All Demons From Her Home, Pelosi Becomes A Republican."
Nancy in a MAGA hat is a site to behold.
ITEM 4: The Daily Caller reported, "'We Need New Blood': DeSantis Rebukes Ronna McDaniel's RNC Leadership."
That likely isn't the only place where he believes we need new blood.
ITEM 5: The New York Post reported, "A major donor to President Biden offered his ne'er-do-well niece a job in Los Angeles to help her get back on her feet in the summer of 2018, only for her to scoff at the $85,000 annual salary as 'below minimum wage,' according to emails and text messages found on Hunter Biden's laptop.
"The drama unfolded as Caroline Biden, then 31, pleaded guilty on July 26 of that year to racking up over $100,000 in charges on a stolen credit card. She was sentenced to two years of probation, which she wanted to serve in California near her beloved cousin Hunter."
$85,000 at below $15 an hour works out to 16 hours a day 7 days a week.
Small wonder she turned it down.
ITEM 6: Bonchie reported, "As Red State reported on Wednesday evening, Project Veritas executed another undercover operation, and it was eyebrow-raising, to say the least. Jordon Trishton Walker, described as Director of Research and Development at Pfizer, claimed that the controversial company was mutating the COVID-19 virus to produce future vaccines."
Walker was bragging about his corporate bioweaponry for profit. This isn't capitalism. This is evil.
Read the piece but this was telling: "At the end of the day, Walker is just an employee. He's not the one making the decisions talked about in the video."
He is an MD. He violated the Hippocratic Oath. He did so for the greater glory of profit.
And now Pfizer will dump him like the used condom he is.
ITEM 7: Speaking of garbage, Trending Politics reported, "Project Veritas' 'bombshell' video that uncovered that Pfizer was exploring intentionally mutating Covid strains to profit off future mRNA "vaccines" has now led to a Senate investigation.
"Sen. Marco Rubio (R-FL) has fired off a letter to Pfizer CEO Albert Bourla to explain the revelations in Project Veritas' undercover video footage featuring Jordon Triston Walker, a Pfizer Director of Research and Development, Strategic Operations and mRNA Scientific Planner."
It is nice to see someone besides bloggers follow up on this story.
ITEM 8: Law and Crime reported, "The man who drove a Home Depot rental truck into a New York City bike lane in 2017 has been found guilty on all counts, in a rare death penalty trial that took place in the Empire State. The attack killed eight people and wounded 12."
It took more than 5 years to bring this man to justice. And the feds had to do it because New York is a barbaric place that executes babies in the womb but not cold-blooded mass murderers. (He killed 8 people.)
ITEM 9: ABC reported, "A risky military ground raid by U.S. special operations forces on a cave complex in northern Somalia on Wednesday night killed Bilal al-Sudani, a top leader and organizer with the Islamic State, U.S. officials said.
"Al-Sudani was killed in a firefight along with 10 other fighters, according to the officials. There were no U.S. casualties in the raid, the officials said, emphasizing that there were also no civilian casualties -- though officials later clarified that one of the U.S. service members had suffered a dog bite from a dog serving with U.S. forces."
The war isn't over
ITEM 10: The Hill reported, "More than 100 Harvard students walked out of professor John L. Comaroff's class Tuesday afternoon to protest his teaching again after he was placed on leave last year for violating the school's sexual harassment and professional conduct policies."
He's 78.
Maybe he should just retire.
ITEM 11: Business Insider reported, "Elon Musk had a surprise meeting with Republican and Democratic House leaders to discuss ensuring Twitter is 'fair to both parties.'"
I would rather he dropped off 435 one-way tickets to Mars at the House and gave another 100 to the Senate.
ITEM 12: Jonathan Turley reported, "With the recent passage of AB 2098, California took a highly controversial step in barring doctors from offering 'false information' on Covid-19 and related subjects. The law is an extension of Democratic efforts to block or censor 'misinformation' and 'disinformation' in society from social media to medicine."
He also said, "Judge Fred Slaughter [Biden appointee] in McDonald v. Lawson held that this statute was likely constitutional and rejected a motion for a preliminary injunction. Now, however Judge William Shubb [Bush 41 appointee] has reached the opposite conclusion in Hoeg v. Newsom, granting an injunction."
Enough already. The Supreme Court should make it clear that the Constitution protects misinformation, disinformation, hate speech and Dad jokes.
ITEM 13: We Love Trump reported, "My Pillow CEO Mike Lindell just may be the spoiler in the race for Chairman of the RNC that no one anticipated.
"Not only has he met the requirements to have his name placed in nomination, but a new Rasmussen poll of likely voters actually shows him leading incumbent Chairwoman Ronna McDaniel and Attorney Harmeet Dhillon."
He told the delegates to vote for him, use the code PILLOWBOY.
ITEM 14: AP reported, "A federal jury has found that a white Ohio police officer did not violate a black teenager's civil rights when he shot and killed the boy while responding to a reported armed robbery.
"Jurors reached their verdict Wednesday in a lawsuit filed by Tyre King's grandmother. It challenged the police account of the shooting, alleging that the 13-year-old's death resulted from excessive force, racial discrimination and a failure by the police department to properly investigate and discipline officers for racially motivated or unconstitutional behavior.
"Columbus officer Bryan Mason shot King in the head and torso on Sept. 14, 2016, as the teen ran from police and after King reached for what police later discovered was a BB gun in his waistband, authorities have said. The gun, found at the scene, was designed to look like a real firearm and equipped with a laser sight."
13-year-old boys are idiots. I know. I was once one.
Pray for Officer Mason and the King family.
ITEM 15: The Blaze reported, "'His art gives us hope.' Art dealer claims Hunter Biden 'will become one of the most consequential artists in this century.'"
That's because this century sucks.
FINALLY, today's column at Substack is, "Influencer-enza."
It is free.
Read it. Get a free mail subscription. Enjoy life.