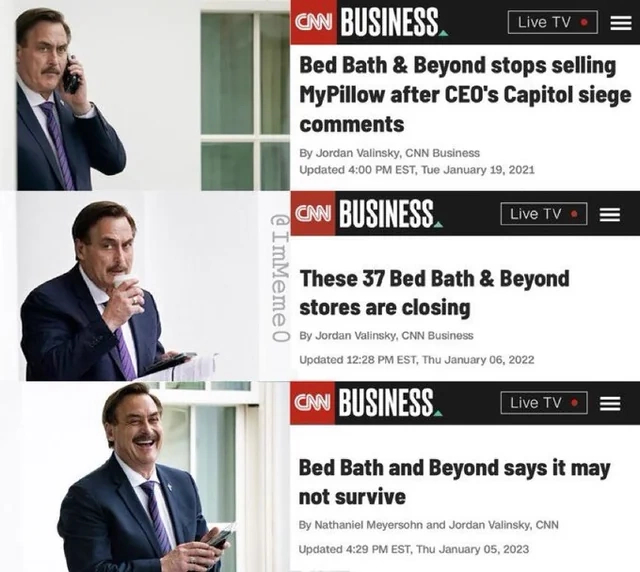 ITEM 1: Quartz reported on June 26, 2019, "The Wayfair walkout is the latest corporate backlash to Trump's immigration policies."
The story said, "Workers from online home goods retailer Wayfair are walking out today to protest their employer's sale of beds to an immigrant detention center.
"The employees want the company to cancel its contract to supply the beds and donate the money it's made from the sale so far to a group that helps immigrant children."
The Wall Street Journal reported on Friday, "Wayfair Inc. is laying off about 1,750 workers, or 10% of its workforce, as the online furniture seller confronts shrinking sales after a pandemic-driven boom."
They should check to see if MyPillow is hiring.
ITEM 2: The LA Daily News reported, "Al Gore's dark past is an inconvenient truth."
A new generation discovers the guru of global warning's sexual harassment of women, which cost him his marriage to Tipper.
Left out is his most famous quote as vice president, "There is no controlling legal authority that says this was in violation of law."
He said it seven times in a press conference to address questions about how he received thousands of dollars in campaign donations from Buddhist priests and nuns who had a vow of poverty.
But he is not the most evil environmentalist. Ira Einhorn, a co-founder of Earth Day (which is held each year on Lenin's Birthday) killed his girlfriend.
True to environmentalism, he composted her body.
ITEM 3: Speaking of the devil, Fox reported, "'Angry and bitter' Michigan school board member claims 'Whiteness is evil,' faces backlash for divisive tweets."
Backlash?
The racist pig should be driven from the board. America must quit pandering to black supremacists. Kick her out.
ITEM 4: Golfweek reported, "'We are deeply disappointed': National Press Club issues statement after LIV Golf announces TV deal with The CW Network."
So an organization that claims it defends free speech opposes televising golf tournaments.
Who paid them to butt in? The rival PGA?
ITEM 5: AP reported, "University leaders in West Virginia urged lawmakers in a letter sent Friday to reconsider a bill advancing in the state legislature that would allow for the concealed carry of firearms on college campuses.
"The letter — sent to lawmakers by the presidents of West Virginia State University, Concord University and Shepherd University — expressed deep concern over the legislation, which passed the Senate Judiciary Committee this week and is now on second reading in the full Senate."
Would they prefer students to attend class with the guns on their hips and rifles in hand?
ITEM 6: Yahoo reported, "Florida's ban on teaching an advanced placement course on African American history is incomprehensible, White House press secretary Karine Jean-Pierre said on Friday, in the latest dispute between the Biden administration and Florida Gov. Ron DeSantis, a likely presidential nominee who has energized conservatives with his eagerness to engage in the culture wars."
Tuesday following Monday is incomprehensible to Biden's spokeswoman.
ITEM 7: AP reported, "A judge issued a temporary restraining order Friday blocking the new Illinois law banning assault-style weapons and high-capacity magazines."
John Boch reported, "Illinois Attorney General Kwame Raoul finds himself in the unpleasant position of defending the indefensible. It falls upon him to defend Gov. J.B. Pritzker's new gun and magazine ban in the courts. At a court hearing yesterday, Raoul got off to a rocky start. Despite 450 attorneys working for him, Illinois' top lawyer couldn't even muster enough juris doctors to defend each of four named defendants in the first court hearing.
"I know. You're probably like me, reaching for a tissue at the news."
Did I just detect a glint of sarcasm in that post?
450 lawyers, and he could not find 4 to attend the hearing. Democrats. Is there anything they cannot screw up?
ITEM 8: Washington Examiner reported, "Democrat introduces bill to end competitive college football in California."
He's just mad because all the California teams suck.
Maybe if the NCAA recognized as sports shoplifting and pissing in the street, Californians would have a chance at winning something.
ITEM 9: Bloomberg reported, "Ron DeSantis scored a legal and political victory as a federal judge declined to reinstate a prosecutor the Florida governor suspended for saying he wouldn't bring criminal charges under the state's 15-week abortion ban."
There is a difference between prosecutorial discretion -- not pursuing a case because the evidence does not warrant it -- and prosecutorial veto, which this joker tried to get away with.
ITEM 10: The New York Post reported, "More New Yorkers moved to Florida in 2022 than any year in history in staggering exodus."
This is a Yankee invasion even bigger than the Battle of Olustee.
ITEM 11: Babalú Blog reported, "Cuba's famous ice cream parlor closed for lack of ice cream."
It only took communists 64 years to do this.
Heck, Biden will have us run out in just 4.
POLL OF THE DAY: Most Americans think Biden handled classified documents like he would a 9-year-old girl.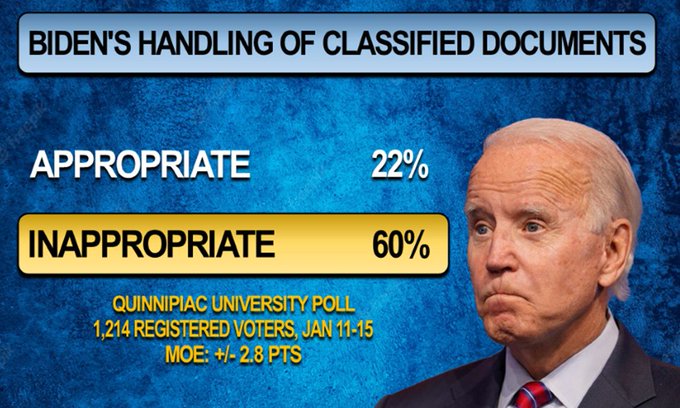 Inappropriately.
ITEM 12: The Epoch Times reported, "Putting up signage that represents only sexual minority groups is not inclusive, parents told New Jersey's Long Valley Middle School.
"For about five years, the middle school posted square signs showing a rainbow triangle outside many of its classrooms, parents said. This designated the classrooms as a safe space for LGBT students.
"But the school lacked signage declaring any safe spaces for other groups, said local Board of Education member John Holly. And for this reason, the rainbow triangle signs violated the school's policies."
How about a safe place for virgins?
ITEM 13: NYT ran a column that said, "Just two weeks ago, Democrats were chortling over chaos in the G.O.P., convinced that far-right Republican control of the House would help them in 2024. Then they experienced the exquisite torture that comes with the slow release of politically damaging information, in this case the acknowledgment of classified documents found in Mr. Biden's former offices and Wilmington home. Now he's fully in the barrel — targeted by powerful congressional committees, aggressive reporters looking for scoops and a methodical new special counsel, Robert Hur, to match Jack Smith, the special counsel investigating Mr. Trump."
It does not bother NYT that Biden -- who has ties with Red China -- may have spilled state secrets to the CCP.
No, what bothers them is Democrats might not win the 2024 presidential election.
The headline was "Oh, Biden, What Have You Done?"
But the question was not about national security. It was about political insecurity.
ITEM 14: Reuters reported, "Australian park rangers say 'Toadzilla' could be world's biggest toad."
Its scientific name is toadus jerry nadlerium.
ITEM 15: The New York Post reported, "A gay couple from Georgia charged with molesting their two adopted sons and using them to record child porn also allegedly pimped them out to members of a local pedophile ring, according to a disturbing new report.
"A months-long investigation by Townhall revealed that William Dale Zulock, 33, and Zachary Jacoby Zulock, 35, allegedly used social media to prostitute their two elementary-aged sons.
"William Zulock, a government worker, and Zachary Zulock, a banker, were indicted in August 2022 on charges of incest, aggravated sodomy, aggravated child molestation, felony sexual exploitation of children and felony prostitution of a minor."
Opponents of gay adoption deserve an apology.
ITEM 16: Life News reported, "Dr. Robert Malone says he can't support Trump while ex-president stands by COVID-19 jabs."
The Donald has to pay attention because this is a deal-breaker for many MAGA voters.
DeSantis fought mandates.
ITEM 17: KLAS reported, "The Clark County School District has responded to two parents' lawsuit where they said their high school-aged daughter was required to read an expletive-laced monologue, a piece of writing later deemed too obscene to read publicly at a school board meeting."
If you cannot read it at a public meeting, you cannot assign it as required reading.
FINALLY, today's Substack column is "Turning California into hell."
Sitting in a park in Paris, France
Reading the news and it sure looks bad.
They won't give peace a chance
That was just a dream some of us had.
Still a lot of lands to see
But I wouldn't wanna stay here.
It's too old and cold and settled in its ways here.
Oh, but California
California, I'm coming home.
I'm gonna see the folks I dig.
I'll even kiss a Sunset pig.
California, I'm coming home.
— Joni Mitchell, California, 1971
Charlie Daniels was wrong. The devil did not go down to Georgia. He went down to California sometime in the 1960s. Easier pickings. The devil took an American paradise of homes, sunshine and beaches and turned it into a chaotic mess with rows of pup tents filled with strung-out people. Illegal aliens have replaced middle class people who either died or left. The stores are under assault by shoplifters as the police must look the other way lest they get in trouble and risk their pensions.
The Los Angeles Times foolishly compared California to Florida in a 2,000-word story that mentioned everything except population. Allow me to mention that.
In Fiscal Year 2022, 343,230 people left California for other U.S. states, a net loss of 113,649 people. It led the nation in population loss.
Politico reported on December 22, 2022, "Florida is the fastest growing state, Census data shows." It gained 416,754 people.
Instead of reporting those easily attainable numbers, the LA Times went anecdotal and showed a poll from Kenneth P. Miller, a professor at Claremont McKenna College.
***