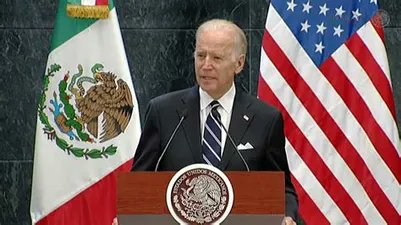 Biden's open borders policy has seen millions of illegal aliens stream into the country like ants headed to a sugar cube.
But that's not the worst. Biden got a Democrat Congress to pass the CHIPS and Science Act. It may as well be the fish and chips act because it does not really build America's chips industry as much as it does Mexico's.
The White House said
, "The CHIPS and Science Act provides $52.7 billion for American semiconductor research, development, manufacturing, and workforce development. This includes $39 billion in manufacturing incentives, including $2 billion for the legacy chips used in automobiles and defense systems, $13.2 billion in R&D and workforce development, and $500 million to provide for international information communications technology security and semiconductor supply chain activities. It also provides a 25 percent investment tax credit for capital expenses for manufacturing of semiconductors and related equipment. These incentives will secure domestic supply, create tens of thousands of good-paying, union construction jobs and thousands more high-skilled manufacturing jobs, and catalyze hundreds of billions more in private investment."
On Tuesday, we learned the $52.7 billion giveaway will help Mexico build its semiconductor manufacturing. The occasion was a meeting of Biden, Trudeau and Mexican President Andrés Manuel López.
Bloomberg reported, "President Joe Biden privately urged his Mexican counterpart to enact new policies to capitalize on the US drive to boost domestic semiconductor production, part of a push to shift supply of some key technology components from Asia to North America."
By North America, Biden means mainly Mexico.
Bloomberg also said, "Commerce Secretary Gina Raimondo, whose department is leading the implementation of chips spending, said on a visit to Mexico City in September that Mexico can benefit both from the manufacturing facilities for semiconductors and also from testing, packaging and assembly of chips. The CHIPS Act, which the US Congress passed last year, will create jobs and opportunities for the US and its southern neighbor, she said."
So much for America first.
The Wall Street Journal reported, "U.S. officials say semiconductor companies building new manufacturing facilities in the U.S. would like to put parts of their supply chain in Mexico."
Once again, Corporate America sells us out for cheap labor.
Why not build parts in West Virginia?
Oh wait, we voted for Trump.
The story also said, "Canada benefits from provisions in the Inflation Reduction Act, which includes a $7,500 tax credit to buy electric vehicles made in North America, including Canada and Mexico."
Be American, buy Mexican or Canadian?
Reuters reported, "The United States said the region would in early 2023 organize a semiconductor forum to increase investment in the strategic high-tech industry dominated by Asia.
"The White House said coordination would be needed on semiconductor supply chain mapping to identify needs and investment opportunities in making chips that are used in everything from telecoms to carmaking and defense.
"Mexico's hopes of benefiting from the push to boost semiconductor output have been undermined by the energy dispute, with Washington and Ottawa starting formal dispute settlement proceedings against Mexico's policies in July."
That has not been resolved. Yet.
I wonder who in Mexico hired Hunter. Maybe he sold some paintings there because we all know that Biden like Obama has a pay-to-play foreign policy.
***
Be sure to sign up for my Substack account.