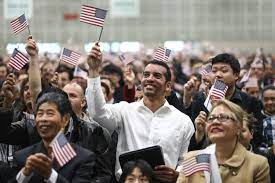 If you write that the Republican Party is too white and doomed because of changing demographics, you will be praised no end by the media.
If you call it the Great Replacement, you will be condemned as racist, xenophobic and maybe even Islamophobic.
But I think no matter what you call it -- demographics or replacement -- you are wrong.
My belief is that immigration favors neither party because most people come to America to be Americans and not what they were in their old country.
A New York magazine piece confirms my hypothesis. New York City is beginning to see the rumblings of a Republican Party. Crime and covid restrictions are taking a toll on Democrats.
Ross Barkan wrote, "Ari Kagan, a little-known city councilmember from Brooklyn, stood on the steps of City Hall and made a startling announcement: He was becoming, in deep-blue New York, a Republican."
The move may save Kagan's political career.
Barkan wrote, "In significant swaths of Brooklyn and Queens, Republican voting is growing organically, driven less by reactionary white people looking longingly to the suburbs — a coalition that helped elect Rudy Giuliani twice in the 1990s — and more by communities of recent immigrants and Orthodox Jews. Some of these voters are conservatives who no longer wish to support Democrats at any level of government after spending years ticket-splitting.
"Zeldin ran up large margins in Chinese-speaking Brooklyn neighborhoods and, like other recent Republicans, dominated in Russian-speaking and Orthodox Jewish parts of Brooklyn and Queens. (Kagan, who is Jewish, emigrated from the Soviet Union.) Party affiliation is beginning to matter more than racial or ethnic identity in city voting: A white Republican with scant resources nearly defeated an Asian American Democrat for an Asian-plurality Brooklyn legislative seat last month. And it may have been liberal white voters, not Asian Americans, who saved her.
"What unites immigrants from East Asia and Russia as well as Yiddish-speaking Hasidic Jews and the comparatively less strict Orthodox Jews? Fear of rising crime. Zeldin campaigned aggressively on funding police and turning back criminal-justice reforms passed in Albany."
I love this next part where Barkan denies what is so obvious that I can see it from Poca, West Virginia.
He wrote, "While the links between the partial end of cash bail and New York's crime spike are nebulous, Democrats have paid an electoral price for lacking a compelling counternarrative. The surge in hate crimes against ethnic Asians and Jews has put both communities on edge. These days, law-and-order rhetoric is a much easier sell — as is the idea of giving the city more power to take potentially dangerous people off the streets."
Um, the Republican anti-crime message is literally beat into the heads of Asians and Jews in New York. For all its talk about diversity, New York is a cluster of fiefdoms in which you and your kind had better stick to your neighborhoods. The South integrated. NYC hasn't.
Barkan wrote, "Ron Kim, a progressive lawmaker whose parents immigrated to Queens from South Korea, recently came out in favor of Adams's controversial directive to expand the scope of who can be involuntarily taken to a hospital. Kim cited his conversations with the parents of Michelle Go, the 40-year-old Asian American woman shoved to her death on the subway tracks by a man with schizophrenia."
I've never been shoved to my death in front of a subway train, but I am pretty sure my pain would not be alleviated by the knowledge that my killer was schizophrenic. If anything, I would be even more pissed knowing that City Hall allowed the man to roam the streets free without medication.
Getting beaten because you are Jewish or you are Asian does not endear one to the party in power and in New York City that has been the Democrat Party.
The Republican base is largely white but the Democrat base is black. Few people say that out loud, but it is true. The South Carolina primary decided the last three Democrat presidential nominees -- Obama, Hillary and Biden. That primary is dominated by black voters.
The rest of the races and ethnic groups are up for grabs. They lean Democrat now, but as we have seen in New York City, they are not tethered to that party.