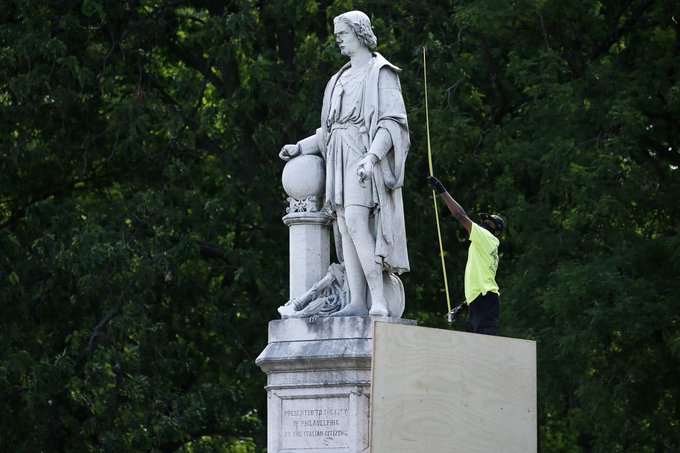 ITEM 1: AP reported, "Philadelphia must remove the plywood box it placed over a statue of Christopher Columbus after 2020 protests over racial injustice Democrat riots, a judge ruled Friday.
"In her ruling, Judge Mary Hannah Leavitt said that if the city disagrees with the message the statue sends, it can add its own plaque with what it wants to convey."
Columbus braved the ocean in wooden boats to discover a whole new world.
George Floyd did drugs.
Democrats desecrate the former while praising the latter as a role model. We've gone from say no to drugs to just do it.
ITEM 2: The New York Post reported, "New York stoners will soon not even have to leave their homes to get high on marijuana.
"State regulators unveiled new rules Friday allowing newly licensed retailers to make home deliveries of weed and THC-infused edible products — even before their shops open for business."
Democrats promote addiction. Makes it easier to control people. Before each election, the stoners will cast their mail-in votes for Democrats as the stoners continue this voluntary home confinement.
ITEM 3: Elon Musk has revealed that the FBI and other government agencies worked with Twitter and other social media platforms to undermine the 2020 re-election efforts of a sitting president
That is sedition and an attempted coup.
Where are congressional Republicans demanding an end to this and the imprisonment of Bill Barr and the rest of the unAmerican deceivers?
ITEM 4: Union Pacific Corporation announced, "The Board of Directors of Union Pacific Corporation has declared a quarterly dividend of $1.30 per share on the company's common stock, payable December 29, 2022, to shareholders of record December 19, 2022.
"Union Pacific has paid dividends on its common stock for 123 consecutive years."
And yet it successfully lobbied Congress and Biden to allow it to restrict paid sick leave to one day a year for railroad workers.
ITEM 5: Fox reported, " Democratic leadership on the House Oversight and Reform Committee abruptly canceled an upcoming hearing to investigate the spread of climate disinformation on social media platforms.
"On Nov. 18, Rep. Ro Khanna, D-Calif., chairman of the Oversight Subcommittee on Environment, wrote letters to four social media executives asking them to attend the hearing that had been slated for Dec. 14, according to documents obtained by Fox News Digital. Khanna invited new Twitter CEO Elon Musk, Meta CEO Mark Zuckerberg and executives of TikTok and YouTube to testify.
"Committee Democrats blamed the hearing cancellation Thursday on a miscommunication. They said leadership opted to hold a full committee hearing on Dec. 14 instead of the environment subcommittee hearing."
The biggest climate misinformation is that carbon dioxide has anything to do with weather or the climate.
ITEM 6: The Jerusalem Post reported, "Saudi Arabia is likely to join the Abraham Accords and normalize ties with Israel within the next year, former ambassador to the UN Danny Danon said on Thursday."
After Obama and Biden, former allies can no longer trust the United States, especially when it comes to Iran.
ITEM 7: Oh yes, let's give these fellas $858 billion to spend.
As many have correctly noted…

It's Col. Brian T. "Connelly" (ret.), not "Donnelly."

The auto correct was not noticed.

The pictures consistently provide the correct spelling. https://t.co/LQKfxBf4UQ

— NOVA Campaigns (@NoVA_Campaigns) December 9, 2022
This is called pup kink. The Alphabet people are always adding more letters.
ITEM 8: Bisexual Senator Kyrsten Sinema announced she is bipartisan and has quit the Democrat Party.
Except for caucusing with them, keeping all her Democrat assignments to Senate committees, and voting with Democrats, she is totally independent now.
ITEM 9: The Guardian reported, "2 million-year-old DNA from northern Greenland has revealed that the region was once home to mastodons, lemmings and geese, offering unprecedented insights into how climate change can shape ecosystems.
"The breakthrough in ancient DNA analysis pushes back the DNA record by 1m years to a time when the Arctic region was 11-19 degrees C warmer than the present day. The analysis reveals that the northern peninsula of Greenland, now a polar desert, once featured boreal forests of poplar and birch trees teeming with wildlife. The work offers clues to how species might adapt, or be genetically engineered, to survive the threat of rapid global heating."
11 to 19 degrees warmer, and yet the planet survived -- without ice on Greenland.

Amazing.
It's as if not only is global warning bogus but on top of that, global warming is actually a good thing.
ITEM 10: Becket reported, "A federal appeals court today permanently blocked the Biden Administration's attempt to force religious doctors and hospitals to perform gender-transition procedures, concluding that the Administration's plan would violate a key federal law protecting religious freedom. This is the second appeals court ruling blocking the Administration's controversial transgender mandate."
Another attack on religion is thwarted.
For now.
ITEM 11: Media Right reported, "Journalist Grant Wahl, who stirred up controversy for wearing a rainbow shirt to a previous World Cup match has died while covering another match in Qatar.
"The Associated Press reported that U.S. media seated near him said Wahl fell back in his seat in the media tribune at Lusail Iconic Stadium during extra time and reporters adjacent to him called for assistance.
"The reporters said that even though emergency services workers responded very quickly, they later were told that Wahl had died.
"It is unclear at this time whether foul play was involved but Wahl had recently reported that he was sick and had visited a medical clinic."
The media immediately created a conspiracy theory that he had been killed for his activism.
I don't know enough to debunk it. Besides, in the 21st century, conspiracy theories keep coming true. The tinfoil hat crowd has more credibility now than the FBI.
ITEM 12: DW reported, "Police in Belgium have arrested Greek socialist MEP Eva Kaili, one of 14 European Parliament vice presidents, in connection with an investigation into criminal organization, corruption, and money laundering that involves an unidentified Gulf state.
"Four others were also detained, including a former MEP, authorities said on Friday.
"The Belgian federal prosecutor's office accused the unidentified Gulf country of trying 'to influence the economic and political decisions of the European Parliament.''"
14 vice presidents?
That's a lot of vice even for a group of politicians.
ITEM 13: Breitbart reported, "Representative Maxine Waters (D-CA) claimed Friday on MSNBC's All In that Republicans were 'not concerned about being successful' because they got elected to Congress to destroy the Democratic Party."
Sounds like a good plan to me.
Democrats can try to do the same to Republicans. I would be fine with making DC one big happy demolition derby.
But I am afraid they are too much in cahoots to do that.
ITEM 14: SF Gate reported, "Throngs of people are traveling to view lava ooze from Hawaii's Mauna Loa volcano that is erupting for the first time in nearly 40 years — and some people are not following the rules, according to officials."
Hawaii County Mayor Mitch Roth said, "We've been seeing people being really disrespectful, putting trash out there, throwing marshmallows into the lava. Not only is that bad for the environment and people are trespassing, but it's disrespectful to Hawaiians and their love for Madame Pele and the culture of Hawaii. It's really bad. So we ask people to be respectful."
Throwing marshmallows into a volcano is harmful to the environment?
Hawaii must have a pretty dainty environment if it cannot handle a few marshmallows.
ITEM 15: The Guardian reported, "Russian opposition figure Ilya Yashin jailed for denouncing Ukraine war.
"Politician sentenced to eight and a half years over series of posts about atrocities in Bucha."
Meanwhile, the Biden regime prosecutes 955 J6 protesters.
FINALLY, I don't post on Sunday, but each Saturday, I post a bonus column on my Substack account.
This week's column is "The West didn't colonize. It civilized."