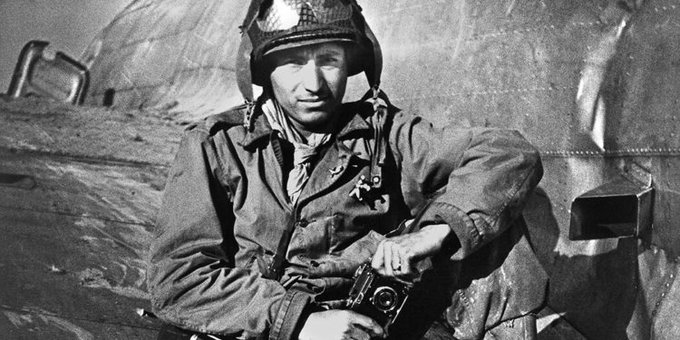 ITEM 1: NYT reported, "Tony Vaccaro, 100, Dies; Photographed War From a Soldier's Perspective."
The story said, "Private Vaccaro spent 272 days in combat with the 83rd Infantry Division, which fought its way from Normandy to Germany.
"Along with the M-1 rifle he carried across Europe, he kept a small 35-millimeter Argus C3 camera that he had bought as a teenager. Army regulations prohibited soldiers from taking photos unless they were with the Signal Corps, But he managed to capture thousands of images of the war, taken close up. They conveyed an intimacy often denied to the photographers of the Signal Corps, whose mobility was limited by their much heavier cameras.
"He later received approval to take photos openly, with the admonition that he was a rifleman first and a photographer second."
He had a successful career as a photographer after the war.
In a documentary in 2016, he said, "It was necessary for me to be evil for 272 days. But not forever."
RIP, Tony Vaccaro. You earned everlasting peace.
ITEM 2: NYT reported, "Barbara Walters, a First Among TV Newswomen, Is Dead at 93."
What a cold headline. We toss the word trailblazer like a shuttlecock but she really blazed a trail as the hostess of the Today Show with host Hugh Downs and Frank Blair as the news anchor. She became the first woman Evening News anchor and later reunited with Downs on 20/20.
Then came The View. She wanted intelligent women commenting on the news. Instead, she got liberal bitches whining.
On February 4, People magazine reported, "'The View' 's Show Culture 'Is Not What Barbara Walters Wanted,' Says Source amid Whoopi Goldberg's Suspension."
She blazed trails. That last trail deserves to be burned down and buried.
ITEM 3: Yahoo reported, "NC State radio announcer indefinitely suspended after 'illegal aliens' remark during Mayo Bowl broadcast."
Telling the truth gets you fired in the 21st century.
ITEM 4: The S&P 500 tanked 20% on the year as stocks had their worst year in 14 years.
Inflation was a 40-year high of 7.1%.
Joe Biden, January 2022: The stock market "has hit record after record after record on my watch"

The stock market just had its worst year since 2008. pic.twitter.com/1Kw8wmGv32

— RNC Research (@RNCResearch) December 30, 2022
Bidenomics is part of the plan to destroy the country so Democrats can save it.
INVESTMENT TIP OF THE DAY: One word: eggs.
CNBC reported, "Average egg prices jumped 49.1% in November compared with those a year earlier — the largest annual percentage increase among all grocery items in that period, according to the consumer price index, a barometer of inflation."
ITEM 5: The Independent reported, "NFL quarterback Blaine Gabbert helped rescue the passengers of a Florida sightseeing helicopter that crashed into the ocean.
"Gabbert, the backup to Tom Brady for the Tampa Bay Buccaneers, was out riding jetskis with his brothers when the helicopter went down into Hillsborough Bay.
"'It almost looked like a crew boat that had broken up into four pieces. I saw yellow life jacket,' Gabbert said at a press conference on Friday. 'The youngest kid had just come up, saying he was pinned in there.'
"Gabbert called 911 to get help and said he tried to remain calm in front of the family, who were covered in oil, that had been taking the tour."
He brought two out on his jetski and a brother brought home a third victim. Police later fished the helicopter pilot out of the water. It was like Baywatch but without David Hasselhoff.
ITEM 6: CNBC reported, "Trump's tax returns released by House Ways and Means Committee."
Another nothingburger played up by the press -- the very people who ignored that Porterhouse steak we call Hunter's laptop.
ITEM 7: The New York Post reported, "A 28-year-old suspect was taken into custody in connection with the slayings of four University of Idaho students on Friday morning.
"Bryan Christopher Kohberger was arrested by police and the FBI around 3 a.m. in Chestnuthill Township in Monroe County, Pennsylvania, according to reports."
Good job by the cops.
ITEM 8: NewsMax reported, "President Joe Biden pardoned six people who served out sentences after convictions on a murder charge and drug- and alcohol-related crimes, including an 80-year-old woman convicted of killing her abusive husband about a half-century ago and a man who pleaded guilty to using a telephone for a cocaine transaction in the 1970s."
Only six?
How much did they pay Hunter?
ITEM 9: The Daily Mail reported, "Disgraced cryptocurrency mogul Sam Bankman-Fried met with four Biden officials this year before the collapse of his FTX empire and his arrest in the Bahamas.
"The Democratic donor, 30, awaiting trial for what prosecutors say is one of the biggest financial frauds in U.S. history held talks with senior White House advisor Steve Ricchetti on September 8, Bloomberg reported on Thursday.
"He has had at least two other meetings with Ricchetti on April 22 and May 12 and another with top aide Bruce Reed.
"Bankman-Fried's brother Gabriel also participated in a meeting on his own on May 13.
"The latest report is further evidence of the deep ties Bankman-Fried had with Washington before he was charged with swindling investors out of at least $1.8 billion."
I wonder how much the Jeff Epstein of crypto paid Hunter because it is all about access, baby.
ITEM 10: Breitbart reported, "A pro-trans organization is pushing for 'trans and non-binary'-inclusive math curriculums that advance gender ideology."
No. Just say no. It is time for grownups to tell these sex-obsessed fools to quit horsing around and do their algebra.
ITEM 11: There are grownups left in the world.
The New York Post reported, "The World Boxing Council is starting separate categories dedicated to transgender fighters to ensure competitors' safety, officials announced Thursday.
"WBC President Mauricio Sulaiman told The Telegraph in an interview published Thursday that the new divisions next year are to ensure that 'the dangers of a man fighting a woman will never happen.'"
I grew up in the 1950s and 1960s. We were taught to never hit a woman.
ITEM 12: Breitbart reported, "Former Disney Channel star Bella Thorne said a Hollywood director sexualized her when she was only ten years old, saying he accused her of trying to flirt with him."
Miley Cyrus. Britney Spears. This one. Many are the Disney girls who turn out to be hyper-sexualized when they turn 18. Something is quite wrong at the House of Mouse.
ITEM 13: WGN reported, "Illinois' controversial SAFE-T Act is once again in question after a judge made a major change to it Wednesday.
"Kankakee County Chief Judge Thomas Cunnington's ruling sides with prosecutors and sheriffs from across the state. But the ruling will only effect a portion of the SAFE-T Act.
"And state leaders plan to take to the fight to the Supreme Court.
"Cunnington's ruling stated that 'the appropriateness of bail rests with the authority of the court and may not be determined by legislative fiat.'
"The ruling came after more than 60 different lawsuits were combined and filed by sheriffs and prosecutors who said the legislation violates the separation of powers and improperly amended the state constitution."
Democrats are such cynics that they named a bill that endangers the public "SAFE-T."
ITEM 14: Good news.
The Daily Mail reported, "Soaring prices for exotic cars have come screeching to a halt, putting sellers at a loss but creating a great opportunity for buyers, auto industry insiders tell DailyMail.com.
"Popular everyday cars from the likes of Kia and Ford can garner thousands of dollars in dealer markups over manufacturer's suggested retail prices due to high demand and showroom shortages.
"But sellers of high-powered, collectible dream vehicles such as Mercedes Benz G-Wagens, Ferraris, Aston Martins, Maseratis and other rich-man cars are taking a serious financial hit."
Looks like 2020 all over again when it comes to prices for Bentleys.
ITEM 15: Legal Insurrection reported, "The 11th Circuit Court of Appeals, sitting en banc (all judges on the court) has upheld Florida's St. John's County school policy of separating bathrooms based on biological sex, rejecting a challenge by a transgender male who was denied the opportunity to use the boy's bathroom. The district provided sex-based (boys and girls) bathrooms as well as single-user gender neutral bathrooms."
I hope it goes to the Supreme Court which would allow the justices to make the ruling the law of the land.
FINALLY, this week's Substack column is "The year of the fascists."