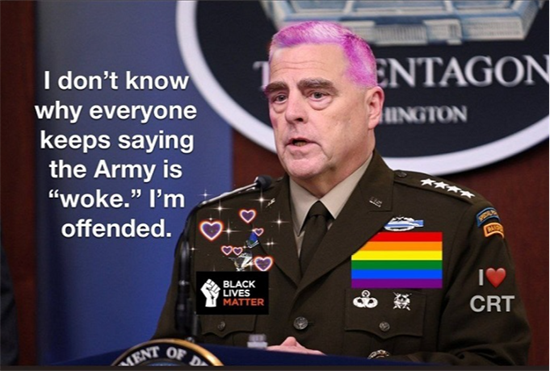 I have come to the conclusion that our military under its current leadership no longer is worthy of record appropriations. I made my case in today's Highlights of the News.
My points are simple. A large military budget allows weak commanders-in-chief such as Obama and Biden to prove their manhood through war. Bombing Libya into the stone age unleashed a civil war in that country and a million or so refugees upon Europe.
My second point is our political leaders are so beholden to Red China that we will never use it to fight Red China, which is our top adversary.
Finally, the military now is dedicated to wokeness. I prefer an army where the only color is green and the flag is the American one, not a rainbow one.
The people running the military today are not up to the task. They proved it by whining to the Washington Post about Congress using the $858 billion defense budget to override the military's covid shot mandate.
The Post is so concerned that it took down its paywall to make the military whine available to everyone, even we rubes in the boondocks.
The story said, "The Biden administration fumed Wednesday at the near-certainty that Congress will strip away the Defense Department's requirement that all military personnel be vaccinated against the coronavirus, upending a politically divisive policy that has led to the dismissal of nearly 8,500 service members and numerous lawsuits disputing its fairness."
Fumed!
The generals and admirals cannot handle it. What do they say about orders? Before you can give them you have to learn how to take them.
These boys and girls cannot take orders.
The story said, "The looming reversal — spurred by Republicans who had threatened to block passage of the $858 billion spending bill if the mandate wasn't struck down — creates a rat's nest for the Pentagon. Commanders whose job it was to enforce the mandate will face the onerous task of assessing whether — and how — to allow back into uniform those already separated from the military for refusing to follow orders. Managing overseas deployments, especially in countries that require visitors to be vaccinated, will create burdensome logistical headaches as well, officials said."

Oh no, the people running the military will have to navigate local rules and laws in nearly 200 nations -- something they have only been doing since 1787 or so.
The story pointed out that the aircraft carrier USS Theodore Roosevelt was quarantined in spring 2020 after more than 1,200 sailors in a crew of about 4,800 contracted covid. One sailor died.
The story also said, "A Navy officer with more than 2,000 sailors under his command recalled standing before his entire crew and explaining why it was not only important to get vaccinated but essential to the Navy's mission readiness."
The poor guy whined to the Post, "I look like a clown now. What happens when the next [unpopular directive] comes along, whether for vaccines or something else? I've lost my credibility to say 'Do this' when they know they can probably wait me out."
Something tells me he looked like a clown long before covid. In fact, they all do.
He also said, "I have been completely undercut in trying to uphold the standards dictated to me from on high. My sailors will have a hard time trusting me in the future when I say that some controversial policy must be complied with."
George Washington led an army to victory against the most powerful army on Earth in the middle of a smallpox epidemic. Smallpox killed one-third of those infected.
Bozo the Boson could not handle a disease that killed 1 in 1,200 of those infected.
As for readiness, that is on the commanders not the covid shot.
Defense Secretary Lloyd Austin had no problem ordering a stand down upon taking command for 60 days to deal with racism. The Army is so racist that Austin became a general and the first black defense secretary.
If you want $858 billion from taxpayers, you have to do what their representatives in Congress tell you to do. The people with stars on their shoulders should by now know this. Instead they whine.