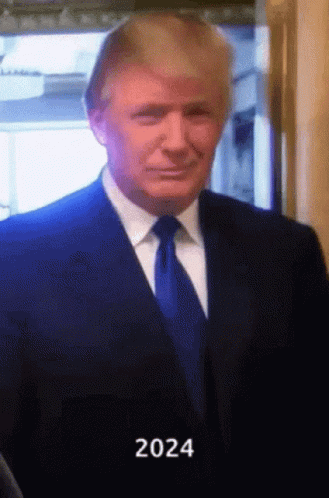 After the election, I posted a well-reasoned piece, "Life after Trump," which concluded that because Trump-backed candidates fared worse than Republican governors in Georgia, New Hampshire and Ohio, that Trump cannot win the purple states (although Ohio is red).
I stand behind that post because I am obstinate and no pundit likes to publicly admit he is wrong.
But I was wrong.
He will win and he will win big because Americans are fed up with both parties now.
62 million voted for him in 2016.
75 million voted for him in 2020.
90 million will vote for him in 2024. And this time, Trump supporters will vote early and harvest ballots like a John Deere.
Post-election, Republicans in DC have shown they no longer are worthy of my support.
12 Republican senators -- including West Virginia's Shelly Moore Capito -- voted to repeal the Defense of Marriage Act, which will force Christian bakers to make wedding cakes or face jail and bankruptcy.
The Dirty Dozen showed they are not RINOs. They are Democrats who vote for tax cuts.
But wait. There's more.
Breitbart reported, "A handful of Senate Republicans reportedly started talks with illegal aliens enrolled in and eligible for the Deferred Action for Childhood Arrivals (DACA) program as House and Senate Democrats, along with corporate special interest allies, hope to pass an amnesty in the lame-duck Congress.
"This week, DACA illegal aliens and open borders activists descended on Washington, DC, in their efforts to lobby ten Senate Republicans to join Democrats in passing an amnesty — before the GOP takes control of the House — that would secure them green cards and, eventually, naturalized American citizenship.
"According to Politico, Sens. John Cornyn (R-TX), Mike Lee (R-UT), Mike Rounds (R-SD), and Pat Toomey (R-PA) held meetings with DACA illegal aliens to discuss potential amnesty plans."
Instead of a wall, we get amnesty? Good thing Utahns went with Mike Lee instead of Egg McMuffin. It was like voting for the right side of Twix instead of the left.
The treachery continues in the House. Kevin McCarthy is fumbling the ball either deliberately or through incompetence. We may wind up with the black supremacist Hakeem Jeffries as House speaker because of this.
Just the News reported, "House Freedom Caucus Chairman Rep. Scott Perry (R-Pa.) says he's disappointed in the negotiations his caucus is engaged in with House Republican Leader Kevin McCarthy, who has been nominated for speaker.
"The full GOP caucus voted for McCarthy 188-31. He needs 218 votes in January when the floor vote for speaker takes place. Following the vote, the office of former House Freedom Caucus Chairman Rep. Andy Biggs, who had challenged McCarthy for speaker, said conservative members of the Freedom Caucus are in a better position to get their desired rules changes adopted by House GOP leadership."
Matt Gaetz has made it clear he will not vote for McCarthy for speaker. He shouldn't. The party abandoned him when he faced horse-shit accusations of sex-trafficking.
Loyalty is no longer a trait in the Republican Party.
One of the reasons McCarthy has only 218 votes is the Republican leadership failed to turn a red wave victory -- more than half the votes cast in congressional races were Republican -- into a triumph.
Instead, there was an embarrassing pick up of only 5 seats. Good Republican candidates were left to hang out and dry. Lauren Boebert barely won re-election because Republicans in Colorado refused to harvest ballots. That story is repeated across the country.
If not for Lee Zeldin in New York (who flipped 4 seats) and Ron DeSantis (who also flipped 4 seats), Nancy Pelosi would still be speaker come January.
Now for the kicker. That Bozo Tom Emmer led this disaster as head of the National Republican Congressional Committee.
Republicans in Congress elevated Emmer the Clown to No. 3 in their congressional leadership, bumping Elise Stefanik to No. 4. Her mistake was being praised by Donald Trump.
In boxing, this is called taking a dive. Why reward such treachery?
Politico reported, "Democrats have ticket-splitters to thank for maintaining their hold on the Senate.
"New Hampshire Democratic Sen. Maggie Hassan trampled her Republican rival, even as the state's Republican governor, Chris Sununu, did the same to his opponent.
"In Nevada, voters helped Democrats seal the Senate majority by reelecting Sen. Catherine Cortez Masto even as they tossed out the sitting Democratic governor.
"And in Georgia, Democratic Sen. Raphael Warnock's razor-thin race is heading into a December runoff after GOP Gov. Brian Kemp coasted to re-election.
"The results are enough to make it look like this year's midterms represented a return to the old days of de-polarized statewide politics, when large numbers of voters would support one party's candidate for Senate and the other party for governor."
Governors run state parties. The ticket splitting shows state parties that failed to support their Trump-supporting Senate candidates.
In Nevada, the betrayal affected the House. Republicans were primed to flip 3 seats in Nevada. They flipped none.
But this is not new. Paul Ryan openly opposed Trump in 2016. Working against his party's presidential nominee cost Ryan nothing as he remained House speaker. That showed most Republicans in the House were disloyal.
Republicans did nothing about Russiagate. Republicans were silent about Obama using the FBI to spy on Trump. Republicans failed to protest the Bob Mueller witch hunt. Republicans have not gone to court and demanded the release of the J6 protesters. Republicans did not protest the raid on Mar-a-Lago.
What the heck am I, Don Surber, getting in this relationship? I vote Republican and they act against my political interest.
Millions of Americans are asking the same question of both parties.
This year, Trump supporters won primaries and the Republican Party leaders did nothing to help them. They were too busy working to re-elect Murkowski in Alaska over a conservative Republican.
Republicans have shown they do not want to Make America Great Again. This no longer is the Party of Reagan. It is the Party of Liz Cheney.
But most Americans do want to live in an America that is great again.
In a world where Republicans built the wall in 2017 like I voted for in 2016, Ron DeSantis would be the standard bearer in 2024 and I would be happy.
I do not live in that world. I live in the world where it is Donald Trump or go home. We all do. We will rise again bigger and stronger than ever before.
After the election, I did not see it but I see it now.
I apologize.
***
My Substack column this week is "Thank the Lord for the Pilgrims."
It posted at noon Eastern.