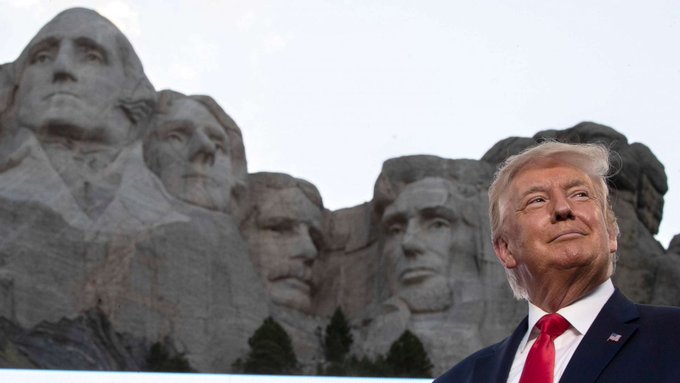 Before I wrote, "Life after Trump," I should have written this post thanking President Donald John Trump.
Allow me to correct this by quoting one of my dearest and now confused readers. To protect his identity, I will simply call him Mister Jones.
He wrote, "Trump gave us a conservative majority SCOTUS....tax cuts.....lowest unemployment in recorded history, especially for POC....Started no new military 'conflicts'....Jerusalem embassy....world respect...USA out of climate accords....tough on China.... need I go on? Continue to Refresh the memory? Remind who brought us to the dance?
"Ungrateful bastards. 🤬Fetterman's got a legit reason for memory loss.😱🙄."
No presidential candidate was more hated, despised and ridiculed by the media. Lincoln comes closest but at least a few major newspapers had his back. Trump had no one. Not even Fox. Remember those dreadful Fox All-Star panels? Charles Krauthammer and Jonah Goldberg battled over who could smear him the best. It was the Fox version of The View with three men and a dame.
I said in my piece that The Donald kept Hillary from being president. He also kept Jeb! from being president. He's like Murkowski's brother from another mother.
Trump took the blows with humor. When Jeb! complained that he had insulted his mother and then praised her no end. Trump reported, "She should run."
I still laugh at that one six years later.
I look at Trump's accomplishments and think of cartoonist Bob Thaves line about Fred Astaire in his Frank and Ernest cartoon: "Sure he was great, but don't forget that Ginger Rogers did everything he did backwards and in high heels."
The high heels they slapped on President Trump were the Bobby Mueller investigation into a lie called Russiagate that really was about covering up Obama using the FBI to spy on Trump.
This was Watergate times a million and not one of our institutions it Washington did a thing to stop it or to hold that self-righteous communist accountable. Hillary should be in jail, sure. Her cellmate should be Obama.
The failure to cry foul is why Americans have no respect for the DC press, Chief Justice Roberts or Congress whether it is run by Republicans or Democrats. Paul Ryan and His RINOs took a dive in 2018 just to spite him. Ryan cashed in as a lobbyist. We must end floor privileges for congressmen.
But I digress. Trump like Palin fought. Unlike Palin, he won. He killed Roe v. Wade through the Trump Triplets he put on the Supreme Court. They will also give Justice Clarence Thomas the votes he needs to strike down the insult to the Constitution we call affirmative action.
The embassy in Jerusalem is magnificent. His Abraham Accords brought peace and the formal recognition of Israel by five Muslim nations.
He kept us out of war. He tried to negotiate peace with Kim Jong Un. He kept us out of the Paris accord and TPP. He woke the world up to the threat of Red China.
But above all, President Trump took one for the team -- Team MAGA. And by one I mean hundreds. The daily harassment, legal threats and flat-out lies would have broken a lesser man.
Critics say he has a large ego. Well, you need something to serve as a buffer from the constant attacks. Given that he helped save New York, built a billion-dollar empire, wrote best-sellers, had a top-ranked TV show and won the presidency on his first try for public office, I would say he earned bragging rights on many, many fronts.
Donald Trump indeed brought us to the dance.
But if you think it is easy for me to say Change Partners, you don't know me very well.
***
I have decided my weekly Substack columns each Saturday will go beyond politics. This week I will channel Paul Harvey. It will be a (wait for it) Good Day.
Please sign up for the free subscription which will notify you when my columns post.
Also, catch up on the past columns.