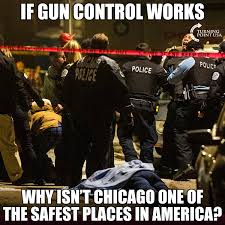 Biden said on Thanksgiving, "I'm sick and tired of these shootings. We should have much stricter gun laws."
Conservative media acted as if this were breaking news, but Biden has always supported gun control. In 1994, he wrote the law that banned assault weapons for a decade.
Biden wanting gun control is not the news.
That he may have the support of the 10 Republican senators he needs is the news. He stated it publicly, which I doubt he would do if he did not have the votes.
My guess is the 12 Republican senators who recently voted for the Bake My Cake law will capitulate next on guns.
The dirty dozen were Susan Collins of Maine, Rob Portman of Ohio, Thom Tillis of North Carolina, Mitt Romney of Utah, Lisa Murkowski of Alaska, Roy Blunt of Missouri, Richard Burr of North Carolina, Shelley Moore Capito of West Virginia, Cynthia Lummis of Wyoming, Dan Sullivan of Alaska, Todd Young of Indiana, and Joni Ernst of Iowa.
Biden knows he has a deadline of passing as many unconstitutional laws as possible before Republicans resume control of the House on January 3.
Also, Biden knows he has a dozen Republican senators willing to help him thwart the will of the people by stripping hunters and others from owning rifles.
And Biden knows the Republican Party is run by a gun controller.
The Hill reported on February 26, 2018, "Republican National Committee (RNC) Chairwoman Ronna McDaniel said raising the minimum age of gun purchases to 21 is an idea that is 'on the table.'"
Her statement was off the wall and contrary to the will of the people who want gun control eased.
Over the last 35 years, Americans have demanded and received a lifting of draconian laws. Once, only 1 state (Vermont) did not require a permit to carry a concealed weapon. Come January, 25 states will not require a permit.
November 26, 2022
Biden and a Dirty Dozen of Republicans likely will go against the will of the people and impose Clinton era restrictions on rifle ownership that failed to quell homicides because gangbangers don't use rifles. They use handguns.
Treachery is always suspected by Republicans. While Democrats vote in lockstep, Republicans always have their Bipartisan Bunch who are never punished by the party. Indeed, the party dumped millions into Alaska to help Murkowski defeat an actual Republicans in the Alaskan Senate race.
Sinema and Manchin? Ha! Their objections were just for show. When Biden needs them, he gets them.
Ditto the Dirty Dozen.
Biden gave the orders on Thanksgiving, when he said, "When will we decide we've had enough? ... We need to enact an assault weapons ban to get weapons of war off America's streets."
Again.
And Republicans will enable him.
***
My weekly Substack column is "What blacks in ads really sell."