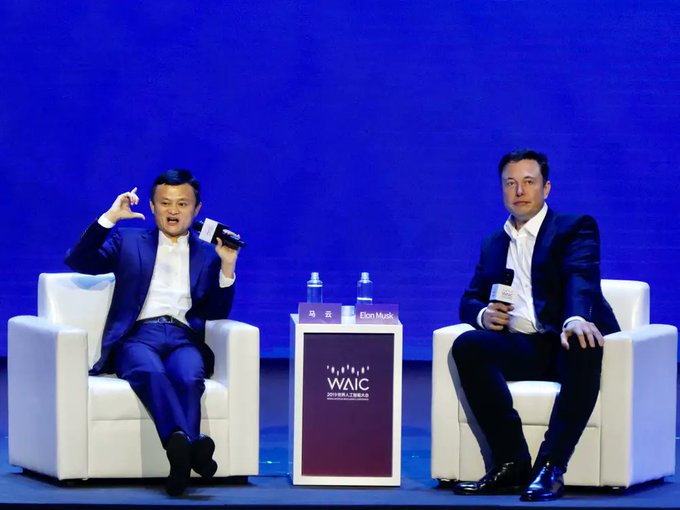 Two of the richest men in the world -- celebrities both -- met in Shanghai on August 28, 2019, to discuss the future of technology. They were Jack Ma of Red China and Elon Musk of the United States. They had divergent views. They also had divergent futures.
Business Insider reported at the time
, "After Ma said he wasn't scared of the future of AI, Musk laughed and said those would be the Chinese businessman's famous last words."
Musk was a little off because while Ma would have famous last words, those were not them.
After their debate, Musk went on to become the richest man in the world as his electric car company reached a market cap of $1 trillion. Its market cap has since fallen to $571 billion in large part due to its inflated price and the bear market in stocks. Don't worry. He still has plenty of money.
Ma disappeared.
George Calhoun of Forbes wrote in June 2021, "Last fall, Jack Ma was rich, and famous, and we knew all about him, followed his every move. He was in fact the richest man in China, and the most famous living Chinese person (according to polls). He was poised to crown his career with a triumphant public offering for his company, The Ant Group, the largest Fintech company in the world. The markets loved him."
Then Ma gave The Speech in October 2020.
He criticized the Communist Party, in the foolish belief that being the richest man in Red China protected him. It did not. Chairman Xi had him seized and sent off some place to be re-educated. He had money, not freedom. Now he is gone. Criticized by the pope, Stalin asked how many divisions does the pope have? Xi knew Ma also had no divisions. As George R.R. Martin wrote, power is power.
Musk's takeover of Twitter threatens the regime, which used social media in the 2020 election to gain power. Billionaires such as Mark Zuckerberg cowered to the DNC, Twitter shut down reports of Hunter Biden's laptop of incriminating evidence of Biden being an agent of Red China through bribes laundered in Ukraine.
Under Musk, Twitter is now independent of Corporate Media and its social media brethren. That is a threat to the federal government because he can now reveal secrets, and he is.
The Daily Mail reported, "Elon Musk has promised to fully disclose what led to Twitter's decision to censor the Hunter Biden laptop story, 20 months after DailyMail.com authenticated its contents with top experts.
"Billionaire Musk responded to a user who demanded the social media giant get to the bottom of why the laptop was blacklisted from the site -- which occurred before he bought Twitter.
"In an act of 'politically motivated censorship', Twitter deliberately prevented users from sharing a link to a front-page newspaper article about Hunter Biden's private life and his controversial business ties to Ukraine in the run-up to the 2020 Election between Biden's father and Trump.
"One person wrote: 'Raise your hand if you think [Musk] should make public all internal discussions about the decision to censor the story on Hunter Biden's laptop before the 2020 Election in the interest of Transparency.'
"Musk responded: 'This is necessary to restore public trust.'
"When stories about Hunter Biden's laptop started emerging, several outlets, social media sites and left-leaning disinformation experts claimed that it was just misinformation coming from Trump and others on the right."
***
In every episode of Lost in Space, the AI robot would at some point warn, "Danger, Will Robinson."
Danger, Elon Musk.
Oh, he should not back down. He just should be aware of the price you now pay for telling the truth in Soviet America. He is a smart man, so I suspect he he has thought this through. His plan seems to be to unleash all the truths that he can.
Found in closet at Twitter HQ fr 🤣🤣 pic.twitter.com/3xSI3KvvHk

— Elon Musk (@elonmusk) November 23, 2022
Musk has made some powerful enemies.
He has made some not-too-powerful ones.
Interesting … now pay $8

— Elon Musk (@elonmusk) November 25, 2022
Musk tells the truth to power. The Pollyanna in me says this will work because I really want to believe the truth will set you free.
He is moving to reinstate accounts that the lefties censored and shut down at Twitter.
He also is moving to allow anyone to verify their accounts for $8 a month.
His actions have increased traffic at Twitter while his reductions in staff have provided long-term viability for the company.
But with success, he raises the odds of being Jack Ma'd.
It can't happen here? Tell that to the January 6 hostages of the Biden regime.