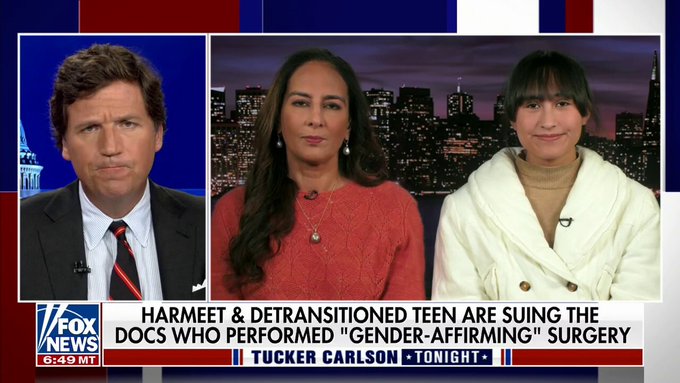 A cow can't sue the butcher shop, but a woman can sue her butchers. Two women in separate suits are suing doctors who sliced and diced them in the name of transgendering.
The first case was reported by Just the News, which said
, "A young woman who regretted her gender transition helped shut down the U.K.'s central provider of pediatric "gender affirming care" this summer through litigation that prompted more scrutiny of the National Health Service-run Tavistock clinic.
"An older American detransitioner is following Keira Bell's lead, suing mental health professionals for allegedly rushed, sloppy and categorically false evaluations that authorized her for a taxpayer-funded double mastectomy despite the red flags she presented on mental health.
"Though she's not a minor, Camille Kiefel's lawsuit could make providers think twice about treating gender dysphoria in youth with puberty blockers and cross-sex hormones, as well as surgical removal of healthy breasts and genitals for all ages.
"The gender-critical Women's Liberation Front is sponsoring Kiefel's lawsuit. Filed in Oregon's Multnomah County Circuit Court, it alleges malpractice, fraud and intentional infliction of emotional distress."
A more famous case filed this week was reported by the Catholic News Agency, which said, "Chloe Cole, the outspoken 18-year-old raising awareness about the dangers of gender transitions on children, is suing the doctors who performed transgender procedures on her when she was a minor.
"The procedures included an irreversible double mastectomy that surgically removed both of her breasts."
They also gave her puberty blockers, a poison that the FDA should ban.
Her attorney is Harmeet K. Dhillon of the Liberty Center.
The center said, "Doctors told Chloe and her parents that Chloe's gender dysphoria would never resolve itself. That was a lie. They also told Chloe and her parents that Chloe was at a high risk for suicide unless she socially and medically transitioned. Chloe's doctors told her parents, 'would you rather have a dead daughter or a live son?' That was a lie too.
"But Chloe's gender dysphoria did resolve itself. And despite an undeniable body of relevant medical literature, Chloe's doctors never once informed her of the possibly—the high likelihood—that her gender dysphoria would resolve itself, without cross-sex treatment, by the time she reached adulthood. Chloe's doctors never once informed her or her parents of non-invasive psychological or psychiatric counseling options.
"Instead, her doctors concealed treatment options from her and fraudulently informed her that the only way to resolve her gender dysphoria was to undergo a physical, chemical, and social transition to a male role.
"And the result of their concealment—their fraud—is a lifetime of irreversible physical and psychological damage to Chloe."
The defendants are pediatric endocrinologist Dr. Lisa Taylor; plastic surgeon Dr. Hop Nguyen Le; and psychiatrist Dr. Susanne Watson. The suit also names as defendants The Permanente Medical Group, Kaiser Foundation Health Plan, and Kaiser Foundation Hospitals, where she was treated for gender dysphoria."
This may be the mother of all torts. If the parents of children killed at Sandy Hook can get a jury award of more than a billion dollars, Cole should get a trillion dollars.
Hospitals and surgeons charge quite a bit of money to change boys into girls and girls into boys. NPR reported it can cost up to $100,000.
Because so much money was on the table, this lends credence to Cole's assertion that a doctor told her parents they had a choice between a dead daughter and a living son.
Corporate Media, teachers unions, the medical industry and the LGBT Mafia have promoted teen and even pre-teen transgendering. The liberal intent to emasculate America is real.
Wesley Yang interviewed Jennifer, a mother in Washington state whose daughter was groomed by these monsters.
Jennifer said, "Well, my daughter was in fifth grade. And she was being socially transitioned by her school, behind my back.
"What that means is that they were the school was using a name that she made up — so not her name that was given to her, and different pronouns for her. And she was actually using — she didn't use the girls bathroom, for instance, she used the bathroom in the office. If she would have been — so she was 10-11 years old when this was happening. If she would have been older — in my state at 13 — she could have gone in to opposite sex spaces without me ever even knowing"
Turning tomboys into some Frankenstein version of a boy is evil.
A federal ban on such surgery until the person is 30 would protect children as well as the rights of those who believe for whatever reason that they are the wrong sex.
If successful, Cole's lawsuit could get hospitals out of this business STAT. Board of education elections could throw the Church of LGBT out of the classroom.
***
My weekly column on Substack posted. It updates a Paul Harvey classic, "If I Were The Devil."
There is no paywall. Subscriptions are free.