ITEM 1: This weekend, CBS announced that it finally verified the authenticity of Hunter Biden's laptop -- two years after the New York Post broke the story. Computer repairman John Paul Mac Isaac gave the laptop to the FBI, which did nothing with it.
A reader explained why, "Did you know that John Paul Mac Isaac's book,
American Injustice: My Battle to Expose the Truth
is published by a book publisher owned by Paramount Global, which also owns CBS?"
I did not know this but now I do. It took two seconds to verify.
ITEM 2: The Hill reported, "White House releases turkey day 'talking points' for family dinner."
Once again the communists want to spoil a family dinner by politicizing it and demanding we praise Chairman Biden.
The only argument worthy of this day is whether the Dallas Cowboys are America's Team or Satan's Squad.
ITEM 3: The RAIR Foundation reported, "Italy Arrests Neo-Nazis Affiliated with Ukraine's Nazi Military Unit Azov Battalion."
Well, well, well. The media told me Giorgia Meloni was the evil fascist, but it turns out media darling Zelensky is the one with the Neo-Nazi battalion.
ITEM 4: It turns out the Pilgrims dressed like Prince, not Puritans.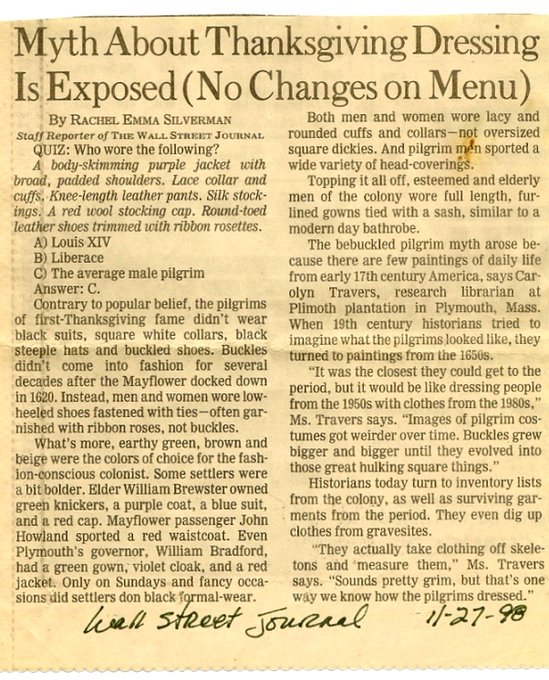 Thank the Lord for the Pilgrims.
ITEM 5: EJ Rosetta, the lesbian writer for HuffPost, tweeted, "3 months ago, I was tasked with writing an article detailing '20 Transphobic JK Rowling Quotes We're Done With.'
"After 12 weeks of reading her books, tweets, full essay & finding the context of these quotes, I've not found a single truly transphobic message."
Rosetta also tweeted, "JK Rowling is not an intolerable transphobe, she's a (talented) woman who could have sat back & been beloved forever, but looked around & paid attention as the intersection of trans rights and women's rights has had understandable growing pains.
"In many cases, one groups rights are being sacrificed for the other, with the most vulnerable women often paying the price. Here in Britain, we always want to support both sides but realise that in some cases (like DV Shelters), that is impossible."
I laugh.
Women really thought liberals cared about them.
It's all about power, baby. You got dumped in favor of a tranny.
ITEM 6: Zero Hedge reported, "Howls Of Outrage After New York Times Confirms SBF To Speak Alongside Zelensky, Yellen."
SBF is Sam Bankman-Fried who paid off politicians and then cleaned out his crypto-currency bank.
Zelensky is a bigger crook.
NYT has no business hosting either one of them.
ITEM 7: Peter Barry Chowka reported, "On November 17, minutes after it opened for the day, a small bank in the island town of Vineyard Haven was invaded by three armed masked men. They threatened, subdued, and duct-taped the employees and proceeded to make off in a stolen car with an undetermined amount of cash — after brandishing semiautomatic handguns to intimidate the bank personnel.
"Nothing like this crime has ever been seen on Martha's Vineyard. Previously, the crime rate on the small island off the southern coast of Massachusetts was almost nonexistent, confined to things like DUIs and the occasional passing of a bad check. But now, like many other blue communities that have declared themselves to be sanctuaries for illegal aliens, things are changing."
The rich in their mansions and beach houses think they are safe while the rest of us must live in the hellhole they created.
Maybe they are. My guess is they aren't.
ITEM 8: WaPo reported, "Since Rep. Liz Cheney accepted House Speaker Nancy Pelosi's offer to serve as the vice chair of the House committee investigating the Jan. 6, 2021, attack on the U.S. Capitol, the Wyoming Republican has exerted a remarkable level of control over much of the committee's public and private work.
"Now, less than six weeks before the conclusion of the committee's work, Cheney's influence over the committee's final report has rankled many current and former committee staff. They are angered and disillusioned by Cheney's push to focus the report primarily on former president Donald Trump, and have bristled at the committee morphing into what they have come to view as the vehicle for the outgoing Wyoming lawmaker's political future."
The Lizzard thought being Benedict Arnold would buy her love from the libs.
Liberals have no love, Liz. Only hate.
ITEM 9: The Daily Caller reported, "The U.S. Capitol is set to become more accessible to the public in January after Republicans take control of the House of Representatives, said House Minority Leader Rep. Kevin McCarthy.
"Over the 117th Congress, much of the Capitol, particularly the House of Representatives, remained inaccessible to members of the public. The galleries of both chambers, as well as access to offices and public tour spots like the rotunda, were closed due to COVID-19, while security measures, such as non-scalable fencing, which was later removed, were put in place after Jan. 6, 2021, to further limit access, according to Politico."
The return to normal begins after 4 years of having a bitch as the lead dog.
ITEM 10: The Seattle Times reported, "A 15-year-old boy was charged Tuesday in connection with three armed robberies committed in under an hour last week at South King County gas stations, and sheriff's detectives suspect he was involved in more than 30 others during the first two weeks of November, prosecutors say.
"The teen was arrested Thursday in Covington and remains in juvenile detention. His city of residence is not included in charging documents.
"The Seattle Times does not name juvenile defendants unless they are charged as adults, but the 15-year-old — who is charged with two counts of first-degree robbery, attempted first-degree robbery and unlawful possession of a firearm — is not eligible for adult prosecution. That's because first-degree robbery was one of the crimes removed by state lawmakers in 2018 from a list of offenses that could land a juvenile in adult court."
15.
Billy the Kid didn't start his crime career until he was 16.
Kids grow up so soon these days.
ITEM 11: Just the News reported, "Americans who were either vaccinated or boosted against COVID-19 constituted the majority of deaths from the virus for the first time in August, according to analysis from the Kaiser Family Foundation conducted on behalf of the Washington Post."
58%.
But the percentage of vaccinated people is higher than that but the government-pharmaceutical complex assured us the vaccines stopped the virus dead cold.
They were half right.
ITEM 12: Conservative Brief reported, "Republican Rep. Andy Biggs issued a brutal warning to Dr. Anthony Fauci as he is set to give his last address to reporters before leaving government."
Biggs said, "Fauci is scheduled to give a final briefing today before he leaves government. He thinks resigning will prevent him from being held accountable. He's wrong. We'll be bringing him in ASAP."
Prosecute.
ITEM 13: Big League Politics reported, "Rep. Matt Gaetz Calls for Hostile Takeover of Jan. 6 Committee by Republican House Majority."
I love it. I recommended it. Shove the Fake Insurrection right down their throats. Put the FBI on trial. Put the Capitol Police on trial. Put Nancy on trial with the goal of expulsion from the House. Make it so toxic that no one would dare do this again.
ITEM 14: The Department of Justice reported, "After a two-week jury trial, a federal jury in Honolulu, Hawaii, found defendants Kaulana Alo-Kaonohi, 32, and Levi Aki Jr., 33, guilty of a hate crime for their racially motivated attacks on C.K., a white man who was attempting to move into their Native Hawaiian neighborhood of Kahakuloa on Maui."
The crime happened in 2014.
The sentencing will come next year. Justice in Hawaii works at the speed of a bureaucracy.
ITEM 15: The Oregonian reported, "In a sign of mounting frustration, Multnomah County's top prosecutor Monday released a list of the cases of nearly 300 people who have had charges dismissed against them this year because no public defenders were available to represent them."
The message to the police is clear: Why bother?
FINALLY, Happy Thanksgiving.
The Bills today are going to try to do something the Lions seldom do: Win back-to-back games in Detroit.