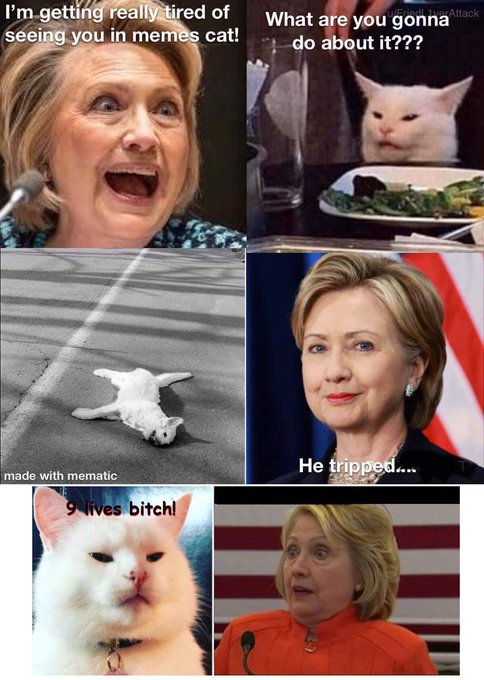 ITEM 1: A faithful reader is sending me the New York Post's Trump Rant du Jour. This weekend's included, "Trump puts his ego before everything."
His ego gave us an embassy in Jerusalem, the lowest unemployment in 50 years, energy independence for the first time in 50 years, no new wars and no Hillary.
There is a bunch of other stuff, too. I just picked the first five I could think of on the fly.
My point is, his ego is better than any other president since Reagan.
Ego/Mean Tweets 2024.
ITEM 2: WND reported, "A legal team that works with the Institute for Justice is telling the federal government it should not launch another new program to spy on truckers.
"The New York Times reported just months ago that commercial truckers already are subject to a long list of government monitors, making 'long-haul truckers …. some of the most closely monitored workers in the world.'
"They are required to keep log books of their time and travels, their companies watch them every day, their companies' customers report every delivery – or not."
Long-haul truckers are largely independent. Fascists hate independence.
Farmers are next.
ITEM 3: Fox reported, "Abraham Lincoln statue vandalized in Chicago. The vandals wrote 'COLONIZER' and 'LAND BACK' on the statue."
Today's college graduates are indoctrinated sheep with sheepskins.
None of them or their professors are worthy of licking Lincoln's boots. They hate Lincoln because he proves wrong their talking point that the Civil War was not about slavery and that blacks used it to liberate themselves on Juneteenth.
He literally gave his life to freeing slaves.
ITEM 4: Dana Millbank of the Washington Post complained about the land he bought to get back to nature. He said he was shocked to learn it is 95% brush.
A reader wrote, "Yeah, back in colonial days (and stretching back in time) clearing land was a big deal, Dana. Whole forests had to be cleared in order to farm. Trees cut down (lumber) tree stumps burned (bonfires) and then yes, weeds plowed or pulled, year in and year out. Which grow faster than trees.
" Land clearing for cultivation was a great civilizational achievement, taking organized effort and stupendous manpower. Probably more effort than building the pyramids.
"If just anybody could do it, without pesticides, the Indians would have turned North America into a tobacco, eggplant, tomato, corn, and marijuana plantation."
The real money was in cotton.
ITEM 5: CNN said, "Daylight Saving Time sheds light on lack of sleep's disproportionate impact in communities of color."
Old: Everyone I hate is Hitler.
New: Everything I oppose has a disproportionate impact in communities of color.
ITEM 6: The Daily Wire reported, "Over the last month, VERS, a gay bar in Hell's Kitchen has experienced four separate incidents of an individual throwing bricks through its windows.
"Immediately, New York leftists declared it was evidence of something sinister."
Manhattan Borough President Mark Levine tweeted, "The epidemic of anti-LGBTQ+ violence is national. A well-known gay bar on Manhattan's west side has been attacked repeatedly in recent weeks. We can not stand for this."
The story continued, "The suspect currently in custody for the attacks is 34-year-old Sean Kuilan. Kuilan is not being charged with a hate crime. Why not? Well, he's gay."
I am about as surprised as Captain Louis Renault was when he learned there was gambling going on at Rick's casino.
ITEM 7: Popular Science reported, "Despite pushback, NASA won't rename the James Webb Space Telescope. LGBTQI+ scientists and astronomers have protested the name."
LGBTQI+ scientists.
Are these the same guys who deny that chromosomes determine your sex?
ITEM 8: The Detroit Free Press reported, "Wayne County Judge Demetria Brue is facing scrutiny — and a formal complaint — over her alleged misconduct in a Mackinac Island bike shop.
"The Judicial Tenure Commission filed a public complaint against Brue, a judge in the 36th District Court, alleging professional misconduct."
Brue allegedly tore up a receipt and said, "You assaulted me. Did you just assault me? You took my receipt and tore it up. I want the police. Now we need the police. I am going to call them. You snatched my receipt and threw it away and grabbed my hand and you hurt me.
"You touched my hand with force and violence. I am a female. I am a judge. I am here for a conference and you ... I am an African American female. That was racist, and it was disrespectful and it was violent."
Security footage said otherwise. Oops. There goes the judge. There goes the judge.
ITEM 9: The Daily Wire reported, "The Food and Drug Administration (FDA) approved a $3.5 million drug treatment Tuesday, the most expensive drug in the world.
"Hemgenix, manufactured by CSL Behring, is the first gene therapy that treats adults with hemophilia B, a genetic bleeding disorder resulting in insufficient levels of a protein called Factor IX that is needed to stop bleeding. Those with severe hemophilia B are required to have regular infusions, but the new multi-million dollar gene therapy is a single-dose IV infusion, carrying a gene for blood clotting Factor IX."
Miracles ain't cheap.
ITEM 10: In Red China, the army uses tanks against protesters.
They protest anyway.
WATCH: Protests are breaking out across China from Beijing to other major cities in the country over Covid lockdowns

pic.twitter.com/WT9ibRkvTW

— Insider Paper (@TheInsiderPaper) November 27, 2022
What is our excuse?
ITEM 11: Just the News reported, "The House Republican leadership has rejected 6 out of the 8 House Freedom Caucus rules changes that have been considered so far, Just the News has learned.
"The amendments that failed included a requirement that spending bills must pass before the fiscal year officially begins on Oct. 1. If not, other legislation would not be able to be considered on the floor. An amendment that would ensure all members of the Republican Conference are able to participate in conference meetings was rejected, and a rule change to allow one member, with the support of 25 others, to request having one Republican staffer admitted to conference meetings also failed.
"In addition, House GOP leadership rejected an amendment that would have allowed committee members to elect their own chairmen."
McCarthy overlooked one inconvenient detail. He's not speaker yet.
ITEM 12: The Daily Wire reported, "Lower-level Russian parliamentarians unanimously passed a law Thursday that would ban the distribution of materials promoting homosexuality, pedophilia, and gender reassignment."
Disney hardest hit.
ITEM 13: Reader: Don, can you give an example of a self-own?
As a matter of fact, I can...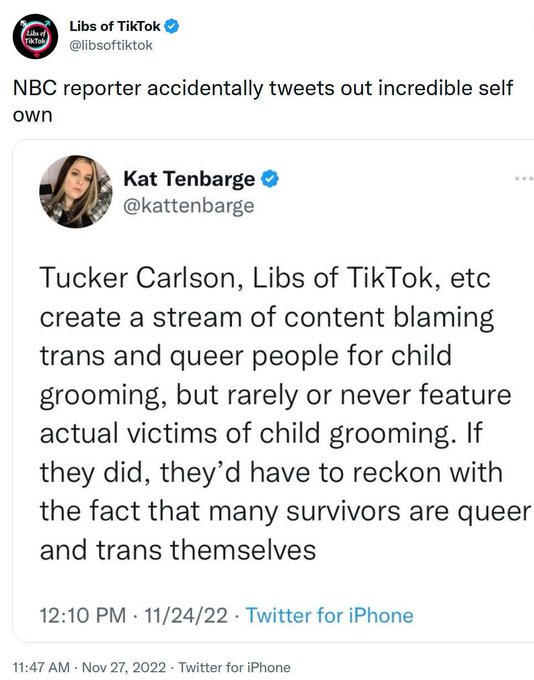 Isn't that the point of grooming?
ITEM 14: Fox reported, "Chicago woman with concealed-carry license foils attempted carjacking by shooting man in head."
He's in critical condition.
Pray for him. We want him to stand trial -- and name his three accomplices.
ITEM 15: Post Millennial reported, "CEO of trans activist group Mermaids resigns after board member ousted over pedophile advocacy
"Susie Green's resignation comes as Mermaids has been under mass public scrutiny for pushing gender ideology on children, and attempting to silence those they disagree with."
Groomers Inc.
ITEM 16: Just the News reported, "Democrats and immigration activists have long claimed that amnesty for illegal immigrants who came to the U.S. as children wouldn't include young people with a criminal history, but many of the juvenile beneficiaries of the Deferred Action for Childhood Arrivals program were affiliated with gangs and had arrest records when granted the program's benefits, according to a new report.
"George Fishman of the Center for Immigration Studies this week released a report highlighting how many criminal immigrant youths qualify for DACA but face few consequences."
Democrats have always liked gangbangers. What party do you think those judges belonged to whom Don Corleone bought off?
HOW NYT WORKS:
This is a direct quote:

"The Times provided Mr. Portnoy with detailed questions about this article. Barstool executives did not respond to repeated messages. Mr. Portnoy did not provide answers."

Here is reality https://t.co/IIHcpY72V7 pic.twitter.com/N3Ew8JEq8Z

— Dave Portnoy (@stoolpresidente) November 20, 2022
FINALLY, many readers disagree with my Substack column this week.
https://donsurber.substack.com/p/what-blacks-in-ads-really-sell
Maybe I am too optimistic.