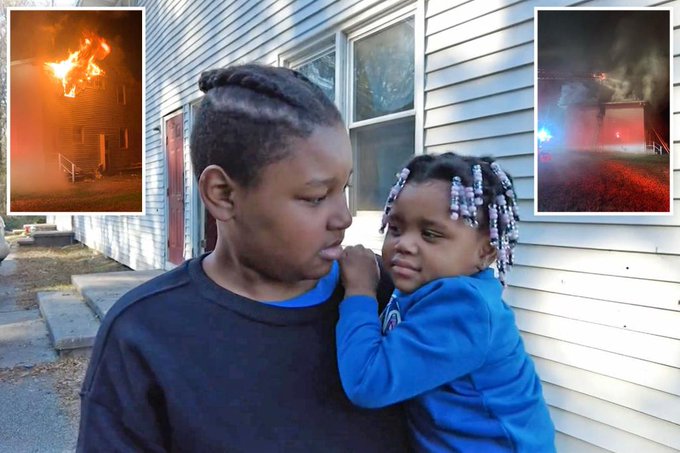 ITEM 1: The New York Post reported, "A small but mighty hero rescued his 2-year-old sister after their Maryland apartment building went up in flames Tuesday evening.
"La'Prentis Doughty, 11, ran out of the Salisbury building after noticing the fire, but immediately rushed back up to the second floor when he realized little Loyalty was still inside, state fire marshals said.
"The boy, willing to put his life on the line for his sister, suffered 'very minor burns to his arm' after making his second escape."
The big brother said, "If I didn't save my sister, I would be mad at myself because I could've saved her easily. I could have saved her, and I would risk my life for my sister."
God bless him and his sister.
ITEM 2: Breitbart reported, "On Wednesday's broadcast of Newsmax TV's Rob Schmitt Tonight, Rep. Guy Reschenthaler (R-PA) argued that Republicans 'need to start telling people that it's okay to vote by mail,' but drop it off themselves. And Republicans need to do a better job at ballot harvesting where they're allowed to and say, 'these are the rules. We're going to play by your rules and we're going to beat you at your own rules.'"
This is the lesson of 2020.
Republicans may -- just may -- learn it by 2024.
ITEM 3: Just the News reported, "Enough Chinese-made recreational drones have been spotted in restricted airspace in the Washington, D.C. area to raise foreign espionage concerns among U.S. government agencies and lawmakers alike.
"The drones, which are manufactured by DJI and sold at major retailers, can be altered by users to override the geofencing limitations that prevent the devices from flying over sensitive locations.
"According to a media report, hundreds of these drones have been detected recently in restricted airspace but U.S. officials, at this time, are not alleging that the Chinese government is directing them. The report noted, however, that DJI has received funding from investors tied to the Chinese government."
I am not worried about Red China's drones in DC.
I am worried about Red China's operatives in the White House, beginning with the Sniffer-in-Chief.
ITEM 4: James Woods has the perfect answer to an idiocy.
It's time to answer this nonsense with "Damn straight, Skippy!" pic.twitter.com/t2F2VaoJls

— James Woods (@RealJamesWoods) November 25, 2022
Every now and then, you must show them that you don't care what they think.
ITEM 5: The New York Post reported, "Semafor, a news site launched last month after getting a large infusion of cash from disgraced FTX founder Sam Bankman-Fried, has come under fire for staying mum about whether it will return the now-bankrupt crypto firm's money.
"Bankman-Fried was reportedly an initial investor in the $25 million raised by Semafor's founders — former Bloomberg Media CEO Justin Smith and former New York Times media columnist and Buzzfeed editor in chief Ben Smith.
"After FTX imploded and filed for bankruptcy this month, there have been calls for Semafor to return the cash."
SBF is the Jeff Epstein of crypto and many are the politicians and media outlets he bought off. Puck News reported that the list of media outlets he helped fund include the insufferably smug Pro-Publica and Vox.
ITEM 6: HuffPost reported, "The Denver Post has slammed Rep. Lauren Boebert (R-Colo.) and other extremists across the nation for perpetuating the 'rhetoric that fuels fear and hate' against LGBTQ people following Saturday's mass shooting at a gay nightclub in Colorado."
The newspaper editorialized, "We are weary of writing versions of the same editorial over and over again. Thoughts and prayers do not end gun violence. Words matter. Hateful, intolerant speech has no place in public discourse."
The self-righteous newspaper owner ignored the fact that as a non-binary person, the suspected murderer is LGBTQ.
ITEM 7: Business Insider reported, "Just like Richard Fierro in Colorado Springs, data shows that 64 unarmed civilians have apprehended the gunman in mass shootings since 2000."
The number is likely higher among the armed. A good guy with a gun provides better protection than gun laws and the Uvalde Police Department.
ITEM 8: Fox reported, "Pennsylvania school district votes to defy law that would prohibit teaching any race is superior to another."
There's only one race. The human race.
ITEM 9: Newsmax reported, "Billionaire Elon Musk agreed that Twitter should release all internal discussions concerning the censoring of the New York Post's story that exposed information on Hunter Biden's laptop before the 2020 presidential election."
My guess is all roads lead to the DNC.
ITEM 10: Slay reported, "A top U.S. vaccine official has died suddenly, according to her family.
"Dr. Almyra Oveta Fuller, 67, was a leading virologist and member of the U.S. Food and Drug Administration advisory panel.
"As part of her role on the FDA panel, Fuller voted in favor of granting emergency use authorization for the COVID-19 vaccines."
Her death feeds the conspiracy theory about the vaccine.
ITEM 11: The New York Times reported, "How Do You Tell a Vandal From a Visitor? Art Museums Are Struggling."
Given that the artwork attacked so far has gone undamaged. perhaps museum staffers sympathetic to the communist "anti-oil" cause are helping the protesters.
ITEM 12: Reuters reported, "A year-long study of the drainage system under the Colosseum has unearthed fragments of the bones of bears and big cats that were probably used to fight or as prey in hunting games in the ancient Roman arena, archaeologists said on Thursday.
"Other discoveries include more than 50 bronze coins from the late Roman period as well as a silver coin from around 170-171 AD to commemorate 10 years of rule of the emperor Marcus Aurelius, they added in a statement.
"Seeds from fruits such as figs, grapes and melons as well as traces of olives and nuts -- thought to indicate what spectators snacked on during shows -- were also recovered from the 2,000-year-old stone amphitheater."
I pity the archeologists in 4000 who find nothing but hypodermic needles and cloth masks in the sewers of San Francisco. They will think it was a giant hospital.
ITEM 13: The New York Times reported, "Pope Francis compares Russia's war against Ukraine to a devastating Stalin-era famine."
Wow, 90 years after the fact, NYT finally admits Stalin starved to death 6 million Ukrainians.
ITEM 14: UPI reported, "Winston, a French bulldog, was named Best in Show, at the 2022 National Dog Show Thursday."
He was fortunate in not having any oui-oui accidents.
ITEM 15: WOWK reported, "A man from Eleanor who was shot by Putnam Sheriff's deputies Wednesday has died from his wounds, officials said."
The story also said, "Sheriff Bobby Eggleton was involved in the incident and has placed himself on leave pending a West Virginia State Police investigation."
Whoa.
I trust it is an unpaid leave. Otherwise, he's just taking a vacation.
FINALLY, my wife and I had a nice and quiet Thanksgiving with enough leftovers to last a week.
I trust my readers also had a good one. I commiserate with the Lions, Giants and Patriots fans, of course.