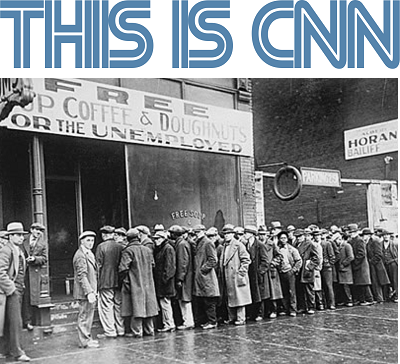 Chris Licht, head of CNN, made it official today that layoffs will begin. No one has disclosed how many of the cable channel's 4,000 employees will collect unemployment for the holidays. They will join AMC which canned its CEO and is laying off 20% of its staff.
Television is in turmoil as streaming services replace cable and ad revenues decline amid a recession none dare declare.
Via the Hollywood Reporter, Licht sent this memo to all:
Our people are the heart and soul of this organization. It is incredibly hard to say goodbye to any one member of the CNN team, much less many. I recently described this process as a gut punch, because I know that is how it feels for all of us.

Today we will notify a limited number of individuals, largely some of our paid contributors, as part of a recalibrated reporting strategy. Tomorrow, we will notify impacted employees, and tomorrow afternoon I will follow up with more details on these changes.

It will be a difficult time for everyone. If your job has been impacted, you will learn more through an in-person meeting or via Zoom, depending on your location. In those meetings, you will receive information specific to you about notice period or any severance that would apply, and your anticipated last day. I want to be clear that everyone who is bonus eligible will still receive their 2022 bonuses, which are determined by company performance.

I know these changes affect both our departing colleagues and those who remain, and we have resources designed to support you. I will include a link to those resources in my follow up email tomorrow.

Let's take care of each other this week.
Have yourself a merry little Christmas.
The left is aghast to see CNN cut back. Oh, no one really watches CNN. They have ABC, CBS, NBC and the rest to feed them the disinformation, misinformation and talking points they want. But CNN is like the old restaurant you used to frequent. Former patrons are sad to see it go.
Robert Reich, former secretary of labor, was particularly upset to learn that CNN may return to objectivity in reporting the news.
He wrote, "The changes at CNN look politically motivated. That should concern us all."
Actually, it should concern maybe 1% of us because that is at a maximum the percentage of Americans who watch CNN at any time in an average day. Its best shows barely get a million viewers. SpongeBob SquarePants routinely scores larger audiences.
Not so long ago, this did not matter.
For four decades, CNN was a cash cow. News is cheap to produce and made even cheaper when you ditch covering fires in favor of having talking heads talk about the fires.
People leaving cable is a problem because CNN receives carriage fees from cable companies -- what newspapers would call subscriptions. The fees are based not on how many people watch it but on how many people get cable. That was a terrific business model that forced people to pay for something they did not want or use.
But all things must pass, and streaming services are making cable's time pass.
Learn to PR. It pays more.
And for an undisclosed number of people at CNN, their time at the news channel is about to pass.