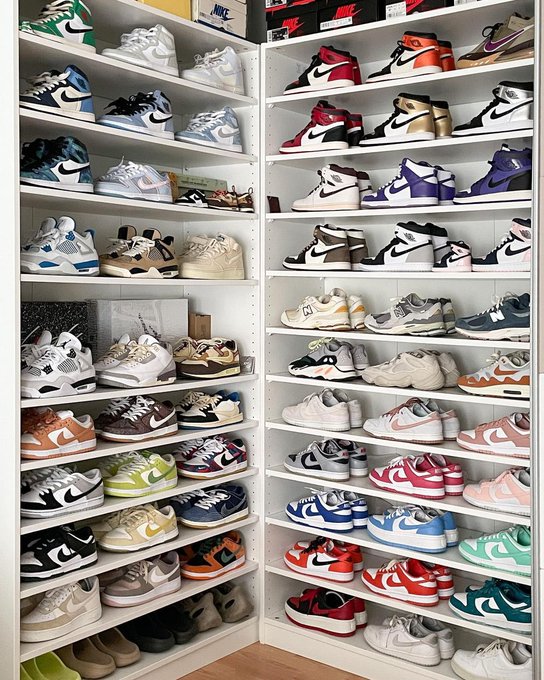 Consumers have fixed Nike's supply chain problems.
People stopped buying Nike shoes and clothing.
Nike's inventory rose 44% this summer as back-to-school sales were a bust. As the Christmas shopping season begins, Nike is slashing prices.
Fox 29 in Philadelphia reported, "According to a report by The New York Post, Nike said it's planning to offer sales of up to 44% overall and 65% in North America.
"The company is blaming supply chain issues for a lag in product movement which resulted in the company overstocking some items while others arrived late."
A 65% drop in prices isn't a sale. It is the Freddy Krueger plan to dump inventory because you are running out of space in the warehouse.
Don't take my word for it.
CNBC reported, "Nike on Thursday said it had a strong first fiscal quarter despite supply chain issues, as well as declining sales in [Red] China, its third biggest market by revenue.
"But Nike's shares fell more than 10% Friday after the company described problems with overstocked inventory levels and the aggressive steps it's taking to lower them."
This ain't temporary. This is the recession taking hold. That 10% drop in the stock's price was not seen as an opportunity to buy.
MarketWatch reported, "Argus downgraded Nike's rating on Monday from Buy to Hold. According to analyst John Staszak, the company's high inventory level--which was observed to have climbed by 44% to $9.7B in the fiscal first quarter of 2023--is the reason for the downgrade on the athletic apparel behemoth.
"According to Staszak and crew, Nike will have to lower prices to get rid of this inventory, which will have an adverse effect on margins and earnings in the upcoming quarters."
Nike is not the only overstocked product. Retailers cannot move merchandise.
Bloomberg reported, "The inventory glut that dragged down U.S. retailers over the past two quarters may only be getting worse. For shoppers, that means better deals.
"Inventory levels have increased sequentially and are at the highest level relative to sales since the start of the pandemic, UBS Group AG analysts led by Jay Sole said in a recent note."
Translation: the economy is doing worse than it did in the pandemic lockdown.
Bloomberg also said, "Americans have largely shifted their spending away from things like apparel and footwear in favor of travel and entertainment — leaving retailers with far more merchandise than they can sell at full price. At the same time, slower economic growth, inflation and higher interest rates are adding to concerns that consumers may slow their purchases in the second half of this year."
Economic growth? It doesn't exist.
The nation entered a recession on July 1 after two consecutive quarters of shrinking economic activity. The media and the government are going out of their way to obfuscate the condition but people know that hard times are coming. Stock prices overall have tumbled by more than 20% so far this year.
While unemployment remains low, that will not last. Buyers are staying home.
The good news is the recession will bring down prices.
The bad news is it may trigger deflation, which will really screw up the economy. The last time we had deflation, it took a world war to cure it.