ITEM 1
:
Harvard Business Review
interviewed Jerry Seinfeld.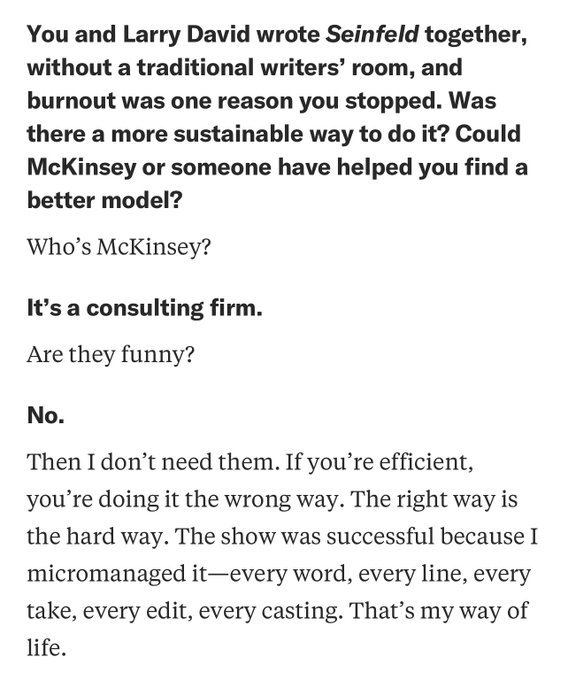 Word has it that Shakespeare didn't have a traditional writers' room either.
ITEM 2: The Wall Street Journal reported, "Iran's Evin Prison Set on Fire as Protests Spread."
A reader took umbrage with this passage in the report, "Since opening five decades ago under the shah, Evin Prison has been a symbol of political repression in Iran. It is the detention center for an untold number of protesters who have demonstrated against the Iranian government since the September 16 death of Mahsa Amini, a 22-year-old woman in police custody for allegedly not adhering to strict Islamic dress code, authorities said."
He wrote, "Notice how the two 'journalists' ignore the radical Islamic regime of 40+ years and go direct to the Shah? As though blaming him? Yes, the fall of the Berlin wall can be tied directly to Czar Nicholas II's abdication."
I like the "strict Islamic dress code" line, as if she got kicked out of the prom for showing too much cleavage.
ITEM 3: National Review reported, "Virginia Democratic delegate Elizabeth Guzman is seeking to introduce legislation that would hold parents criminally liable for refusing to treat their children as a different sex from the one they were born into.
"The legislation, which Guzman plans to introduce in Virginia's upcoming legislative session, would expand the definition of child abuse so that parents could be charged with a felony or misdemeanor for refusing to honor their child's request to be treated as the opposite sex."
We live in a world where not castrating your son soon will be child abuse.
ITEM 4: Emerald Robinson's The Right Way reported, "5 Big Election Fraud Stories Breaking Just Before The 2022 Midterms."
Her report is the Hunter Biden laptop of 2022. The media will ignore it and Stephen Colbert will mock it.
ITEM 5: The New York Times whined, "Democrats Spent $2 Trillion to Save the Economy. They Don't Want to Talk About It."
Why would they? The trillions woke inflation from its 40-year slumber.
ITEM 6: CBS reported its poll found that 63% of Americans noticed gasoline prices rose in September.
That's up from 16% in August.
65% say the economy is getting worse.
Yet CBS said Republicans will gain only 0 to 22 seats.
ITEM 7: The Washington Post reported that it tried to interview Republican gubernatorial candidate Kari Lake of Arizona.
"Is this paper owned by — who is it owned by?" she asks.

Jeff Bezos, the founder of Amazon, owns The Washington Post.

"Oh, I thought so," she says, her voice turning hard.

"You don't give anybody fair coverage, unfortunately."

She walks away, and a gaggle of Lake staffers are waiting, laughing.
Conservatives don't need the press. It is the other way around.
ITEM 8: Biden said, "I'm not concerned about the strength of the dollar. I'm concerned about the rest of the world. Our economy is strong as hell."
By strong as hell meant going to hell.
ITEM 9: The New York Post reported, "In the past two years, homeless encampments have exploded in Washington D.C., as both the city and federal governments lifted enforcement measures during the COVID-19 pandemic — and made it a no-brainer for itinerants to lay down roots by providing for their every need.
"A tour by The Post of the district's major tourist areas this week found at least 35 vagrants in residence at a National Park Service site two blocks from the White House; more than 20 in the green spaces surrounding the State Department complex; and five across the street from the infamous Watergate Hotel.
"And these sites accounted for less than 5% of the estimated 120 tent cities in Washington D.C."
In the 1970s, The World Is A Ghetto was a song by War.
Now it is Democrat policy.
ITEM 10: CBS reported, "Alaska snow crab season canceled as officials investigate disappearance of an estimated 1 billion crabs."
How do you lose a billion crabs?
ITEM 11: The Blaze reported, "New York Times lampooned for conspiracy theory that Hispanic Americans could be the new face of 'white supremacy.'"
Here I thought it was Larry Elder and Candace Owen. (In Joey Bishop voice.) Son of a gun.
ITEM 12: Yep.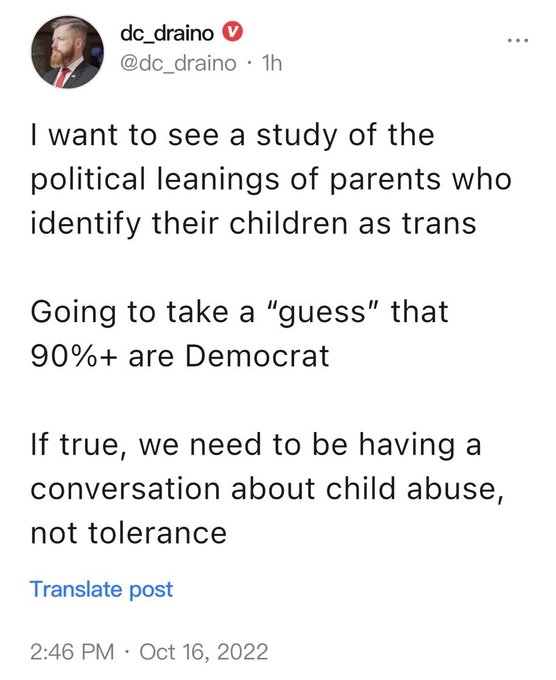 And guess whose account was suspended. The truth. It will get you suspended.
ITEM 13: The Hill reported, "Arizona Republican gubernatorial nominee Kari Lake sparred with CNN's Dana Bash over unfounded claims of mass election fraud in 2020 during an interview on Sunday."
Bash: You called the 2020 election corrupt, stolen, rotten and rigged, and there was no evidence of any of that presented in a court of law or anywhere else that any of those things are true. So why do you keep saying that?
Lake: Well, there's plenty of evidence. We had 740,000 ballots with no chain of custody. Those ballots shouldn't have been counted.
There was no evidence presented in court because judges wouldn't let the evidence be presented.
ITEM 14: The president of the Greater Springfield NAACP in Massachusetts tweeted, "Whiteness is an unrelenting, demonic, force of evil."
Just another oppressed graduate of Harvard Divinity School.
I'm beginning to think black community leaders benefit from the racial disharmony and bitterness that they now promote.
ITEM 15: The Center Square reported, "Florida Gov. Ron DeSantis has outraised other governors running for reelection in the United States.
"As of September 2, his campaign had raised $166,578,634, Transparency USA reports. His top donor was the Republican Governors Association, which gave $17.35 million."
I think we know who the Republican governors want in 2024.
FINALLY, Frank Bruni of the New York Times fears Herschel Walker will win his Senate race.
Bruni wrote, "Rather than Warnock trying to make Walker answer for his alliance with the former president, Walker insisted that Warnock defend his with the current one, a dynamic that doesn't exactly track with media coverage of the midterms. We keep wondering how much Trump will wound Republican candidates. Warnock seemed plenty worried about how much Biden would wound him."
Duh.
The people outside New York and DC are chanting Fuck Joe Biden, not Orange Man Bad.