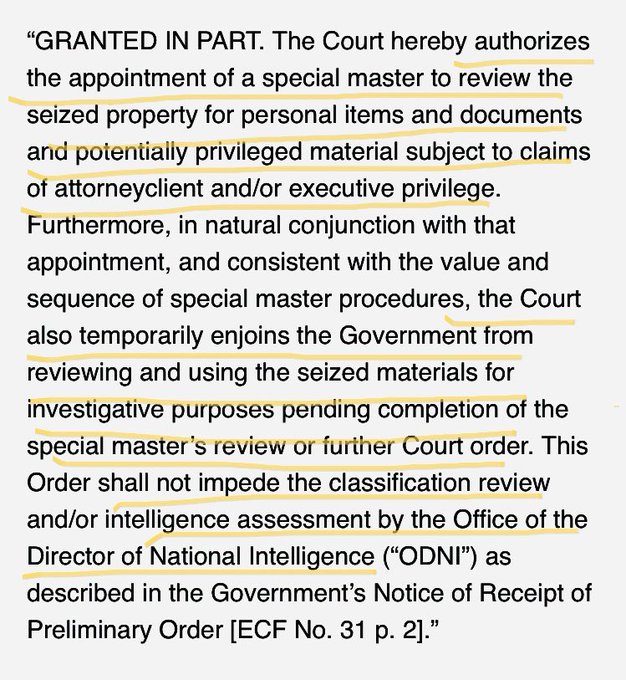 It's over. The Democrat Party plan to spook everyone into believing Biden would soon indict President Donald John Trump fell apart this afternoon when Judge Aileen Cannon said she would appoint an outsider to review just what the FBI confiscated in its raid on Mar-a-Lago four short weeks ago.
Earlier today, I wrote about what the FBI stole: 1,693 newspapers and the like, clothing and gifts. None of this was the nuclear codes FBI PR men (anonymous sources) leaked to the media.
Judge Cannon wrote, "The Court is mindful that restraints on criminal prosecutions are disfavored, but finds that these unprecedented circumstances call for a brief pause to allow for neutral, third-party review to ensure a just process with adequate safeguards."
If the appointed person does the job right, everything the FBI took will be returned to Trump with a note of apology because none of it was classified. He de-classified everything he sent to Mar-a-Lago.
This case has nothing to do with national security and everything to do with intimidation. The National Archives demanded Trump turn over stuff just like it demands everything from others as they leave the presidency. It is a bureaucracy that is full of itself. Biden used this bureaucratic hissy fit to create a constitutional crisis to win the midterm elections. He is going all in on his fascism.
This leads to that little speech Biden gave last week.
Now then, on September 26, 1777, the British army marched into Philadelphia and occupied the city for the the next nine months. They used Independence Hall, where the Continental Congress ratified the Declaration of Independence, as a hospital and jail.
The Brits left behind a stinking mess. Americans spent weeks scrubbing the place down.
245 years later, Biden made a stinking mess in Independence Hall. His fascist speech lit in Nazi-inspired red and black was an affront to every American. The few who supported it are fools if they believe the FBI will never go after them.
The background of the speech was the Raid on Mar-a-Lago. It failed to divide Republicans. While after years of fake investigations, wild accusations and petty impeachments may have convinced Democrats that there is a crime in there somewhere, Republicans stand by their man -- 75 million strong.
Biden decided to double down with his declaration of war on 75 million Trump supporters. He has F-15s after all. (Nobody tell him he has B-2s.)
It backfired even worse than the Raid because it showed he is old, angry and demented. Even CNN would not carry his water.
Trump on Saturday rallied in Pennsylvania and spoke for nearly two hours. His theme was clear.
He said, "There's only one party that's waging war in American democracy by censoring free speech, criminalizing dissent. You see that happening? Disarming law-abiding citizens, issuing lawless mandates and unconstitutional orders, imprisoning political protesters. That's what they're doing, rigging elections. weaponizing the Justice Department and the FBI like never ever before. And raiding and breaking into the homes of their political opponents. I wonder who that could be.
"Republicans in the MAGA movement are not the ones trying to undermine our democracy. We are the ones trying to save our democracy very simple. The danger to democracy comes from the radical left, not from the right. Not from the right.
"This November, we're going to stand up to this rising tyranny of sickness, lawlessness And death. And we are going to take back our country. We're going to take it."
The raid and the red-and-black speech are disastrous for Democrats because instead of intimidating people through this fascist abuse of power by the FBI and Biden have infuriated people. Trump is giving them hope to end this rule by thugs.
The Atlantic tried to spin Biden's defecation in Independence Hall as a clever tactic.
Its David Frum wrote, "Biden came to Philadelphia to deliver a wound to Trump's boundless yet fragile ego. Trump obliged with a monstrously self-involved meltdown 48 hours later. And now his party has nowhere to hide. Trump has overwritten his name on every Republican line of every ballot in 2022.
"Biden dangled the bait. Trump took it—and put his whole party on the hook with him. Republican leaders are left with little choice but to pretend to like it."
Ah, that wily Biden.
Maybe it works. Maybe keeping stroke victim Fetterman in a basement while Democrats harvest ballots in Pennsylvania works.
All I know is Biden's speech stank more than the horse manure the Brits left behind when they fled Philadelphia in June 1778.
I also know that we are in a recession and headed toward double-digit inflation. Biden needs to change subjects. I don't think Nazi black and red helped.
The FBI raid out-and-out backfired. Judge Cannon appointing a special master to keep the FBI in line nullifies that FBI raid because Biden's bullies got nothing on Trump in that raid. Nothing.