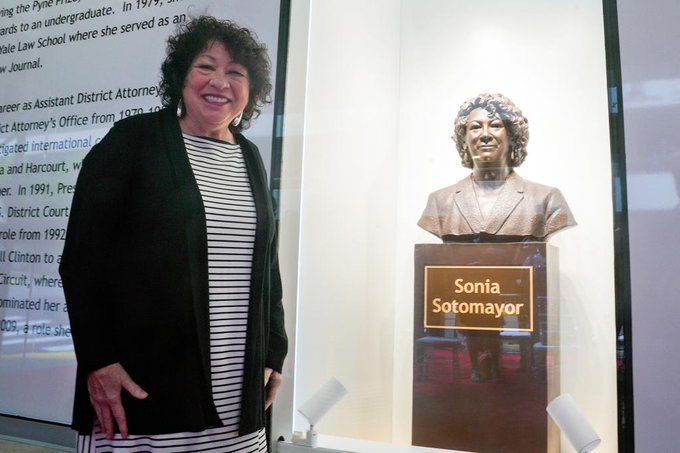 On Friday, Sonia Sotomayor blocked a New York judge's order to a Jewish college that it must recognize an LGBT group.
This was an unusual case where the highest court in the land intervened before a state's appellate system had the opportunity to review the case.
Democrat New York state Judge Lynn Kotler ordered Yeshiva University on June 14 to give official recognition to an LGBT club.
NBC reported, "Yeshiva then appealed to the next highest court, and that request was denied on Aug. 23."
A week later, it appealed directly to Justice Sotomayor, who handles emergency cases for New York.
The university issued a statement that said, "As a deeply religious Jewish university, Yeshiva cannot comply with that order because doing so would violate its sincere religious beliefs about how to form its undergraduate students in Torah values."
That makes sense. While they are at it, why doesn't the LGBT club demand ham sandwiches be served at lunch?
On Friday, Sotomayor issued a succinct order, "UPON CONSIDERATION of the application of counsel for the applicants and the response and reply filed thereto,
"IT IS ORDERED that the injunction of the New York trial court, case No. 154010/2021, is hereby stayed pending further order of the undersigned or of the Court."
Well, you can see how that will go over with liberals. Mordechai Levovitz, clinical director at Jewish Queer Youth and a Yeshiva University alum, told the New York Post, "This is not about sex — this is about teens wanting to eat lunch together and talk about issues pertaining to them."
They cannot each lunch together without having a club? What sort of cafeteria system does Yeshiva have?
NYT's spin was priceless.
It said, "Many non-Orthodox Jewish congregations support L.G.B.T.Q. rights, with some performing same-sex marriages and choosing openly gay or transgender rabbis to tend to the spiritual life of their synagogues. Orthodox leaders, however, tend to interpret the Torah as calling for more traditional ideas of gender and sexuality."
God created man and woman.
Liberals created all those other genders.
Eric Baxter, the vice president of the Becket Fund and the lead attorney on the case, told NYT, "Yeshiva shouldn't have been forced to go all the way to the Supreme Court to receive such a common sense ruling in favor of its First Amendment rights."
No, it shouldn't.
But that is the world we live in as Democrats gobble up states and spit out liberties like they were watermelon seeds.