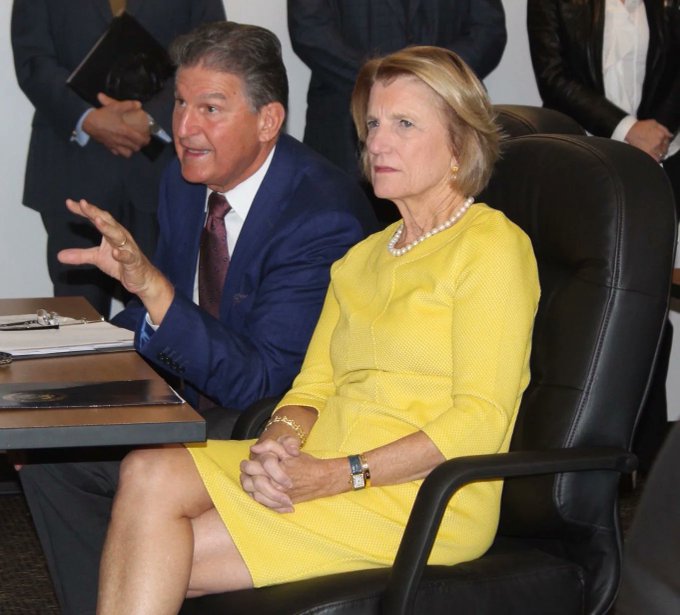 Readers can be forgiven if they overlook West Virginia's second senator, Shelley Moore Capito, who in 2014 became the state's first woman elected to the Senate, as well as the first Republican in 56 years.
The Moore and Manchin families have a friendship that goes back 50 years when her father, Arch, as governor, appointed Manchin's uncle as director of the Rehabilitation Environmental Action Program.
A. James Manchin had a lot of fun with the job and actually accomplished something as he got people to remove 100,000 automobiles and many appliances from the hills. In the old days, you just threw things away by dumping them over the hill. His success helped him defeat the Republican incumbent secretary of state in the next election.
But ours is no longer a friendly time in politics.
Capito just shivved Joe Manchin after he shivved the state.
Shelley Moore Capito announced last week that as the most tenured Republican (ranking member) on the Senate Environment and Public Works Committee (a plum assignment) that she introduced the Simplify Timelines and Assure Regulatory Transparency act, which would streamline the federal permitting process to build pipelines and such.
You know, the very thing Chuck Schumer promised Manchin in exchange for selling West Virginia out by voting for the Green New Deal. They don't call it that. They call it the Inflation Reduction Act. But it is a tree-hugger act that a state that is 75% forested (West Virginia) really does not need.
What we need are jobs and cheap energy.
Now Schumer cannot deliver the Democrat votes needed to fulfill his promise to Manchin. Oh well, they just will get Republicans to vote for the streamlining.
Wrong. By coming up with their own bill, Republicans are dictating the terms.
Capito's bill quickly got 46 sponsors. In other words, the Republican Caucus picked her to lead the charge. Good choice. She's a team player.
She said, "Since our calls for action and offers to see legislative text from the permitting 'deal' remain unheeded, Republicans are introducing this legislation today to deliver solutions to the roadblocks, delays, and postponements of key infrastructure projects across the country.
"The START Act would provide regulatory certainty to states, expedite permitting and review processes, codify substantive environmental regulatory reforms, and expedite permitting of the critically important Mountain Valley Pipeline. Republicans are unified in working to deliver needed permitting reform, and this legislation is a blueprint for how we can help communities benefit from being able to finally get critical projects across the finish line."
Well, this has Manchin in a tizzy.
He whined to Politico, "Something you've always wanted, and you get 80 percent of something, and you're gonna let the perfect be the enemy of the good? It's a shame that basically the politics is trumping policy that we've all wanted for the last 10 or 12 years."
Actually, it is terrific politics. Perfect. Republicans are not going to be patsies to the socialist party. Manchin is not a moderate. He's just a socialist in moderate clothing.
And having Capito as the lead sponsor of their bill sends a message. This literally is not her father's party.