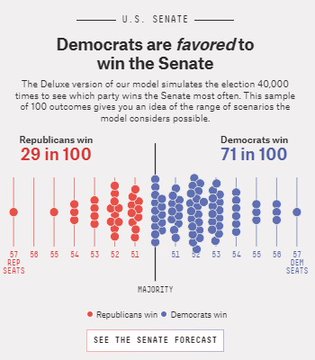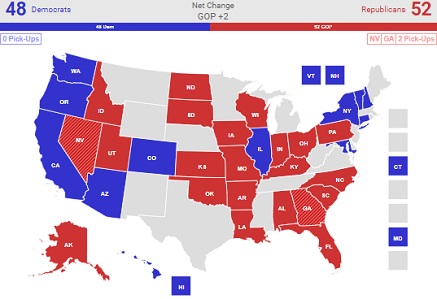 If you are a Democrat and visit Nate Silver's 538 site, you believe the election is in the bag because good old N8 Ag gives Democrats a 71% of keeping the Senate and a 32% chance of keeping the House.
In fact, 538 said Republicans could lose up to 30 seats in the House and 7 in the Senate in a feat that defies all logic and 200+ years of congressional history.
If you are a Republican and visit the Real Clear Politics site, you believe the Senate election is in the bag because RCP says Republicans will keep all the seats they now have and pick up Georgia and Nevada.
Furthermore, RCP said Republicans already have gained the six House seats they need for a majority and could add up to 32 more seats. Logic and history say a 6 to 38 seat-gain is lowballing it for the party out of power.
N8 Ag and RCP use the same polls to reach their conclusions.
So, who is right?
538 is owned by Disney via ABC. While it made its mark as a political tout sheet, its main business now is sports forecasting. Sports betting is a huge industry and a major advertiser on another Disney outlet, ESPN.
I must caution bettors. In 2015, 538 announced, "Trump has a better chance of cameoing in another Home Alone movie with Macaulay Culkin — or playing in the NBA Finals — than winning the Republican nomination."
As a native Clevelander, I thank The Donald for leading the Cavaliers to their first championship in 2016. I also congratulate him on his Oscar for Home Alone XXIII.
Real Clear Politics is a pretty balanced site that offers a Democrat opinion for every Republican opinion in its links section. For longer than a decade, it has been a go-to site for political insights.
You know which one I prefer.
But what about its competitors. What are they predicting?
Charlie Cook, who was burnt by the 2016 election, has the House at Republicans 212, Democrats 192 with 31 tossup races. That's closer to RCP than 538.
In the Senate, Cook has three tossup races: Georgia, Nevada and Wisconsin with Pennsylvania flipping blue. Two of those three tossups are held by Democrats. That leans toward 538.
Larry Sabato's Senate forecast is the same except he concedes Republicans will keep Wisconsin. That puts Democrat odds below even. That leans toward RCP.
In the House, Sabato has it Republicans 215, Democrats 196 with 24 tossups. That's like RCP's forecast.
As they sang on Sesame Street of the lone beaver in the pack of otters, one of these things is not like the otters.