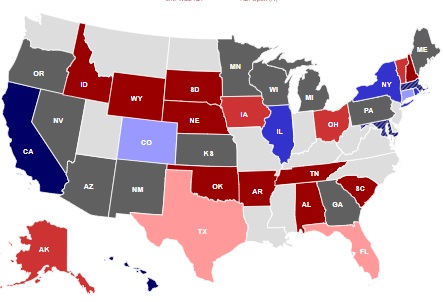 The political talk is all about the congressional election. Biden's recession and redistricting may or may not give Republicans the House and Senate. Under the national radar are the 37 gubernatorial races.
11 of those races are competitive. Real Clear Politics calls them tossups. 10 of them went for Biden.
And by went for, I mean he had the most ballots.
Let's take a look, beginning with the 2 states held by Republican governors.
In Arizona, Republicans want to hold the governorship. TV news anchor Kari Lake is battling Democrat lifer Katie Hobbs who as secretary of state oversaw Arizona's 2020 presidential election debacle. Her departure from that office is a win only if Lake wins too.
In Georgia, it is Governor Brian Kemp against Democrat star Stacey Abrams again. He barely won last time and was of little help in 2020. But my goodness does she suck.
Now for the rest.
In Kansas, Democrat Governor Laura Kelly takes on Republican Attorney General Derek Schmidt. It is the only Trump state on the list.
Politico said, "Gov. Laura Kelly is Democrats' most vulnerable incumbent on the ballot this year. Republicans cleared the field for state Attorney General Derek Schmidt, who is hoping to ride the national trend — and tap into Kansas' GOP lean — and oust Kelly after just one term.
"But the August ballot initiative over abortion — in which Kansas voters soundly rejected a conservative proposal to end the right to an abortion — has Democrats hopeful that Kelly can hold on."
Let's hope this defused the abortion issue.
In Maine, Democrat Governor Janet Mills faces Republican former Governor Paul LePage. Politico said, "Unlike Mills, LePage never won a majority of the vote in his two elections. But the Republican is promising a kinder, gentler profile for his bid for a third term."
The big difference this time is covid. She locked down the state for 15 months. Also, she has had to veto her Democrat legislature for being ahead of the curve on their destructive policies. Whether LePage can exploit this is up to the voters.
In Michigan, Republican Tudor Dixon takes on covid queen Democrat Gretchen Whitmer, who was in such deep trouble that the FBI staged a kidnapping attempt by 4 potheads to make her look like the victim of a vast right-wing conspiracy.
Polls show Whitmer way ahead but Real Clear Politics ain't buying it.
In Minnesota, Republican Dr. Scott Jensen is running a tough-on-crime campaign against Democrat Governor Tim Walz.
But while conservatives see the riots, many voters sympathize with Black Lives Matter. We shall see if BLM can save the day for Walz.
In Nevada, Republican Joe Lombardo is giving Democrat Governor Steve Sisolak a run for his money as the Harry Reid Machine breaks down and Las Vegas struggles to survive covid and a new national recession. The Internet killed newspapers. Online gambling and casinos in other states are taking a toll on Sin City.
In New Mexico, Axios reported, "Florida Governor Ron DeSantis' campaign stop in New Mexico on Sunday is worth watching for two reasons: The state is one of the GOP's best opportunities to flip a Democratic governorship. And the Republican nominee has gotten this far without help from Donald Trump.
"Why it matters: New Mexico has the largest share of Hispanic voters of any state in the country. Democratic Governor Michelle Lujan Grisham is currently the nation's only Latina governor. But she's unpopular — and with Hispanic voters poised to continue their rightward shift, Republican Mark Ronchetti, a former TV meteorologist, is suddenly in play."
Borders matter. Hispanics don't want MS 13 taking over their state.
In Oregon, there is an actual governor's race. The state has not had a Republican governor in 35 years. That might not happen as there is a rare three-way race among independent Betsy Johnson, Republican Christine Drazan and Democrat Tina Kotek.
Johnson took an LA Times writer on a tour of Portland and said, "God knows, we need a real solution to the homeless crisis."
God doesn't vote. People do. We shall see if Oregonians see what God sees or if they will vote Democrat again.
In Pennsylvania, Republican Doug Mastriano takes on Democrat Josh Shapiro, who wants to make the election a referendum on Donald Trump. But Mastriano is part of a movement that half his state supports.
As Salena Zito pointed out, "While it is always unsettling for a political movement when its party loses power, the reality is that the movement's coalition doesn't necessarily collapse or disappear. Sometimes, it even gets stronger. Coalitions last beyond a candidate's or party's loss because the coalition is always more about the people who are in it than about any single person."
In Wisconsin, the New York Times is worried.
NYT said, "Nowhere in the country have Republican lawmakers been more aggressive in their attempts to seize a partisan edge than in Wisconsin. Having gerrymandered the Legislature past the point that it can be flipped, they are now pushing intensely to take greater control over the state's voting infrastructure ahead of the 2024 presidential contest.
"Two pivotal elections in the coming months are likely to decide if that happens.
"The soaring stakes of the first, the November race for governor, became clear last week when Tim Michels, a construction magnate endorsed by former President Donald J. Trump, won the Republican primary.
"His victory raised the prospect that Gov. Tony Evers, a Democrat who has vetoed a range of Republican voting bills, could soon be replaced by a Trump ally who has embraced calls to dismantle the state's bipartisan election commission, invoked conspiratorial films about the 2020 election and even expressed openness to the false idea that Mr. Trump's loss can still be decertified."
Whenever a Pulitzer Prize-winning paper tells you something is false or misinformation, the odds are it is true.
Democrats will flip Maryland and Massachusetts which now have RINO governors. All the conservatives in Maryland fled to West Virginia and helped flip its legislature in 2014 red for the first time in 84 years. It remains Republican to this day.
Republican governors do not necessarily translate into Republicans carrying a state in a presidential election, but Republican governors do increase the odds.
Winning is important because it gives supporters hope and it encourages good people in the party to seek public office.
Sweeping all 11 states certainly will do that.