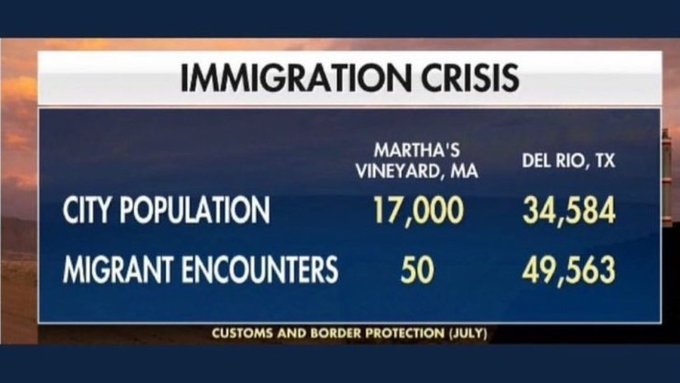 The Cape Cod Times reported the Massachusetts National Guard escorted 50 illegal aliens from Martha's Vineyard to Joint Base Cape Cod on Friday.
EPA lists Joint Base Cape Cod as a Superfund site.
Make that a Sanctuary Superfund site.
EPA said, "Protecting Cape Cod's drinking water continues to be a major focus at EPA New England. The Joint Base Cape Cod (formerly known as the Massachusetts Military Reservation), a 22,000-acre property that has been used for military training activities since 1911, is located over a sole source aquifer that provides drinking water for 200,000 year-round and 500,000 seasonal residents of Cape Cod. Parts of the aquifer have been contaminated by fuel spills, training, disposal, and other past activities at JBCC's Camp Edwards and Otis Air National Guard Base.
"Two environmental cleanup programs at the JBCC are addressing areas of groundwater contamination, known as plumes, and their sources. One program managed by the Air Force is addressing contamination found primarily on Otis Air National Guard Base which is on the southern portion of the JBCC under the authority of Superfund. The other, managed by the Army, is addressing contamination from the northern portion of the base, Camp Edwards/Impact Area, under the authority of the Safe Drinking Water Act. Both of these program's efforts are being conducted with oversight from the U.S. Environmental Protection Agency and the Massachusetts Department of Environmental Protection."
I guess Love Canal was already booked.
The work does seem to be complete, but there are restrictions.
EPA said, "At this site, activity and use limitations that EPA calls institutional controls are in place. Institutional controls play an important role in site remedies because they reduce exposure to contamination by limiting land or resource use. They also guide human behavior. For instance, zoning restrictions prevent land uses – such as residential uses – that are not consistent with the level of cleanup."
The Cape Cod Times was cheery in reporting on sending the 50 illegals to the camp.
It quoted Rep. Dylan Fernandes, D-Falmouth, who said, "This is what good government actually looks like, what compassionate government actually looks like.
"I couldn't be prouder of the people of Martha's Vineyard and Cape Cod and I couldn't be prouder to have a state team pull this together so quickly. We are a community that sprang together to give them the resources they needed, there was an outpouring of support from everywhere to help out."
The newspaper story did not mention the EPA or the Superfund site status of the base.
Instead, Paragraph 58 (it is a long string of stories) said, "This summer, the U.S. Air Force penned an agreement officially to transfer ownership of the base's water and wastewater systems to Converge LLC. According to a June release issued by the Air National Guard, 'the systems have been under the management and control of the Massachusetts Air National Guard since the operations of the base's infrastructure were transferred to it by the Air Force in the mid-1970's.'"
I agree with Fernandes. This is what government actually looks like. A bunch of rich, white elitists complain and the government sends 50 poor, brown people to live at a Superfund site.
Happy National Hispanic Heritage Month!
Hat tip to the Intrepid Reporter.