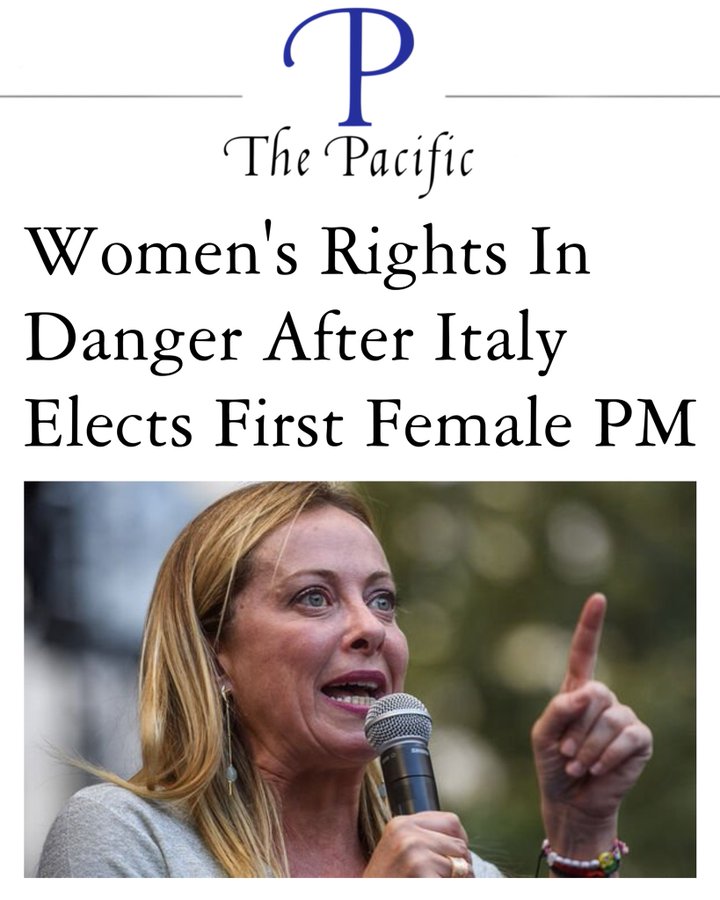 The Pacific is a parody account on Twitter. It was spot on about Italians electing Giorgia Meloni as their prime minister on Sunday.
The American media treats as a goddess any other first woman PM in Europe. The press is OK with women politicians provided they know their place. The media only accepts socialists. It also helps if the woman turns a blind eye to her husband's adultery. Hillary was the Duchess of these Doormats.
But Meloni refuses to fit that mold. She wants to put Italy First. She wants a nation, whose death rate now exceeds its birth rate, to procreate again.
Meloni heads the conservative Brothers of Italy party. I give them props for not changing that to Siblings of Italy.
CNN reported, "Giorgia Meloni set to be Italy's most far-right prime minister since Mussolini -- exit poll."'
That's right. CNN mentioned Mussolini in its headline. Not until Paragraph 4 in the story did it mention that, oh by the way, she is the nation's first woman PM.
The Washington Post managed to get both facts in its lead paragraph, saying, "Italy is poised on Sunday for a norm-breaking election that's expected to give the country its first-ever female prime minister — and its farthest-right government since the fall of Mussolini."
But when Germans elected Merkel, WaPo didn't say she was the first-ever female chancellor and the country's biggest socialist leader since Hitler.
In an actual editorial -- one that does not pretend to be a news story -- the Wall Street Journal said, "Voters finally get the conservative government they wanted in 2018."
But as we all know, voting conservative is a threat to democracy.
The New York Times did not disappoint me with its reporting.
NYT said, "More than 70 years after Nazis and Fascists nearly destroyed Europe, formerly taboo parties with Nazi or Fascist heritages that were long marginalized have elbowed their way into the mainstream. Some are even winning. A page of European history seems to be turning."
Odd that the paper refused to mention the Communists who sided with Hitler at the beginning of the war.
UPI was the only outlet that cared to share with readers just what her policies are.
After mentioning Mussolini in the second paragraph, UPI said in Paragraph 8, "Meloni has made opposition to LGBTQ rights, European bureaucrats and undocumented immigrants a hallmark of her campaign."
That's not fascist. That's normal.
No one should be comfortable with instructing kindergarteners about homosexuality and sex changes. Unelected officials should not have power over the people. Invaders from other countries should be repelled.
Meloni does not fit the cookie-cutter woman politician that the press likes. She is not pro-abortion, pro-LGBT and anti-nationalist. She thinks for herself. She is a strong woman. The American press cannot handle that. And so corporate media smears her as Mussolini.
The Daily Mail broke ranks. It reported, "Giorgia Meloni is nothing if not a patriot.
"She questions the power of the European Union, the wisdom of mass immigration and 'LGBT lobbies', and has built a powerful personal brand with her carefully crafted image as a down-to-earth, 45-year-old single mother who understands ordinary Italians.
"At political rallies, she gives her impassioned hour-long speeches dressed in black trousers that look as if they are from a supermarket rack. Not for her the power-dressing, Prada heels and expensive salon hair-dos favored by the Roman political elite.
"In a guttural voice, she tells Italians of her 'humble' childhood, of how she was raised by a single mother in a gritty district of Rome after her father abandoned them, leaving her to claw her own way up the slippery pole of Italian politics. And this, she says, has shaped her core beliefs.
"'I want a country where you get ahead, not because of your friends in high places, or the family you were born into, but what you make of yourself', she says during our interview.
"'The voters like me because they trust me. They know there are no tricks, no lies. I have the courage to say what I believe in. I will do exactly what I promise them. It has been a long walk for me to get this far. But I have never changed my ideals. Other politicians say one thing one day, and two days later say something different with the same face.'"
Mussolini had corporate media in his hands. She doesn't.
The Daily Mail story also said, "Meloni insists she is not of the far-Right but building up a party similar to the UK's Tories and the U.S. Republicans. Among her major policies are big cuts on income tax, VAT and business taxes; plus a tough line on illegal immigration, targeting in particular traffickers' boats coming from Libya to Italy and the granting of automatic citizenship to babies born to foreign parents.
"High on the agenda too, are a return to family values, a continuation of abortion controls and a change in the relationship with the EU. Brothers of Italy, with the slogan Less Europe, Better Europe, does not want to withdraw from the Eurozone but insists that national laws should have pre-eminence over EU rules."
Meloni said, "I want low taxes and a different relationship between the citizen and the state. We now have a state that is suffocating entrepreneurs (with red tape). I want to let people work and produce things. The state should be at their shoulder helping them, not interfering."
Sadly, the Daily Mail punked out at the end of the story and made her out to be a fascist.
Only in the world of blithering idiots are lower taxes and less government somehow fascist.
Italy's new Prime Minister, Giorgia Melo's speech is inspiring. 🙏

She just wants to be able to call herself a woman, a mother, a Christian, an Italian.

Ironically, identity politics destroys our identities. "Everything that defines us is now an enemy."pic.twitter.com/tvDmHSAIpI

— Fr Calvin Robinson (@calvinrobinson) September 26, 2022
She is the anti-fascist. You can see why corporate media hates her. The misogynists in the media cannot handle a strong woman who thinks for herself.