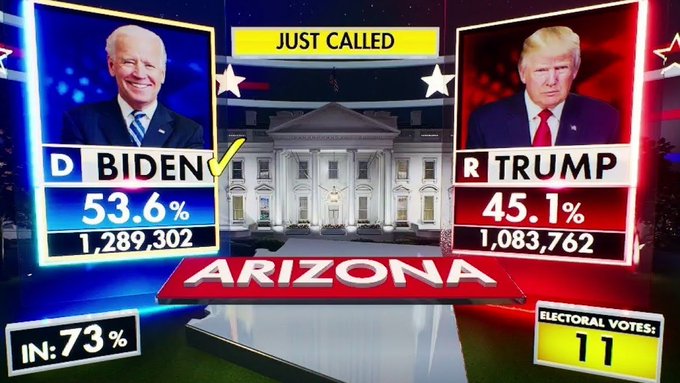 Fox threw shade again on CNN, which under new ownership is cleaning up the mess Jeff Zucker left behind. While the departure of Brian Stelter cheered conservatives, who the hell was Fox to applaud? It still has Neal Cavuto and Bret Baier on the air.
Nevertheless,
Fox reported
, "CNN, Politico indicate that 'go woke, go broke' applies to news organizations.
"New owners want nonpartisan coverage at CNN, Politico but conservatives are skeptical."
Conservatives are skeptical? It is our default setting for the media and with good reason. Look how Fox called Arizona for Biden in 2020 (a state he won by 0.3%) before calling Florida or Ohio for Trump, states he carried by 3.4% and 8%.
While Fox enjoys good ratings thanks to Gutfeld, The Five and Tucker Carlson, the enthusiasm for Fox no longer is there. Newsmax and OANN took shots at toppling Fox but just like all those alternatives to Twitter (Parler, Gab and Truth Social) it is a Herculean effort taken on by 98-pound weaklings.
CNN, though, is another matter. It is not a shoestring operation, which is why Fox keeps taking shots at it.
However, this story's premise was factually flawed. CNN may be woke but it is not going broke. Far from it.
In August, the New York Post reported, "CNN's profits are poised to drop below the $1 billion mark for the first time since 2016 as its new boss scrambles for new ways to generate revenue, according to a report.
"Chris Licht, who took the helm of CNN three months ago after the surprise exit of former chief executive Jeff Zucker, has not only inherited a scandal-scarred network, but is also running a channel with slumping ratings.
"The cable news network's profitability is on pace to decline to $956.8 million this year, according to projections from S&P Market Intelligence. That's well short of the company's internal target of $1.1 billion, according to the New York Times."
CNN is a cash cow. Raking in $956.8 million in profits during a recession is pretty darned good.
As for scandal-scarred, two words: Bill O'Reilly. Two more: Roger Ailes.
Fox makes even more money than CNN. Fox is a cash whale.
But cable TV -- and network television -- are headed for the Island of Misfit Technology where AM radio and newspapers sit around and reminisce about when they were important. There are 30 houses on my street and two newspaper subscribers.
Few cable TV outlets will survive streaming. Fox is an orphan as Disney-plus could easily add ABC News, Peacock could add MSNBC and Warner can add CNN.
Calling Brian Stelter a potato head and Don Lemon a dummy won't change that.