ITEM 1: CBS alleged, "Saturday Night Live will have an openly nonbinary cast member for the first time in its history."
Nope. Not the first.
ITEM 2: Some good news. Sarah Sanders is cancer free.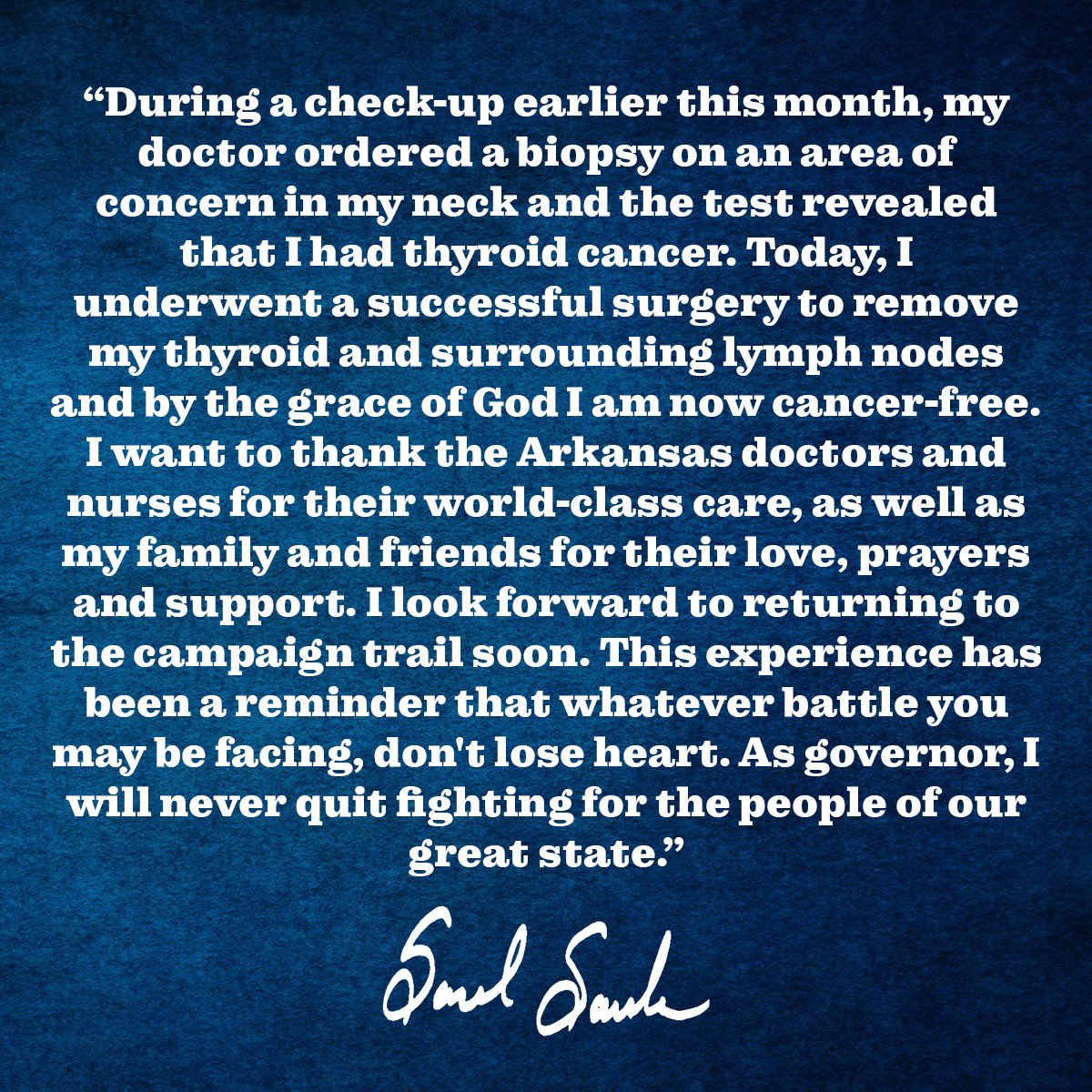 To celebrate, her family did not go to the Red Hen restaurant in Lexington, Virginia.
ITEM 3: The New York Post reported, "13-year-old girl lands spot on football team after nailing 45-yard kick — twice."
The story pointed out that the Jets kicker missed a 45-yarder on Sunday. Had he made it, the team would not have lost by 15 points. It would have lost by 12.
ITEM 4: John Nolte reported, "The child groomers at Disney have been forced to cancel the only Star Wars movie scheduled for release.
"Because the entertainment media is staffed with corrupt liars and favor-seekers, this bombshell news about Disney's bombshell failure was treated as No Big Deal."
My wife and I saw Star Wars on our second date. One was enough for me. But I am curious: Did Princess Leia and Luke Skywalker ever get married?
ITEM 5: The Epoch Times reported, "U.S. District Judge Raymond Dearie will serve as the independent arbiter to review documents that were taken from former President Donald Trump's Mar-a-Lago home, according to a federal judge's order on Thursday."
Reagan appointed. He was one of the Foreign Intelligence Surveillance Act judges the FBI lied to to spy on Donald Trump.
Will he learn from that or roll over and play dead?
ITEM 6: Leah Barkoukis reported, "Biden Reportedly Pressuring FBI to 'Cook Up' White Supremacy Cases."
Why not appoint Jussie Smollett as FBI director?
ITEM 7: Lawfare reported, "On Friday, the U.S. Court of Appeals for the Fifth Circuit handed down a long-awaited ruling in NetChoice v. Paxton, upholding the constitutionality of a Texas law that greatly restricts the ability of large social media platforms to moderate content and imposes certain transparency requirements. NetChoice, a trade association, challenged the legislation on First Amendment grounds.
"The Fifth Circuit had previously stayed a preliminary injunction against the law issued by a district court, only for the Supreme Court to vacate the stay. In its ruling today finding the legislation constitutional, the appeals court found a key provision limiting content moderation practices to be acceptable under the First Amendment because it 'does not chill speech; instead, it chills censorship.'"
Love it.
The three judges ruling on the appeal were appointed by Reagan, Bush 41 and (dramatic pause) Donald Trump.
ITEM 8: The Truth About Guns reported, "Another Win for Dick Heller: DC Repeals Limit on Rounds Carried by Permit Holders."
Heller got the Supreme Court to end DC's de facto ban on private gun ownership.
The city limited the number of rounds you can carry to 20. He sued. The city backed down. That happens when you have 6 Constitution-defending justices.
ITEM 9: The Advocate reported, "In a collision on Wednesday, a tractor trailer and a box truck crashed, causing the semi to roll over, Oklahoma City television station KWTV reported. The overturned tractor-trailer spilled vibrators on I-40 near Mustang Road on the western outskirts of Oklahoma City and closed the highway off-ramp for several hours.
"Hundreds of boxes are spread over the road in video footage captured by KWTV."
The accident gave everyone a bad vibe.
ITEM 10: Bloomberg reported, "Manchin Says He May Need 20 GOP Votes for Energy-Permitting Plan."
Any Republican who helps Manchin is in actuality helping Biden keep his promise to Manchin to pass that last trillion-dollar boondoggle. McConnell should strip them of any committee assignments if they help Manchin and Biden.
More likely, Cocaine Mitch will help Biden and Manchin.
ITEM 11: The political pawns speak.
MSNBC: "Migrants are actually thanking Gov. Ron Desantis for having brought them to Martha's Vineyard." pic.twitter.com/Skr08FbLEw

— Real Mac Report (@RealMacReport) September 16, 2022
The only inhumanity here is the rich white bigots who don't want to share their island with poor brown refugees from communism.
ITEM 12: Blaze Media reported, "Despite migrants relocated, GoFundMe campaign raised $42,000 for 50 illegal immigrants, but money will go to Martha's Vineyard Community Foundation that has $14 million in assets."
The foundation exists for the sole benefit of the foundation's employees.
ITEM 13: The New York Post reported, "Ex-Long Island lawmaker pleads guilty to patronizing prostitute, lying about it."
Never admit to a danged thing.
Oh and it took the Post 4 paragraphs to acknowledge that the perp -- now convicted -- is a Democrat.
ITEM 14: Bush 43's worst mistake was creating another Cabinet-level bureaucracy.
September 25th is #SeeSayDay! Take the time today to save the Suspicious Activity Reporting phone number(s) for wherever you live, work, or spend time in your phone. By doing so, you'll be prepared to help keep your community safe when you see something suspicious.

— Homeland Security (@DHSgov) September 12, 2022
Do I see something?
Yes, I see a couple of hundred protesters in jail without a trial more than 18 months after the protest.
ITEM 15: With inflation, recession and high crime, Biden is taking the USA back to the 1970s.
Germany is headed back to the 1930s.
NEW: German armed forces must become Europe's 'best equipped': Scholzhttps://t.co/DELdwX7UJw

— Insider Paper (@TheInsiderPaper) September 17, 2022