President Trump remembers Cayler Ellingson:

"18-years old, was targeted and killed, run down in cold blood with an SUV by a radical Left maniac. Simply because he was proud of being a Republican... It's a disgrace, the [MSM] should be ashamed of themselves." pic.twitter.com/kZyWoRwDk8

— Citizen Free Press (@CitizenFreePres) September 24, 2022
ITEM 1: A Democrat shot Steve Scalise. A Democrat ambushed Rand Paul. A Democrat cop murdered Ashli Babbitt. A Democrat ran over Cayler Ellingson. The party of the Confederacy continues to threaten the domestic tranquility.
ITEM 2
:
WILX reported
, "Michigan pharmacists can prescribe birth control without doctor's prescription."
Let's do this, West Virginia.
ITEM 3: Mississippi Today reported, "Brandon High School's athletics booster club is raffling nearly 30 guns throughout the month of October as a part of its current fundraising campaign."
Let's go, Brandon.
ITEM 4: Zero Hedge reported, "Coming off last week's Shanghai Cooperation Organization (SCO) in Uzbekistan where the two leaders met, the Australian Strategic Policy Institute observes, 'Xi has likely sensed the opportunity to use the Sino-Russian no limits partnership to extract greater Russian resources from Putin in exchange for China's continued backing.'"
Let's see, Biden is on Xi's payroll via Hunter. Prolonging the war and imposing economic sanctions on Russia pushes Putin into Xi's camp.
We are a hiccup away from a nuclear holocaust and we have Xi's sock puppet as our commander-in-chief.
ITEM 5: NYT assured readers, "Majority of Latino Voters Out of G.O.P.'s Reach, New Poll Shows."
The poll showed 33% of Latino/Hispanic voters support the Wall.
37% agree with Republicans on illegal immigration.
Given the close races along the border, Republicans don't need a majority of all the Latino votes in the USA. They just need enough to tip Arizona, Nevada and New Mexico and to keep Texas red.
ITEM 6: Cayler Ellingson's killer posted bail.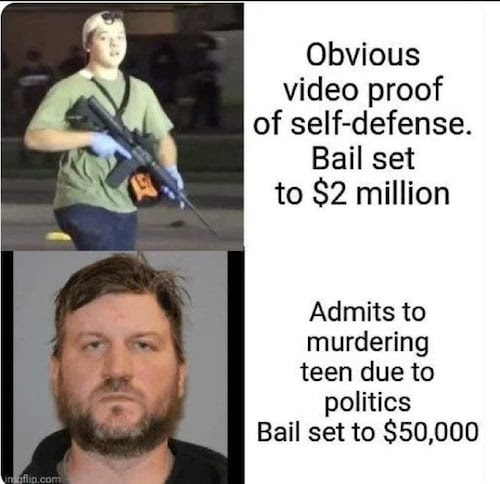 We have a judicial system worthy of the Soviets.
ITEM 7: Sharyl Attkinson reported, "U.S. existing home sales dropped for the seventh straight month in August as affordability deteriorated further amid surging mortgage rates and stubbornly high house prices, though the pace of decline moderated from prior months.
"The report from the National Association of Realtors on Wednesday followed news this week that confidence among single-family homebuilders eroded for the ninth consecutive month in September, while permits for future homebuilding tumbled to the lowest level since June 2020."
We are in a recession that the media refuses to call a recession.
ITEM 8: Kari Lake tweeted, "One million fentanyl pills were seized from an Avondale home on Wednesday.
"The police are calling it the 'single largest fentanyl seizure in Phoenix police history.
"A fatal dose of fentanyl is 2 milligrams.
"That's a WMD moving through our open border."
Fact-check: All too true.
Meanwhile, in West Virginia there are needle exchanges and Narcan, but you must sign a register to get a box of Sudafed.
ITEM 9: The New York Post reported, "Rep. Stefanik says GOP 'Commitment to America' plan a boon for NY."
Will that come before or after that repeal of Obamacare they promised in 2010?
ITEM 10: Just the News reported, "Judicial Watch has filed a Freedom of Information Act suit against the Department of Homeland Security seeking Secret Service records about an investigation into the disappearance of a firearm belonging to Hunter Biden.
"In October 2018, Hallie Biden, Hunter's sister-in-law, threw a firearm belonging to Hunter into a garbage can behind a grocery store, the watchdog noted when announcing the suit. She later returned to find it had disappeared.
"The proximity of the dumpster to a local high school triggered an investigation due to fears the gun could be used in a crime. The Secret Service reportedly visited the gun shop from which Hunter purchased the weapon and asked that the store owner hand over records of its purchase. Judicial Watch is seeking records on the agency's involvement in the investigation."
Gun control should begin and end with the Bribe 'Em Bidens.
ITEM 11: The New York Post reported, "School defends 'gender rights' of trans teacher with giant prosthetic breasts."
He's a woodshop teacher. How is this safe? That covid mask he's wearing won't save his chest from the bandsaw.
ITEM 12: Life News reported, "Andrew Cuomo Refuses to Testify in Congress About His Order That Killed 15,000 Nursing Home Residents."
Biggest mass murder in American history.
Instead of banning guns, let's ban Democrat governors.
ITEM 13: AP reported, "Arizona can enforce a near-total ban on abortions that has been blocked for nearly 50 years, a judge ruled Friday, meaning clinics statewide will have to stop providing the procedures to avoid the filing of criminal charges against doctors and other medical workers."
What blocked the law banning abortions was the now-discredited Roe v. Wade decision, which was reversed in June.
As for abortion workers, Plan B pills are putting them out of business. Time to change careers.
I hear the transgender industry is hiring butchers.
ITEM 14: WaPo reported, "Career prosecutors have recommended against charging Rep. Matt Gaetz (R-Fla.) in a long-running sex-trafficking investigation — telling Justice Department superiors that a conviction is unlikely in part because of credibility questions with the two central witnesses, according to people familiar with the matter.
"Senior department officials have not made a final decision on whether to charge Gaetz, but it is rare for such advice to be rejected, these people told The Washington Post, speaking on the condition of anonymity to discuss the deliberations. They added that it is always possible additional evidence emerges that could alter prosecutors' understanding of the case.
"Nevertheless, it is unlikely that federal authorities will charge Gaetz with a crime in an investigation that started in late 2020 and focused on his alleged involvement with a 17-year-old girl several years earlier. Gaetz, 40, has repeatedly denied wrongdoing, saying he has never paid for sex. He has also said the only time he had sex with a 17-year-old was when he was also 17."
Vote Republican because we know they are clean. A dozen FBI investigations that lead to no charges being filed tells you so.
ITEM 15: SF Gate reported, "More home buyers departed from San Francisco than any other metro area in July and August, according to a new Redfin housing report.
"The Bay Area leads the country in people planning to relocate despite an overall decline in those looking to leave from this time last year, which the report attributes to a recent drop in the area's home prices. These numbers are determined by how many Redfin.com users were looking to leave an area compared to how many were looking to move in.
"According to Redfin, 24.1% of its local users searched for properties outside of the Bay Area in July and August. Their top in-state destination is only a hop, skip and a jump along Interstate 80 away, in Sacramento. The top out-of-state destination for San Francisco home buyers is Seattle."
Seattle?
From one liberal loony bin to another. Seattle for years refused to salt their streets in the winter for fear of the saltwater runoff making the Puget Sound too salty.
The sound is part of the Pacific Ocean.
ITEM 16: The Daily Wire reported, "An Arizona woman who sabotaged the Dakota Access pipeline and set fire to equipment to protest the controversial project was sentenced by a federal judge Thursday to six years in prison.
"Ruby Katherine Montoya, 32, who used a cutting torch to damage the oil pipeline in Iowa in 2016 and destroyed equipment over the next year, was also ordered to pay $3.2 million in restitution."
But Sarah Elizabeth will show her how to get $5k to $8k per week and she'll have that fine paid off in no time.
FINALLY, Elton John sang at the White House. Biden pinned the AIDS epidemic on him.
Biden with his arm around Elton John:

"It's all his fault we are spending $6 billion in tax payer dollars on HIV and AIDS this month" pic.twitter.com/Hql7RfxEsL

— Citizen Free Press (@CitizenFreePres) September 24, 2022