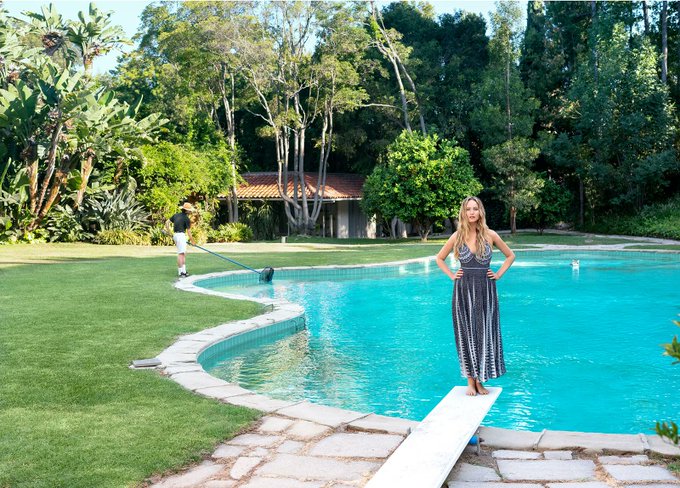 ITEM 1: Vogue reported that actress Jennifer Lawrence has the sadz.
Vogue said, "Much of her disappointment was directed at certain relatives back in Louisville, Kentucky, where she'd grown up, including her father. The 2016 election had torn open a rift in her family. Repairing it was an ongoing process. Particularly since having a baby, she had been trying to heal. She even discussed with her therapist the recurring nightmares she has about Tucker Carlson."
Poor oppressed rich white lady. Tucker Carlson literally lives in her head rent free.
ITEM 2: The Epoch Times reported, "The longtime counselor to Chief Justice John Roberts announced on Sept. 6 that he is leaving his post at the end of the month.
"Jeffrey P. Minear will retire as of Sept. 30 after serving as Roberts' chief of staff since 2006. Minear previously worked for the U.S. solicitor general's office, where he argued 56 cases before the Supreme Court. As chief justice, Roberts is head of the federal judiciary as well as presiding officer of the Supreme Court."
Looks like we found our Mystery Leaker.
ITEM 3: The Daily Beast reported, "Rich Dems Worried About Trump Are Buying Second Citizenships."
The story quoted Marc Hyman, founder of E-2 Visa Solutions, who said, "A lot of people have a second citizenship as a Get Out of Jail Free card or as a life raft in case America becomes unlivable… and, you know, the shrimp is no longer cold in the Hamptons."
Warm shrimp.
Nobody knows the trouble they've seen. Nobody knows their sorrow.
ITEM 4: WaPo lied, "Material on foreign nation's nuclear capabilities seized at Trump's Mar-a-Lago."
Paragraph 7 said, "A Trump spokesman did not immediately comment. Spokespeople for the Justice Department and FBI declined to comment."
Anonymous sources are what psychiatrists call voices in the head.
ITEM 5: The Epoch Times reported, "The U.S. Centers for Disease Control and Prevention passed misinformation to Facebook as the partners worked to combat misinformation, according to newly released emails, in the most recent example of CDC officials making false or misleading claims."
So does the CDC get banned or is that just reserved for people who dare question authority?
ITEM 6: Metro UK reported, "Pensioner 'shot down £74,000,000 Russian jet over his home with antique rifle.'"
Sure he did.
But if those plucky Ukrainians can shoot down jets with antique rifles and shotguns, why are we sending them missiles?
ITEM 7: The New York Post reported, "Republicans blasted the FBI as politically biased Monday after The Post reported that disgraced ex-FBI agent Timothy Thibault was the 'point man' for former Hunter Biden business partner Tony Bobulinski — and never followed up with him about his bombshell claims.
"Bobulinski alleged one month before the 2020 election that Joe Biden was involved with his son Hunter and brother Jim's dealings with Chinese energy company CEFC, which reportedly paid the Bidens $4.8 million in 2017 and 2018.
"Bobulinski, who heard radio silence from Thibault, alleged that he spoke with Joe Biden about the Chinese government-linked CEFC deal and that the then-candidate was referred to as the 'big guy' due a 10% cut in a new corporate entity. Another Hunter Biden business associate, James Gilliar, also identified Joe Biden as the 'big guy.'"
Blast? Talk is cheap. I want FBI agents and Bill Barr prosecuted for obstruction of justice.
ITEM 8: The Daily Caller reported, "California residents are at risk of experiencing blackouts on Tuesday, just four days after President Joe Biden's Energy Secretary Jennifer Granholm praised the state's green energy policies.
"Granholm touted California's green energy transition in an interview on Saturday, Sept. 3, only four days before California's electrical grid operator, California Independent Systems Operator, issued a level 2 energy emergency alert, warning customers to be prepared for "power outages." Granholm said that California was leading the nation in green energy development and praised its ability to shape national energy policy, according to an interview conducted by Fox 11 Los Angeles."
Californians are being told to turn off appliances and set their ACs at 78.
I'm grabbing a blanket and setting mine at 70.
ITEM 9: Sputnik reported, "Swiss who will overheat their homes to over 19 degrees Celsius (66.2 degrees Fahrenheit) this winter in violation of government directives in the event of gas shortages, will face fines and prison sentence of up to three years, Swiss economic department spokesman Markus Sporndli told the Blick newspaper on Tuesday."
I'll set the furnace at 75 and open the windows.
ITEM 10: The Wrap reported, "Hillary Clinton Returns to 'But Her Emails': 'I Had Zero Emails That Were Classified.'"
On January 20, 2016, CBS reported, "Hillary Clinton's private email server contained information that was classified at a higher level than top secret, the inspector general of the intelligence community told members of Congress in a letter obtained by CBS News.
"The server Clinton used as secretary of state contained 'several dozen emails containing classified information determined by the [intelligence community] element to be at the CONFIDENTIAL, SECRET, and TOP SECRET/SAP levels,' the inspector general, Charles McCullough, wrote in the letter, which was first reported by Fox News. SAP stands for special access programs, which carry a classification level higher than top secret.
"Former CIA Director David Petraeus was sentenced to two years' probation and fined $100,000 for sharing similarly classified information with Paula Broadwell, his biographer and mistress."
Six months later FBI Director Jim Comey recommended not filing charges over her mishandling of national security material because she didn't mean to.
ITEM 11: Just the News reported, "Irish authorities have arrested a teacher for violating a court order preventing him from teaching or appearing at a Westmeath school.
"A court prohibited Enoch Burke from teaching at Wilson's Hospital School after the administration placed him on leave following his refusal to address a student by his preferred pronouns, according to the New York Post.
"Burke continued to come to campus anyway, prompting the school to seek an injunction barring his presence, which he was found to have violated.
"Burke was arrested Monday after the judge issued an order for his arrest on Friday after he was found sitting in an empty school classroom, per the Post. A judge sent Burke to Mountjoy Prison, where he will stay pending further orders from the court or the purge of his contempt."
The totalitarian state demands obedience no matter how stupid the order.
ITEM 12: The Foreign Desk reported, "Russia's Defense Ministry is reportedly in the process of buying millions of artillery shells and rockets from North Korea to use in its ongoing invasion of Ukraine.
"Information about the sale is included in a newly declassified U.S. intelligence, according to The New York Times. The report, however, does not specify the weaponry being sold or when the shipment would be delivered.
"Experts are warning that the transaction could be a sign that U.S. and European sanctions are hurting Moscow's ability to obtain weapons."
Biden imposed economic sanctions on Russia.
This resulted in Russia doing business with North Korea, which gives Kim Jong Un hard currency while Europe freezes this winter because Russia cut it off.
No wonder the FBI raided Mar-a-Lago. The Bidenistas need to change subjects STAT.
ITEM 13: Breitbart reported, "A member of Germany's ruling Green Party is now said to have faked a number of so-called right-wing hate crimes perpetrated against him."
His name is Manoj Jansen, which translates into English as Jussie Smollett.
ITEM 14: Just the News reported, "California teachers union caught 'monitoring' parents who advocated school reopening."
Public schools are becoming re-education centers.
ITEM 15: WaPo claimed, "Stephen K. Bannon is expected to surrender to state prosecutors on Thursday to face a new criminal indictment, people familiar with the matter said, weeks after he was convicted of contempt of Congress and nearly two years after he received a federal pardon from President Donald Trump in a federal fraud case."
It may be true. It may be fake. It is the Washington Post, a paper that tells liberals what they want to hear.
ITEM 16: Insider reported, "A Fox News host on Sunday wondered aloud whether former President Donald Trump might have attempted to sell the classified documents he kept at Mar-a-Lago to Russia or Saudi Arabia.
"Speaking during a live broadcast on Fox News Sunday, Eric Shawn raised one possibility about what Trump could have done with the classified documents the FBI found during its search of Trump's Florida residence."
So Fox replaced Chris Wallace with a younger (by 9 years) and cheaper suck-up to liberals.