ITEM 1: Fox reported, "Brian Stelter has been named a Harvard Kennedy School's Walter Shorenstein Media and Democracy Fellowship, and he will work with both students and faculty during the Fall of 2022."
People who didn't watch him for free on CNN will now pay $54,002 in tuition to attend his lectures.
ITEM 2: The Truth About Guns reported, "On Friday, the International Organization for Standards announced that it had approved a new merchant category code for gun retailers. In other words, the ISO caved to longstanding pressure brought by the gun control industry and politicians including a group of US Senators to create the new code.
"The ISO's announcement was quickly followed by announcements from Visa, MasterCard and American Express that they would begin to use the new code to segregate gun store purchases. The big credit card companies had previously resisted pressure from gun control groups to segregate gun store transactions, but gave in when the ISO established the code."
The fascist Democrat Party is leaning on Corporate America to do the dirty work of their tyranny.
ITEM 3: The media cheers fascism.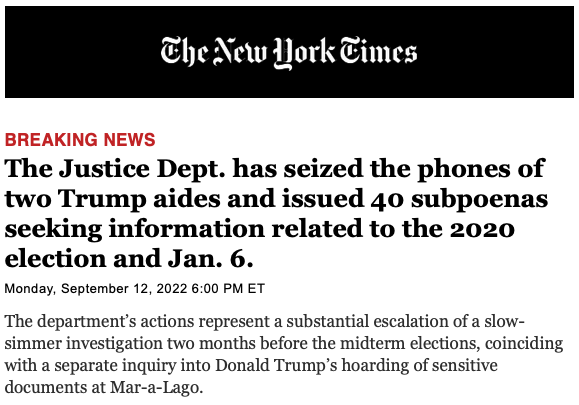 It is a Soviet-style purge.
Defenestration is next on the bucket list of Democrats. Voting is a threat to democracy, comrade.
ITEM 4: Just The News reported, "The father of slain journalist Daniel Pearl is criticizing the school named after his son and the Los Angeles school district suspended the student newspaper's faculty adviser over a COVID-19 article.
"The student-run newspaper at Daniel Pearl Magnet High School published an article last year naming the school librarian who was not allowed to come to work because she failed to meet the district's COVID vaccine deadline, leaving the library closed.
"The librarian asked for the paper to remove her name from the online article, but a teacher/adviser for the Pearl Post newspaper, Adriana Chavira, consulted with legal council and refused.
"Chavira is appealing the school's decision to suspend her for three days without pay.
"'The school is named for a celebrated Wall Street Journal reporter who was kidnapped and murdered while on assignment in Pakistan, raising sensitivities around attempted censorship in his hometown,' the LA Press Club wrote in support of Chavira."
Muslim terrorists beheaded Pearl. Journalism isn't about repeating the official line. Journalism is about telling the truth. Pearl died in his pursuit of the truth. School officials should put this in perspective and back down.
ITEM 5: Fox reported, "A San Francisco sex assault victim is suing city and county officials after she says her rape kit was improperly used to add her DNA to a police database, where investigators allegedly later used it against her in a criminal case, according to her attorneys.
"The woman, identified only as Jane Doe in court documents, is suing both the city and county of San Francisco, Police Chief Bill Scott, the department's crime lab director Mark Powell, the criminalist Kelley Fracchia and SFPD Office Sylvia Lange as well as 50 unidentified defendants, according to Monday's court filing."
Seems like she's been raped twice. Once by the attacker. Once by the police.
ITEM 6: VDare reported, "Why Aren't Media Following Weekly Newspaper's Revelation On Beheading Suspect? He's An Illegal Alien From Venezuela."
He overstayed his tourist visa -- by 10 years.
Why do we bother giving the government money if it is not going to protect us?
ITEM 7: National Review reported, "A Circuit Court judge removed a Loudoun County prosecutor from a case citing concerns about impartiality after an appeal from father Scott Smith, whose daughter was raped at Stone Bridge High School in Virginia by a teen who went on to grope a student at a different school."
That the judge did not dismiss the case with prejudice is stunning. The father dared complain about the felony to the school board at a public meeting and was arrested for trespassing.
The real criminals in this matter are the public officials.
ITEM 8: Bloomberg reported, "Former President Donald Trump and the US Department of Justice agree that Judge Raymond J. Dearie would be a suitable choice for an outside special master to review more than 11,000 documents taken from Trump's Mar-a-Lago home last month as part of an investigation into his handling of government records.
"In a filing Monday evening that marked a rare moment of consensus in the case, the Justice Department said Dearie, along with its two other candidates, retired Judge Barbara S. Jones and retired Judge Thomas B. Griffith would be acceptable."
Wait a second.
They took 11,000 documents and claim 100 are classified.
So 99% of what they took were things they had no legal right to confiscate.
I am no lawyer but I do believe anything they try to use in a court of law should be thrown out because they violated his 4th Amendment rights.
ITEM 9: Just the News reported, "A Texas school board voted unanimously to fire a high school teacher after video footage emerged of her telling her students not to judge pedophiles, whom she dubbed minor attracted persons.
"In a viral TikTok video, 53-year-old El Paso Franklin High School teacher Amber Parker can be heard arguing with a student about the use of the term minor attracted persons, a euphemistic term for individuals with a sexual preference toward minors, or pedophiles. Neither Parker, nor any of the students can be clearly viewed."
Parker said, "You're not allowed to label people like that. Stop it, Diego. We're not gonna call them that. We're gonna call them MAPs, minor attracted persons. So don't judge people just because they wanna have sex with a five-year-old."
No, we judge people because they voted for Trump.
She is on paid leave pending the termination.
ITEM 10: The paywalled Miami Herald reported, "DeSantis' 'full armor of God' rhetoric reaches Republicans. But is he playing with fire?"
Meanwhile his opponent called himself Christ and the governor DeSatan.
ITEM 11: NBC reported, "A Texas woman has been arrested and charged with making death threats against the judge presiding over former President Donald Trump's court fight against the Justice Department over national security documents seized from his Florida resort.
"Tiffani Gish was arrested last week in the Houston area after she admitted to federal marshals that she had left three threatening voicemails telling U.S. District Judge Aileen Cannon that she was 'marked for assassination' and that she planned to shoot her in front of her family, a federal criminal complaint says.
"Gish also made a number of outlandish comments in the Sept. 1 calls, saying that she is 'in charge of nuclear' for the country and that she has a 'license to kill,' the court filings say. At one point in the voicemails, she said she is working for Trump as his hitman; at another point, she accused Trump of having orchestrated the Sept. 11 attacks and claimed that he is marked for assassination, as well, they said."
She sounds like an MSNBC commentator.
ITEM 12: The New York Post reported, "Life, death, newborns entering the world, a CEO raking in millions, politicians calling for an investigation: all part of the drama swirling around Maimonides Medical Center, which lost a staggering $145 million last year.
"It's Brooklyn's largest hospital, and newly released financials show it barely has the cash to make it through another year.
"The Maimonides calamity could be seen as a soap opera, if so many patients weren't affected. Worse, the same basic story is being repeated at hospitals everywhere that treat the poor.
"Safety-net hospitals are bleeding red ink because Medicaid, the government health-insurance program, shortchanges hospitals, paying them only 67 cents for every dollar of care."
So why do the hospitals accept Medicaid?
I have heard this complaint for decades. I stopped believing the hospitals about a decade ago because they continue to accept Medicaid and have overstaffed bureaucracies.
ITEM 13: The Daily Signal reported, "As the clock ticks down on the public comment period for the Department of Education's proposed rule change to Title IX, inconsistencies have emerged on the total number of comments already submitted.
"Politico reported Tuesday that the Regulations.gov website tracking the total number of publicly submitted comments had logged over 349,000 comments.
"But by Friday, three days later, the total number of public comments had shot down to 184,009—a decrease of more than 160,000 comments.
"The Biden administration provided no explanation to The Daily Signal of why those comments were removed. Politico later reported a clerical error had led to the disparity in numbers."
The clerical error was in recording people who believe God created man and woman, and Democrats created the rest.
ITEM 14: Zero Hedge reported, "NYC Middle School Teacher Encourages Students To Engage In Political Violence."
Well that would be a change from the usual mindless violence New York juveniles now engage in.
ITEM 15: The Foreign Desk reported, "The Marine general whose Afghanistan withdrawal advice was rejected by President Joe Biden says the ability of the United States to thwart a terror attack from inside that country is now 'gravely reduced' by inadequate intelligence.
Retired Marine Gen. Frank McKenzie said, "I think that we have very, very limited ability to see into Afghanistan right now. I've said I think we've got certainly less than two or three percent of the intelligence capability that we had before we withdrew."
Rather than resign in protest, which could have stopped the surrender, McKenzie made sure he got a full pension.
FINALLY:
Students don't need a perfect teacher. Students need a happy teacher, who's gonna make them excited to come to school and grow a love for learning. pic.twitter.com/uSMz7TMl1C

— Prof. Feynman (@ProfFeynman) September 13, 2022