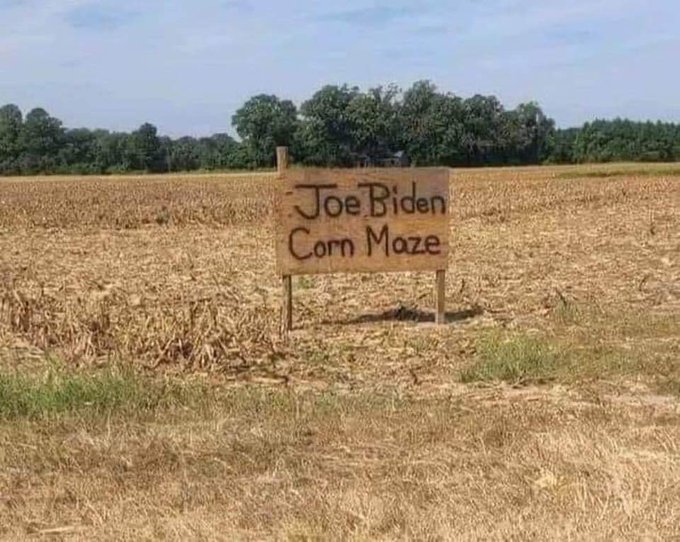 ITEM 1: Yahoo reported, "Don't touch foreigners to reduce monkeypox risk, says senior Chinese health official."
And by don't touch, he meant don't have anal sex with.
ITEM 2: Open Secrets reported, "Florida Gov. Ron DeSantis breaks gubernatorial fundraising record."
He raised $177.4 million. The previous record was set by Meg Whitman but $144 million of the money she raised was from her checking account.
ITEM 3: 1945 reported, "Ron DeSantis' Immigration Moves Not Limited to Martha's Vineyard: Florida Gov. Ron DeSantis has been trying to establish himself as a conservative leader on a number of issues. The latest is immigration."
Abbott in Texas started this but it was the Battle of Martha's Vineyard that changed the game. Liberals are on the run as DeSantis exposed them as hypocrites.
ITEM 4: Biden was on 60 Minutes last night. I wonder how many re-takes he got. Semi-literate Scott Pelley got the interview.
Forget surrendering Afghanistan, turning the FBI into his personal Gestapo, and having Hunter collect his bribes. Pelley asked the one question that is on everyone's mind: "Sir, are you committed to running again, or are there certain conditions that have to be right?"
And by everyone, I mean the White House staff and its media lapdogs.
ITEM 5: Salena Zito wrote, "It is not lost on average voters, for Biden or for Trump, that this administration is wildly out of touch with the crippling effects that inflation is having on their lives. Eggs are 40% more expensive than a year ago, coffee 18%, groceries generally 11%. You don't have to be a Republican to be unhappy with that.
"Biden's tone-deafness continued the following day, which was spent in Michigan, lecturing people whose median income is $36,842 that they ought to buy an electric car to save money. In much of the Detroit area, the $62,900 Cadillac Lyriq EV that Biden drove as a stunt at his publicity event costs more than a three-bedroom, two-bath home with a detached garage."
He resides in that bubble with most of the media.
ITEM 6: The Epoch Times reported, "The massive wave of retail thefts in the United States over the past two years have become a major challenge for both the retail industry and law enforcement.
"Weakened law enforcement policies and lesser penalties for these criminal bandit gangs have hit a critical juncture, as crime in the United States has hit proportions not seen in three decades.
"The number of increasingly professional organized retail crime rings and their frequent attacks have reached crisis scale, according to the National Retail Federation in a September 14 report.
"These crimes have hurt thousands of businesses and have contributed to higher prices for consumers and loss of key retailers in many communities, as countless stores have closed to due to lack of security."
Their customers did this. Rich elitists provide the money and political support to soft-on-crime mayors and DAs.
And who do you think is paying $100 to these criminals for a $4,500 Louis Vuitton purse?
ITEM 7: The New York Post reported, "The New York Times is on a 'jihad' against the UK and Queen Elizabeth."
NYT's last three publishers were the oldest male heir of the family dynasty. But please, go ahead and lecture the British on the evil of hereditary titles.
ITEM 8: Libs spin.
Gov. Greg Abbott of Texas sent this Venezuelan migrant on a bus to DC. He's now earning $600-$700 a week, saving money and planning his new life.

"There is so much opportunity here," he told @nytimes @mirjordan. "You just have to take advantage of it." https://t.co/IPjpsUVxax

— Sheryl Gay Stolberg (@SherylNYT) September 19, 2022
Maybe someday he will be able to afford a vacation to Martha's Vineyard without being escorted off the island by armed National Guardsmen.
But doesn't this undercut the whole liberal NIMBY argument?
ITEM 9: Zero Hedge reported, "How much are consumers willing to pay for a cup of coffee?
"That's a great question, considering the world's top arabica producer, Brazil, is headed for record low inventory, highlights tighter global supplies plus robust demand should continue boosting prices.
"Bloomberg quoted Silas Brasileiro, president of the National Coffee Council, who said inventories in the South American country could decline to just 7 million bags (each weighing 60 kilograms) by the end of 1Q23. Brazil usually has 9-12 million bags in inventory."
I may have to switch from coffee to (ugh) water.
ITEM 10: Just the News reported, "Former President Donald Trump leveled a blistering attack Saturday night against the man who succeeded him in the White House, telling a rally in Ohio that Joe Biden's Justice Department was waging unprecedented 'political repression' against MAGA supporters while his inflationary economic policies were 'incinerating trillions of dollars of middle-class wealth.'"
Trump told a rally in Youngstown, "Our country is being ripped apart, and the American dream is being torn to shreds."
Democrats believe they must destroy America in order to save it.
For themselves.
ITEM 11: Gloria Romero wrote in the Daily Mail, "More than two million undocumented immigrants will be arrested trying to cross into the U.S. in 2022.
"And Democrats don't bat an eye.
"But fly 50 migrants to one of the wealthiest places in America, spotted with multi-million dollar mansions, surrounded by the mega-yachts of the rich and famous and Democrats lose their minds?
"What a joke!
"I am a Democrat and the former Majority Leader of the California State Senate. The first woman to ever hold that position. I am also a proud Latina.
"I am telling you that if the Democratic party thinks that Latinos are outraged by Florida Governor Ron DeSantis sending migrants to Martha's Vineyard – they are dead wrong!
"On Friday, the governor of Massachusetts dispatched the National Guard to whisk away these 50 migrants to a military base in Cape Cod that once housed hurricane disaster victims.
"But what about the hundreds of migrants sleeping on the street of El Paso, Texas? Or the countless other migrants, sleeping outside in cities and towns across the U.S./Mexico border?"
A Republican governor and a Republican legislature are taking care of them, that's what is happening. Democrats talk. Republicans do.
ITEM 12: Instapundit reported, "Google mistakenly deposits $249,999 into security expert's account."
Sounds legit.
As legitimate as an FBI investigation.
ITEM 13: The New York Post reported, "'Dead or alive': Miami Beach considers paying bounty for iguanas."
Don't kill them.
Fly them to Martha's Vineyard. That's now my solution to every problem in the world.
ITEM 14: Reuters reported, "Biden said U.S forces would defend Taiwan in the event of a Chinese invasion, his most explicit statement so far on the issue, something sure to anger Beijing."
In 3, 2, 1...
The New York Post reported, "Biden says US troops would defend Taiwan; White House backtracks remarks."
President Dumbass strikes again.
ITEM 15: KOMO reported, "'Our streets are unsafe:' Seattle mayor says after rideshare driver shot and killed."
This is the Democrat plan. Allow criminals to terrorize city dwellers. Fear is power.
And they will get away with it because Republicans no longer exist in urban America.
FINALLY, every now and then an old post gets a flurry of clicks. I never know why there is a sudden surge in interest to a post from 6 years ago.
This weekend it was a March 17, 2016 post. Maybe it was Ivanka's picture that triggered this.
The Trump reform
If you are wondering why all these nasty people like Liz Mair, Frank Luntz, and Rick Wilson keep trashing Donald Trump, it comes down to money. He is putting their ilk out of business.
He is not wasting tens of millions on the political consultant class. And they are angry as hell. His campaign is not run by focus groups. He is not wasting donor money on polls or ads.
(No offense but I am tired of looking at The Donald.)
The New York Times reported before the results were in last night
:
As hapless as the news media and the Washington establishment have at times appeared as they flail about in the political tempest wrought by Donald Trump, there is another group in the 2016 election cycle that has come off looking at least as bewildered: the campaign gurus of Trump's Republican opponents.
Since Watergate, each new president has been ushered in by his own personal Rasputin. Jimmy Carter had Hamilton Jordan, whose 80-page memorandum laid out the electoral pathway for the obscure Georgia governor. Ronald Reagan had Michael Deaver, whose acute understanding of campaign atmospherics would cause Reagan to be viewed as the father of the photo-op. George Bush had his alley-fighting operative, Lee Atwater; Bill Clinton had James Carville, the jut-jawed Cajun campaign veteran; George W. Bush had the ingenious and sharp-elbowed adviser, Karl Rove; Barack Obama had his digitally savvy campaign manager, David Plouffe. The Beltway has come to expect such savants and to confer on them a princely status.
Trump has laid to waste this tradition. If, as expected, he prevails in most of the primary elections tonight, the billionaire developer will most likely be the Republican Party's nominee — and will have shredded a number of strategic master plans drawn up by his opponents' well-paid advisers. And Trump will have accomplished this feat with a skeleton crew of largely unknown hired hands whose stated operating principle is "Let Trump Be Trump." (His campaign manager, Corey Lewandowski, last worked with Americans For Prosperity, the advocacy group backed by the billionaire Koch brothers, and before that, the losing 2002 re-election race of Senator Bob Smith of New Hampshire. His 26-year-old spokeswoman, Hope Hicks, had never worked on a political campaign.)
The Washington Wunderkinds have complained for decades about big money buying elections.
Trump spent one-tenth what Jeb spent. And won. Trump is the reformer.