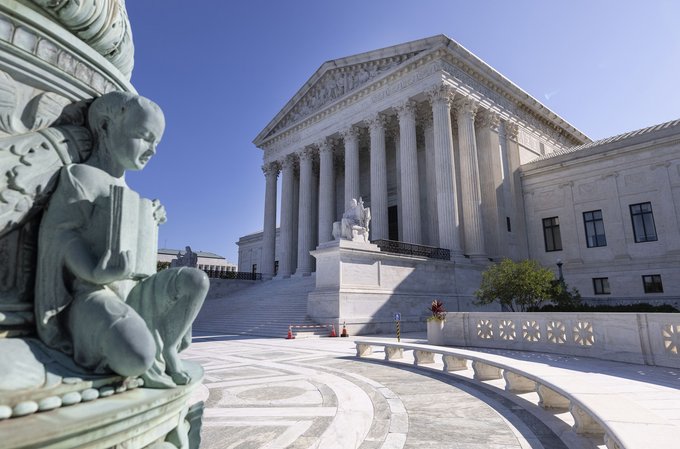 The Supreme Court reconvenes on Monday, and for the first time in my 69 years, liberals actually are afraid of the court.
That is a good thing because for decades, liberals have used the justices to enact legislation no Congress and few state legislatures would dare to make law. Liberal justices have imposed their will upon the land by legalizing abortion and legalizing homosexual marriages.
Along came Mitch McConnell and Donald Trump. They appointed and confirmed three conservatives to the court to give the Constitution a 6-3 majority on the court.
Suddenly, liberals hate the court.
Politico ran a piece, "How the Founders Intended to Check the Supreme Court's Power. The president and Congress can check SCOTUS' power when they believe the justices have exceeded their mandate. This might be the best way to save the court from itself."
Now liberals want to overturn Marbury versus Madison.
Politico quoted Justice Sonia Sotomayor, who said, "there's so much that's not in the Constitution, including the fact that we have the last word. Marbury versus Madison. There is not anything in the Constitution that says that the Court, the Supreme Court, is the last word on what the Constitution means. It was totally novel at that time. And yet, what the Court did was reason from the structure of the Constitution that that's what was intended."
Justices decided the case on February 24, 1803, when there were plenty of Founding Fathers alive to rectify the situation if they indeed wanted to rein in the court. They declined. Sure, Jefferson was miffed by the decision, but he got over it, didn't he?
I wish Sotomayor good luck in getting 38 states now to neuter the Supreme Court through an amendment.
Conservatives suffered for decades. It is the liberals' turn.
Vox whined, "The Supreme Court's new term could be even more consequential than its last one.
"The Republican justices who overruled Roe v. Wade are only getting started."
It's political Armageddon for those who want a Soviet America.
Vox didn't like Dobbs or WV versus EPA or a dozen other decisions last term.
As the Carpenters sang, they've only just begun.
Vox whined, "But this term, a potentially even more consequential issue than the right to an abortion is on the Court's docket: democracy itself. A single case, Moore v. Harper, threatens to fundamentally rewrite the rules governing federal elections, potentially giving state legislatures (some of which are highly gerrymandered themselves) nearly limitless power to skew those elections.
"A second case in the Court's new term — which officially opens on Monday, October 3 — also places free and fair elections in the United States in grave peril. That case, Merrill v. Milligan, could usher in a new era of racial gerrymandering where states have more freedom to undercut black and brown political power than they've had since President Lyndon Johnson signed the Voting Rights Act in 1965 — a law that the Roberts Court has spent the last decade dismantling piece by piece."
It isn't black and brown political power Vox seeks to protect. It is Communist Red political power that is at risk.
The very act that Vox champions mandates racial gerrymandering by creating minority majority districts.
Vox whined, "Just in October, the Court plans to hear two different cases that could significantly undercut US efforts to protect the environment — building on a decision from last June that weakened the EPA's power to fight climate change. In its November session, the Court will hear a pair of cases that are widely expected to forbid universities from considering race when deciding which students to admit, effectively ending race-based affirmative action programs at those schools.
"Other cases on the Court's docket could undercut Medicaid and erase legal safeguards intended to halt the cultural genocide of indigenous people."
That last one would allow white couples to adopt Indian children. The very people who support gay adoption oppose white adoption. Sigh.
My favorite whine from Vox was this, "Sackett v. EPA involves a difficult question of whether a wetland, which drains into a tributary, which itself drains into a creek, which in turn empties into a lake, is subject to the Clean Water Act. And it is likely that this Supreme Court will use Sackett to significantly reduce that act's scope."
No, it would significantly reduce the EPA's misinterpretation of the act. Surely the Clean Water Act does not cover mud puddles.
Liberals had their fun. Now is the time to get serious and interpret the Constitution as written and ratified. Thanks to McConnell and Trump, we have 6 justices willing to do that.
Let the liberal tears flow.