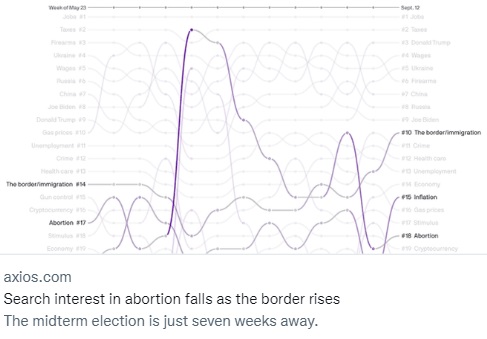 Axios had bad news this morning for Democrats: abortion won't save you this year because Ron DeSantis just made illegal aliens the campaign issue.
The outlet said
, "Americans' Google searches and story interactions around crime and immigration are eclipsing abortion and the FBI search of Mar-a-Lago, according to the Axios midterms dashboard powered by Google Trends, as well as new data from NewsWhip."
Suddenly an issue that had failed to ignite public interest became a bonfire when DeSantis flew 50 illegal aliens to Martha's Vineyard, an enclave of rich white liberals who largely were to the manor born. Their island was a sanctuary to illegal aliens -- until illegal aliens arrived.
Martha's Vineyard dropped the façade and called in the National Guard. The Guard shipped the illegals to a military base which is also a Superfund site.
Thus, DeSantis not only made illegal aliens an issue but he succeeded in highlighting liberal hypocrisy. Liberals don't want those people in their neighborhoods except to clean their toilets and mow their lawns.
Timing is everything in comedy and politics.
Axios said, "Why it matters: With elections seven weeks away, some topics more likely to favor Democrats have been losing ground to those that may favor Republicans."
The site also said, "searches related to immigration and the border vaulted into the top 10 last week, as Florida Governor Ron DeSantis grabbed national attention by flying asylum seekers to Martha's Vineyard."
Democrats are spooked. Their open borders policy is about as popular as Putin's war.
Border R+36
Crime R+23
Economy R+19
Immigration R+17
Cost of Living R+14
Protecting Rights R+9
Bringing Country Together R+6
Getting Things Done R+6

Protecting Democracy D+7
Education D+11
Health Care D+20
Abortion D+22 pic.twitter.com/xk4Zua8aLU

— Bruce Mehlman (@bpmehlman) September 19, 2022
DeSantis framed the issue as Democrat duplicity. They want illegals in your neighborhood but not theirs.
Busing illegals to Chicago, New York and Washington did not click with the public. Those are big cities and unless you live in one, no one cares. Even then, the people of those cities don't care. If they did, they would have Republican mayors.
But flying illegals to the summer home of the super elitists worked. Things are so bad for Democrats that George Soros got into the act.
Fox reported, "The activist group at the center of a class-action lawsuit against Florida Gov. Ron DeSantis and other Florida officials for migrant flights to Martha's Vineyard has received nearly $1.4 million from George Soros' Open Society network.
"Lawyers for Civil Rights, a nonprofit immigrant advocacy group, filed the lawsuit on behalf of Alianza Americas, according to a press release Tuesday that described the latter group as "a network of migrant-led organizations supporting immigrants across the United States."
"Alianza Americas has received a total of $1,383,947 from George Soros' Open Society Foundations between 2016 and 2020, OSF's records show.
"The grants came from three of his nonprofits: Open Society Institute, Open Society Policy Center and Foundation to Promote Open Society."
Liberals bestowed upon DeSantis the coveted Worse Than Trump award. I can see why they are concerned.
Forbes reported, "Florida's Republican Gov. Ron DeSantis has raised over $218 million in his reelection campaign, according to campaign financial disclosures filed Friday, seen by the Financial Times, shattering an all-time gubernatorial fundraising record and further suggesting a likely 2024 presidential run."
People who are willing to give him $218 million for re-election to governor surely will be willing to give him even more money should Trump bow out of the 2024 race.
Thus, the drones of the Fourth Estate have attacked him.
New York Times columnist Jamelle Bouie wrote on Saturday, "Well, you might say, Donald Trump is a bully, too. Yes, he is. But Donald Trump is also a lifelong celebrity with a public persona that is as much about 'The Apprentice' and even 'Home Alone 2' as it is about his political career. What's more, Trump has the skills of a celebrity. He's funny, he has stage presence, and he has a kind of natural charisma. He can be a bully in part because he can temper his cruelty and egoism with the performance of a clown or a showman. He can persuade an audience that he's just kidding — that he doesn't actually mean it.
"Ron DeSantis cannot. He may be a more competent Trump in terms of his ability to use the levers of state to amass power, but he's also meaner and more rigid, without the soft edges and eccentricity of the actual Donald Trump."
Meanwhile, Biden just sent the FBI to Mar-a-Lago to seize presidential mementos for the National Archives. These items are so Super Duper Top Secret that the archive will make them accessible to the public. NYT won't speak out against real fascism, just the imaginary kind because the imaginary kind will not raid your publisher's home at 4 AM.
But Mar-a-Lago now is outside the public's interest. People have Martha's Vineyard on their minds. And Martha's Vineyard beached Democrat hopes in November.