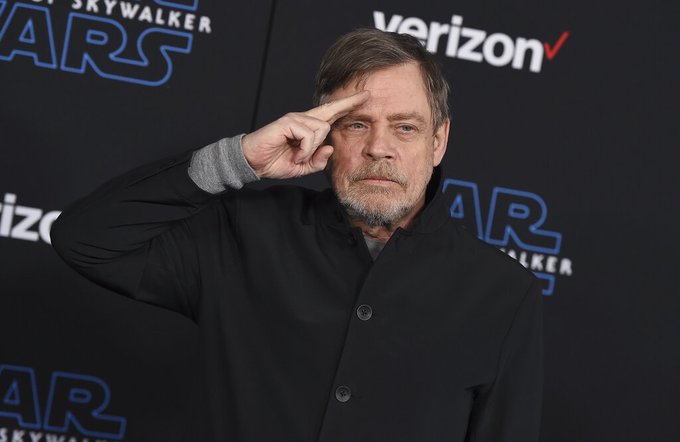 I am not going to mock or knock Mark Hamill's acting just because his politics suck. He started on General Hospital at age 12 and nearly 60 years later, he's still going -- largely as a voice actor for cartoons. He was in that first Star Wars movie (the only one I ever watched) and he did a good job creating a character remembered nearly a half century later.
Unfortunately, when it comes to politics, he leans on that flick (and its sequels) over and over again.
Everybody he doesn't like is worse than Darth Vader.
Well, Darth Vader turned out to be the father of Hamill's character so maybe the actor feels compelled to stick up for his old man.
Dick Cheney was worse than Darth Vader. ("I don't think it's fair to compare Dick Cheney to Vader - it's unfair to Vader." -- Mark Hamill.)
Donald Trump was worse than Darth Vader. ("I really get upset then when people compare (Trump), or even (former vice president) Dick Cheney, to Darth Vader, because Darth Vader repented. He saw the error of his ways. I don't see either one of them (Cheney or Trump) doing that." -- Mark Hamill.)
Now as I recall, Darth Vader destroyed his daughter's home planet.
The worst Cheney did was give the two Bush presidents bad advice. Trump actually got 5 Muslim nations to sign a peace pact with Israel. He also tried to get Kim Jong Un to give up his nukes. He was the first president since Carter not to start a war.
Of course, Darth Vader was a fictional character who never actually did anything, so by definition, everyone is worse than him.
But he was the embodiment of evil.
Now Hamill has a new worse-than-Darth Vader in Vladimir Putin.
Hamill will get no argument from me on that one. But the comparison is rather shopworn and dated.
Deadline reported, "Mark Hamill has become the latest big name to become an ambassador for United24, the official fundraising arm of the Ukrainian government as it continues its war against Russia."
The billions NATO countries have given in unmarked bills apparently is not enough to feed Zelensky's appetite.
The story said, "The actor joins other ambassadors for the effort including Barbra Streisand, Liev Schreiber, Imagine Dragons, soccer star Andriy Shevchenko, tennis star Elina Svitolina and Balenciaga creative director Demna among others."
Does anyone believe Streisand or Hamill will raise a dime for Taiwan if Red China invades?
Hamill said, "I know for certain that Ukrainians need drones to protect their land, their freedom and the values of the entire democratic world. Right now is the best time for everyone to come together and help Ukraine stand up in this war with the evil empire."
That wasn't thunder you heard.
That was laughter from Ronald Reagan. Hamill cribbed his line about Russia. It is funny how the left bitched when Reagan called Russia an evil empire. Now they call it one. The difference is when Reagan called out Russia, it was the Soviet Union, which was twice as big and just as nasty.
So I welcome Hamill for calling out today's Russia.
But you know what is even more evil? You know what country released a virus that attempted to destroy human life on this planet? You know what country has slaves?
Red China.
That's rather Darth Vader-y to me but Hollywood never politics where it eats and access to Red China's markets silences the movie industry.
In a world that could use the courage of R2D2, Hollywood offers a pack of C3P0s.
But fighting Putin is a start for Hamill. The question is whether Putin is worse than Donald Trump to Mister Hamill.