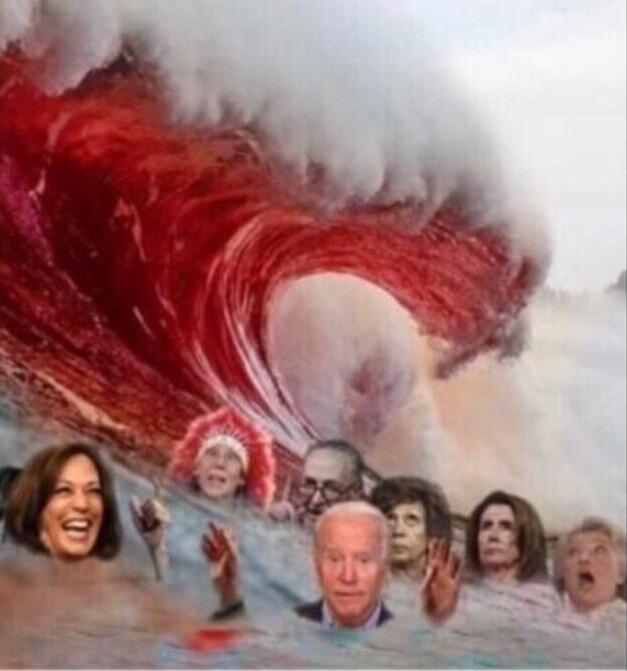 Hidden inside the recesses of the latest ABC News-Washington Post poll was this nugget: "Among those living in congressional districts that are rated as at least somewhat competitive by ABC's FiveThirtyEight (neither solid Republican nor solid Democratic), registered voters favor Republican candidates by a wide 55-34 percent – nearly as big as the Republican lead in solid GOP districts (+24 points). Democrats lead by 35 points in solid Democratic districts, pointing to a potential overvote where they're most prevalent."
So much for reports of the red wave petering out.
538 lists a whopping 50 seats as competitive.
11 are held by Republicans. 2 are new seats. 37 are held by Democrats
538 gives Republicans the edge in 20 of those 50 races. That would be a 9 seat gain.
But as the pollsters who did the ABC-WaPo poll pointed out that since 1946, when a president's approval is 50%, his party loses an average of 14 House seats in the midterm.
Under 50%, his party loses an average of 37 seats.
Biden's approval is 39% in this poll.
Karl Rove wrote in the Wall Street Journal, "The problem for Democrats is that abortion and climate are less important to voters than pocketbook and safety concerns. When asked in the ABC News/Washington Post poll to pick their most important issue, 26% chose the economy, 21% inflation and 14% crime, making the GOP agenda the main focus of 61% of voters. By contrast, 22% picked abortion and 13% climate change, leaving 35% of the electorate prioritizing the Democratic agenda."
We are in a recession with high inflation and even higher crime, but somehow Democrats are going to defy history and keep the House and add Senate seats.
Don't sell Kevin McCarthy short. His Commitment to America is safe and sane.
Larry Kudlow wrote in the New York Sun, "the Commitment to America represents a complete reversal of Mr. Biden's radical, progressive, woke experiment. The document messages to voters the GOP commitment to curb inflation, reinvigorate the economy, fight crime, back up parents and cops, close the border, reopen the energy spigots, and defend freedom.
"Freedom is a word you never hear from Democrats, but restoring freedom in all areas of American life is a very powerful undercurrent to this election.
"No matter how much Biden World Democrats try to avoid these crucial issues, or lie about them, the fact remains that Americans are a lot smarter than Mr. Biden's big-government socialists believe. Voters see right through the phony ads and statements from the Democrats.
"Yes, I truly believe the cavalry is coming."
***
I like to say don't look at the polls, look at the pols. Their actions speak louder than numbers.
Axios reported, "The White House is launching a talent search to be ready for turnover in President Biden's cabinet and other senior administration roles after the 2022 midterm elections.
"Driving the news: White House Chief of Staff Ron Klain has tapped former administration officials Jeff Zients and Natalie Quillian to help oversee a wide talent search effort outside the administration to bring in new talent, an administration official told Axios.
"Why it matters: Nearly all of the positions for which Zients and Quillian will be drawing up lists for would require Senate confirmation, which may be complicated if Republicans take control of the chamber post-midterms."
Biden ain't staying the course because his course has led to the surrender of Afghanistan, a return of inflation after 40 years of hibernation, and a recession. Even worse (from his perspective) is it will lead to a Republican Congress.