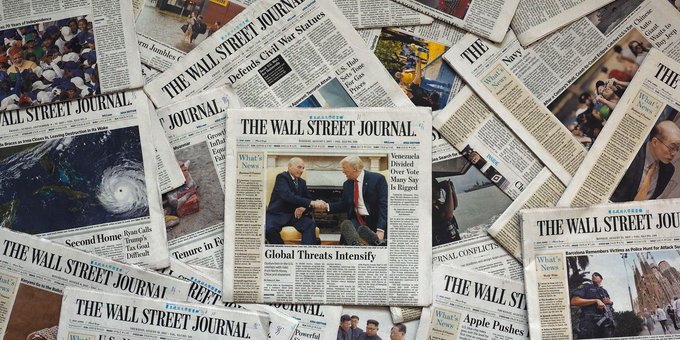 Journalists are the biggest conformists in the world. The groupthink in newsrooms is so thick that by comparison, sheep are rebels. Liberals figured out newsrooms a century ago and dominate them.
The Wall Street Journal handled this by building a brick wall between its news side and its opinion side but under Murdoch, the opinion side slid closer to Lala Land.
The raid on Mar-a-Lago changed that. The Wall Street Journal had all it can stands because it can't stands no more.
The newspaper came out swinging. In its first opportunity to react, the newspaper gave an attack worthy of the name Wall Street Journal. It published an editorial, "The FBI's Dangerous Search at Trump's Mar-a-Lago."
WSJ said, "Monday's unannounced Federal Bureau of Investigation search of Donald Trump's Mar-a-Lago home isn't a moment for anyone to cheer. The Justice Department is unleashing political furies it can't control and may not understand, and the risks for the department and the country are as great as they are for Mr. Trump."
The FBI went to Mar-a-Lago to collect documents for the National Archives. At least, that was the cover story.
WSJ said, "Document disputes are typically settled in negotiation, and that is how Mr. Trump's disagreement with the National Archives had been proceeding."
National security risk? As secretary of state, Hillary was a security sieve. Obama refused to prosecute, sending Jimmy the Weasel Comey out to take responsibility for Obama's call.
WSJ said, "Didn't someone at Justice point out that a search in this case would draw comparisons to Hillary Clinton's mishandling of classified information before her 2016 presidential campaign? She was never prosecuted, as Mr. Trump was quick to point out."
The newspaper did not write one editorial and move on.
Kimberley A. Strassel wrote a column the next day, "The Payback for Mar-a-Lago Will Be Brutal. What went around Monday will come around hard for the Democrats when Republicans control the Justice Department and FBI."
Sure they will. Just like they repealed Obamacare.
But always hold out hope because you never get anything by throwing in the towel.
WSJ is waving its towel like a Pittsburgh Steeler fan waving a Terrible Towel. The time has come to rally behind the Fourth Amendment.
This weekend, WSJ mocked the affidavit that the FBI used to rationalize its raid on the presidency and the Constitution.
WSJ said, "A federal judge on Friday released a heavily redacted version of the FBI affidavit used to justify the search of Donald Trump's Mar-a-Lago home, and we can't help but wonder is that it? This is why agents descended on a former President's residence like they would a mob boss?
"It's possible the redactions in the 38-page document release contain some undisclosed bombshell. But given the contours of what the affidavit and attachments reveal, this really does seem to boil down to a fight over the handling of classified documents. The affidavit's long introduction and other unredacted paragraphs all point to concern by the FBI and the National Archives with the documents Mr. Trump retained at Mar-a-Lago and his lack of cooperation in not returning all that the feds wanted."
The magistrate had issued a general warrant like King George III used to do.
The Fourth Amendment bans this.
It says, "The right of the people to be secure in their persons, houses, papers, and effects, against unreasonable searches and seizures, shall not be violated, and no Warrants shall issue, but upon probable cause, supported by Oath or affirmation, and particularly describing the place to be searched, and the persons or things to be seized."
Today the Wall Street Journal dragged out Hillary to make the point that the FBI is a political sewer (my words, not the newspaper's).
WSJ said, "The Comey-Clinton Document Standard and Trump. When Hillary kept classified information on her private email server, Justice and the FBI let her off."
The editorial said, "We don't know everything about the documents Mr. Trump retained, how he handled them, what he told the FBI and other facts that are still hidden by the redactions in the affidavit. New details may emerge that differ in significant ways from Mrs. Clinton's behavior.
"But that isn't evident so far, and Mr. Trump's lawyers will surely argue that under the Presidential Records Act he has some right to hold documents, even many that are classified, for some period of time or some personal purpose.
"All of this has to weigh on Merrick Garland as the Attorney General considers whether to indict Mr. Trump for his handling of classified documents. We didn't like the Clinton Standard but we didn't establish it. A Democratic Justice Department did, and in a case with enormous political consequences.
"If Mr. Garland can't make a compelling case that Mr. Trump's transgressions are greater than Mrs. Clinton's, with enough clear and convincing evidence to warrant a criminal charge, the better judgment is not to prosecute and put the country through the trauma of a political trial that half of America will suspect is a case of unequal justice."
There comes a time in every Popeye cartoon where he eats his spinach, gets off the canvass and fights back for God, country and Olive Oyl.
WSJ ate its spinach. I doubt its editors like Donald John Trump. But this is not about Trump. This is about a free people being protected from partisan goons at the FBI.
Thank goodness the people running the Wall Street Journal finally ate their spinach.