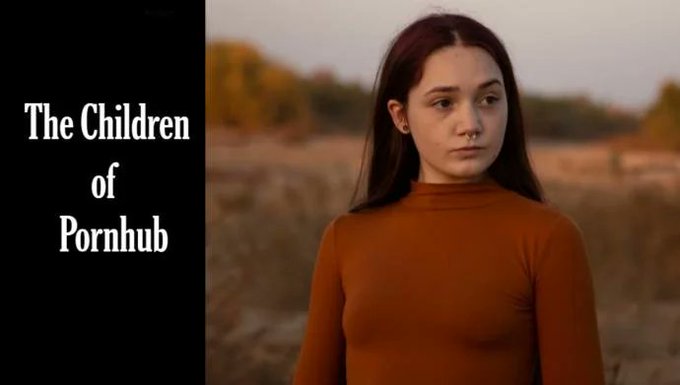 According to her lawsuit against PornHub and Visa, Serena Fleites was 13 when her boyfriend coerced her into making a sexually explicit video. He called it "13-Year Old Brunette Shows Off For the Camera" and put it on Pornhub where thousands of people downloaded it and uploaded it.
They paid Pornhub using their Visa cards.
The video ruined her life. When she asked that the child porn be taken down, she was told she had "to provide photographic proof that she was the child depicted in the video" before PornHub would remove it.
13.
The age of consent in California (where she filed the case in federal court) is 18.
Her complaint said, "Plaintiff's life spiraled out of control. She was harassed and bullied in school to such a degree that she started skipping school and finally unenrolled to attend courses online. Plaintiff did not tell her mother about the video, and so her relationship with her mother became strained, as her mother did not know why her daughter had suddenly begun to skip classes.
"This led to Plaintiff leaving her mother's home to move in with her sister. A year later, she moved back in with her mother, whereafter she attempted to hang herself, only to be stopped by her younger sister and her mother's boyfriend who removed the power cord from her neck.
"She would attempt suicide several times in the ensuing years. Plaintiff did not want to face her family after the first suicide attempt, and so she moved in with a friend. At her friend's house, an older man introduced Plaintiff to heroin. Plaintiff became addicted. To fund her heroin addiction, Plaintiff—still a minor at this point—created sexually explicit videos at the older man's behest, who in turn sold the videos on Craigslist.
"Some of the videos were uploaded to Pornhub and were still available on the website as recently as June 2020. MindGeek [the company that owns Pornhub] uploaded these videos to its other pornographic websites and earned ad revenue from the videos. While MindGeek profited from the child porn featuring Plaintiff, Plaintiff was intermittently homeless or living in her car, addicted to heroin, depressed and suicidal, and without the support of her family."
What a life.
And it all happened before she turned 18.
Pornhub's role in all this is obvious. But what about Visa? It was just collecting money. It really has no control over the situation, right?
Wrong.
Visa frequently stops doing business for political reasons and the like.
On December 7, 2010, Forbes reported, "The mounting legal and political forces working against WikiLeaks just scored two major financial blows against the whistleblower site. On Tuesday morning, Visa suspended payments to WikiLeaks, according to the Associated Press. And late Monday, MasterCard told Cnet that it would also attempt to block payments to WikiLeaks, arguing that its 'rules prohibit customers from directly or indirectly engaging in or facilitating any action that is illegal.'"
WikiLeaks did nothing illegal. According to Fleites lawsuit, Pornhub did.
Visa has cut off what it considers to be hate groups and individuals such as David Horowitz. Visa cannot turn around now and declare itself just the piano player in this whorehouse.
U.S. District Judge Cormac Carney denied Visa's motion to be excused from this lawsuit.
Via Bloomberg, the Bush 43 appointee said, "It is simple. Visa made the decision to continue to recognize MindGeek as a merchant, despite its alleged knowledge that MindGeek monetized child porn. MindGeek made the decision to continue monetizing child porn, and there are enough facts pled to suggest that the latter decision depended on the former."
In other words, Visa enabled Pornhub to profit from child porn and received a piece of the action.
Lawyers always seek the deepest pocket. With Visa, her lawyers hit the mother lode. And it is all Visa's fault.
If I were Visa, I would write a check for $1 and tell Serena Fleites to add the zeroes.
And then I would drop Pornhub off the nearest cliff.