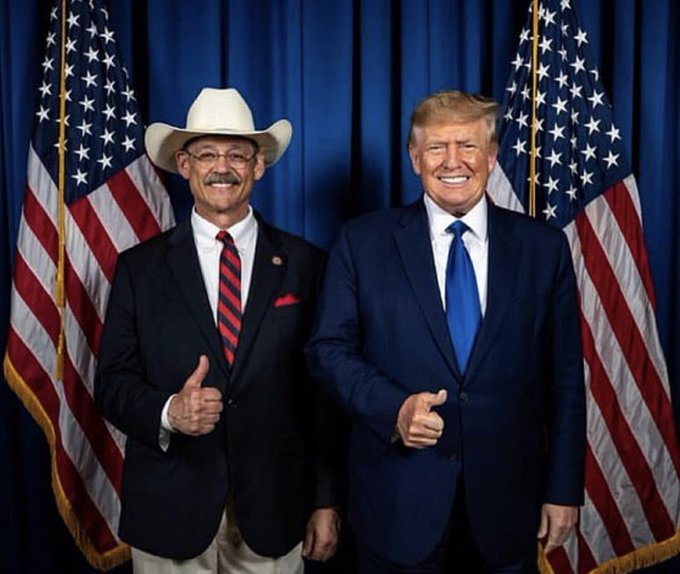 The Arizona Republican Party in Arizona is cleaner today after all the Trump-backed candidates swept the state's primaries.
The big win was by former state Sen. David Farnsworth. He knocked out the state Speaker of the House, Rusty Bowers, who ran for the state Senate. Bowers could not seek another term in the House under the state term-limits rule. Farnsworth will run unopposed.
You know this was a big win because the media was in mourning this morning.
The Hill sobbed, "Jan. 6 witness Rusty Bowers loses to Trump-backed challenger in Arizona."
Its story said, "Trump's endorsement is part of a larger revenge tour against Republicans whom he believes have crossed him following the 2020 election and Capitol attack."
Imagine that. Actions have consequences.
NBC sobbed, "Bowers, who has served a combined 17 years between Arizona's state House and Senate, received the John F. Kennedy Profile in Courage Award this year for his handling of the post-election period. His race served as the first and possibly only test this cycle of whether a Republican can publicly cross Trump before the Jan. 6 panel and still win a GOP primary — one that took place while Bowers' testimony was still fresh in voters' minds. "
A JFK award tells Republicans all they need to know about a candidate.
Bowers dismissed Farnsworth as a back-bencher.
Republicans dismissed Bowers as a hack.
Almost as important was the secretary of state race. Mark Finchem campaigned on opposing election fraud. That should be a winner in November. As we learned in 2020, he who counts the votes matter more than the voters.
Zero Hedge reported, "Trump-backed candidates in other states also did well on Tuesday, including Michigan GOP gubernatorial candidate Tudor Dixon - who he praised at a rally he headlined in Michigan, before formally endorsing her on Friday after Democrats spent seven-figures trying to knock her off the trail in the final weeks of the primary campaign, Fox News reports."
Trumpenfreude Alert!
Zero Hedge also said, "Also in Michigan, Trump scored a win after the primary defeat of Rep. Peter Meijer -- one of ten House Republicans who voted to impeach the former president over the Jan. 6, 2021 Capitol riot. Meijer's loss means that the Grand Rapids-based 3rd district seat will be a closely watched House contest in November's midterm elections."
John Gibbs defeated Meijer. Gibbs is a former software developer who served in the Trump administration as an acting assistant secretary in the Department of Housing and Urban Development.
Trump is doing what no former president has ever done. He is re-shaping the party by primarying those who sold us out, especially on January 6.
Let us review. Trump had an actual peaceful rally of 250,000 on the National Mall.
Law enforcement opened the Capitol doors to a few people and then treated them as insurrectionists in an entrapment. Capitol Police Lieutenant Michael Byrd shot an unarmed Ashli Babbitt, which made him a hero because it allows the press to say the demonstration led to violence.
Trump is cleaning up the mess left by decades of voters mindlessly re-electing people who do not really represent them.
Bowers, Meijer and the rest will now openly work against Republicans in November. House cleaning is messy but necessary after so much neglect.