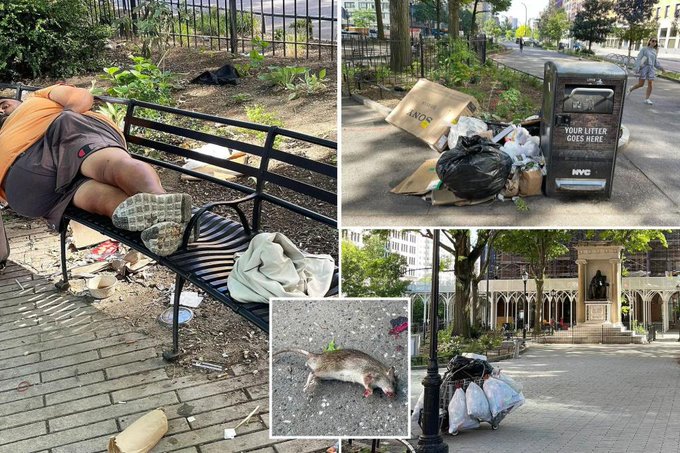 Kane at Citizen Free Press posted a montage of NYC today and tweeted, "Eric Adams is a disgrace. NYC is a nightmare. One of our greatest cities reduced to the Dark Ages."
The scene is the same in Chicago, LA and of course, San Francisco. How's that Grateful Dead song
Trucking
go again?
Pooping outside and looting the stores on Main Street

Chicago, New York, Detroit and it's all on the same street

Your typical city involved in a typical nightmare.

Hang it up and see what tomorrow brings.
We know what tomorrow brings: something worse.
Cities were smelly, stinking, crime-ridden firetraps when the American Revolution began. For two centuries, we chipped away at it. In the 1990s, New York City was renewed. Crime abated.
Then came the end of Rudy Giuliani's two terms as mayor. Bloomberg followed for three terms. Their 20 years as mayor made things so good that New Yorkers felt they could afford to have another Democrat mayor.
Soo-prize, soo-prize!
DeBlasio sucked for 8 years but Adams has done even more harm in less than 8 months on the job.
City after city is failing.
The ironically named progressives have reversed the progress we made. Pooping outside is legal in cities along the West Coast. But you still have to have to carry a pooper scooper when you walk your dog.
Natural gas replaced coal to heat homes. San Francisco and other cities are banning natural gas. They will replace it with electric heating systems. They will force us to use electric cars. At the same time, they are shuttering reliable generators of electricity such as coal plants in favor of windmills
Then there is climate change. Progressives say it causes droughts in California. But California last completed a major dam in 1979, when its population was 23,800,800. It population nearly doubled in the 40 years since then. It plans to destroy 4 dams.
Criminal reforms have led to electing prosecutors who don't prosecute. Not requiring an arrestee to post bond has replaced the revolving door of justice with no doors at all.
Schools have given up completely. Rainbow flag groomers are replacing teachers. Now Johnny not only can't read, now he cannot figure out if he is a boy or a girl.
John Milton said the devil would rather rule in hell than serve in heaven.
That would make him a Democrat.