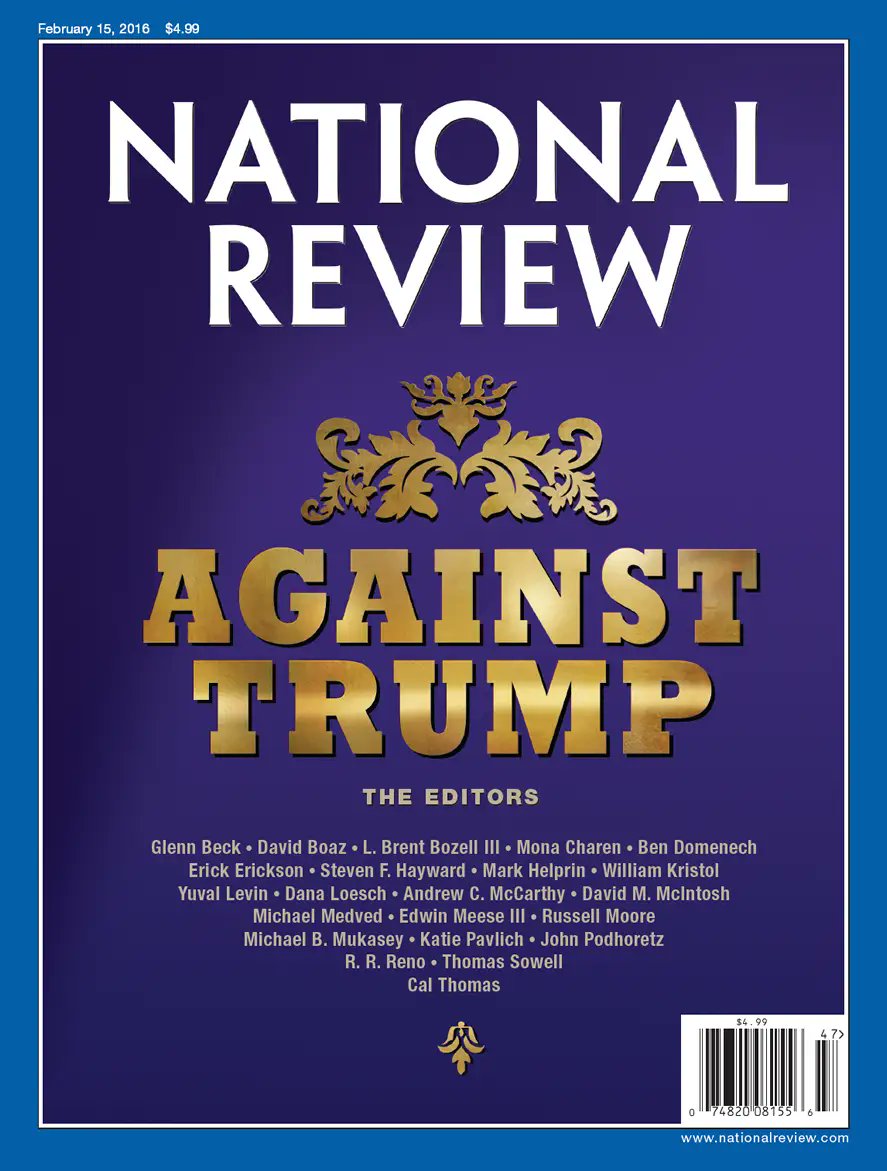 Six years after leading National Review into irrelevancy with a juvenile Against Trump issue, Rich Lowry now realizes that Trump might not be the bad guy.
In a column in the New York Times, Lowry wrote
, "The Russia investigation was a national fiasco that brought discredit on the F.B.I. and everyone who participated in it. The probe prominently featured a transparently ridiculous dossier generated by the Clinton campaign, eventually spinning into a special-counsel investigation that became, to some significant extent, about itself and whether Mr. Trump was guilty of obstruction. People who should have known better got caught up in the feeding frenzy and speculated that 'the walls were closing in' on Mr. Trump, or that he might have been a Russian asset going back decades.
"It all came to naught with almost no one expressing any regret about the unnecessary, yearslong psychodrama. It would be better if more people acknowledged — life being complicated — that even someone you hate and fear can be treated unfairly.
"That experience guarantees that no Republican is going to take assurances about the Mar-a-Lago search, or any other Trump investigation, at face value.
"Pointing to similar conduct over the years by Mr. Trump's adversaries needn't be an exercise in explaining away Mr. Trump's excesses and lapses, but it can be useful as a means of establishing a baseline for how political parties naturally react in such circumstances, and a caution against heedlessly causing a political conflagration with unpredictable and possibly dire consequences."
Let's see, after 20 false accusations, investigations and impeachments, it has finally dawned on Lowry that maybe the deep state -- the intelligence community -- has nothing on the guy.
I mean Hillary spent millions of dollars researching the guy and all she came up with was a tape in which he said if you are rich, handsome and famous, some women will allow you to grab them by the pussy.
Coarse.
Rude.
And as the Harvey Weinstein case showed, true. Casting couches predate Hollywood.
No one in American history has been so thoroughly investigated without any indictment than Trump.
Chuck Schumer boasted 17 days before Trump became president that the intelligence community can get you six ways to Sunday. Over 300 Sundays have passed since he said that. The still have not gotten him.
Lowry's column is a nice departure from his usual Trump bashing but he wrote it for NYT, which paid him to pull his punches. He did.
He wrote, "If it is too difficult now for Democrats to imagine how they might react to such a prosecution of one of their own, they might have a clearer sense soon enough. An indictment of Mr. Trump would invite retaliation, and if Republicans retake the White House, a motivated G.O.P.-controlled Justice Department could be expected to aggressively pursue a reason to indict Joe Biden over his son Hunter's business dealings."
Hunter's business dealings are a polite way of saying bribes. They are documented by him. On his laptop, the one the FBI sat on for a year. I want those who sat on that laptop to spend the rest of their lives in prison as accessories after the fact.
When impeached in 2019, Trump riffed off a meme and said, "They're not after me. They're after you. I'm just in the way."
I have news for Liz and Mitt and all the lesser little evils like Lowry that once they get Trump, his family and his friends, Liz and Mitt and all the lesser little evils like Lowry are next.
The deep state is not after Trump. The deep state is after increasing and preserving its power.
Maybe Lowry is seeing the light. I am always an optimist.