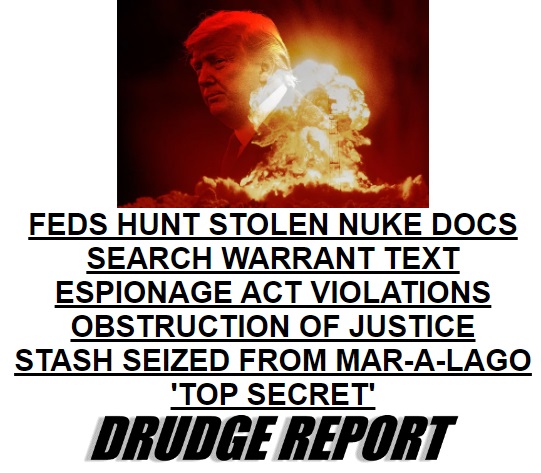 When Matt Drudge suddenly turned on President Donald Trump, many of us figured he sold out and quit. But a few years later, there is no evidence that this happened (or didn't) so I must presume that he still runs it.
He suffers a longing to be legitimate. Having made his pile of money, Drudge now seeks acceptance by high society. Howard Stern suffers it as well. Having made a billion bucks or so as a shock jock in New York (thanks to his Sirius XM deal) Stern has now turned against his fans.
But Drudge has become very foolish and very stupid of late.
He promoted Russiagate, the subsequent Mueller witch hunt, the Zelensky impeachment and finally the Capitol Police insurrection entrapment.
None of these efforts brought Trump down because all of them were fakes scripted by incompetents. To be sure, these stories showed the power of the deep state and its mistreatment of the American people.
But these stories also showed the ineptitude of today's FBI and intelligence community. Chuck Schumer bragged that the intelligence community can get you six ways till Sunday. And nearly 300 Sundays have passed since he said that and they still haven't gotten President Trump.
Mark Felt was able to bring down Nixon for passing him over FBI director. These dumb bunnies couldn't even entrap and convict four losers in Michigan for kidnapping.
By the way, the fellow in charge of that operation was reassigned to DC and promoted. It is called falling up.
The FBI raid on Mar-a-Lago is the latest failure to Get Trump. We know this because Democrats want us to stop calling the raid a raid.
The media and Drudge overlooked the obvious flaws in regurgitating the intelligence community's excuses.
First, President Trump had no classified material because a president can declassify anything he wants. Five days after the raid, the media is getting around to reporting that basic fact.
Second, the nuclear codes change with each president. Duh. My bank makes me change my password every six months.
Then there is the talk about a mole inside Mar-a-Lago. If there were one, the FBI would not be telling us there was one.
This is all a cover up for the real purpose of the raid. Some speculate that Trump has hard evidence of criminal wrongdoing. The problem with that is it is as useless as nuclear codes because no jury in DC will convict any one. The town is 90% Democrat. Unless you can move the trial elsewhere, fuggedaboutit.
This is Chicken Little reporting that substitutes rumor for fact. Even Forrest Gump would have figured out by now that he is being played. But nope, these fools won't admit the obvious. And Matt Drudge falls for it every time.