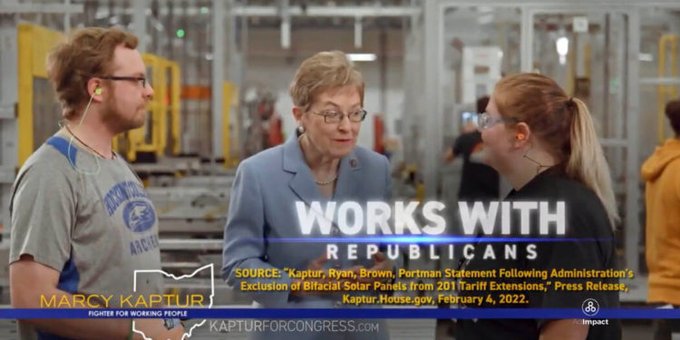 Move over, Liz Cheney. You may be getting company in the unemployment line in January. Voters may give the pink slip to a Democrat who has been in Congress for 40 years.
Screaming about J6 seems to backfire in Ohio as well as Wyoming.
The New York Times ran a story today
, "Marcy Kaptur, a Veteran Democrat, Breaks with Biden in New TV Ad."
Suddenly she "works with Republicans."
Just last month, Kaptur attacked her Republican opponent, J.R. Majewski, for being in Washington on January 6, 2021.
The Toledo Blade reported, "The issue has become a talking point for the Kaptur campaign in its advertising and on social media, including labeling the candidate as an 'extremist' and 'dangerous.' One ad also claims Mr. Majewski broke police barricades during the riot, which he has publicly denied."
He was one of 200,000 people who attended Trump's rally on the National Mall. Attending a Trump rally is considered an insurrection by the elitists.
The attack on Majewski did not work because she is still in an election that the Cook Political Report ranks as a tossup.
NYT reported, "Representative Marcy Kaptur of Ohio, the second-most tenured woman in congressional history, has released a new television ad explicitly breaking with President Biden, the most prominent Democrat to do so, as she seeks re-election in a Toledo-area seat that was redrawn to be sharply more Republican.
"Ms. Kaptur, who was first elected in 1982, criticized Mr. Biden in the ad over 'letting Ohio solar manufacturers be undercut by China' and ended it with an attempt to cast her identity as independent from his."
The advertisement ends, "Marcy Kaptur: She doesn't work for Joe Biden; she works for you."
She is in trouble because Ohio has swung Republican. Trump carried Ohio by 8 points two years ago. A new poll by Emerson Polling showed him ahead by 14 in a rematch with Biden.
51% of Ohioans prefer being represented in Congress by a Republican. Only 41% want a Democrat.
January 6 hysteria won't change that and likely helps Majewski.
She has quit sucking up to Biden.
Now it is Joe who?
NYT said, "the ad from Ms. Kaptur is a relative surprise. She appeared with Mr. Biden only a few weeks ago, greeting him at an airport in Cleveland where photos appear to show the president kissing her hand on the tarmac.
"In response to her new ad, Republicans were already recirculating video of Ms. Kaptur campaigning for Mr. Biden in 2020 and declaring, 'It will be my honor to not just vote for Joe Biden but to work for him.'"
Maybe she can work with him as his new press secretary come January because she talks out of both sides of her mouth so easily.