Why did we send $54 billion to Ukraine, so Zelensky & his wife could pose for Vogue?

You're at war & you've got time for photo shoots? pic.twitter.com/XV5rz0meME

— #ThePersistence (@ScottPresler) July 27, 2022
The wife of the most powerful man in American politics appeared on the cover of Vogue magazine, posing for Annie Leibovitz, the top fashion photographer.
Zelensky is the most powerful man in American politics because he has Congress jumping through his hoops. Biden sent Congress a $33 billion aid request. Zelensky got it bumped up to $40 billion.
The Senate passed it 86-11.
That's in a Senate where Biden declares a major bipartisan victory if Collins, Murkowski and Romney join Democrats to approve a judge 53-47.
The $40 billion gift was on top of previous aid, bringing the total to $54 billion -- or double the price of the Wall that a Republican Congress failed to fund for the two years it was in power under Trump because of its expense.
Whatever Zelensky wants, Zelensky gets.
But Vogue may change that because it puts the media in a spot.
For months, the press reported on the deprivations of the Russo-Ukrainian War. They repeated his tale of how Putin targeted Zelensky. Now the press has to defend a photo shoot that used soldiers and war damage as a backdrop for the photo shoot.
Sonny Bunch of the Washington Post reported, "The Zelenskys are in Vogue. That makes them smart, not silly."
Bunch said, "Set aside the absolutely lunatic idea that a world leader cannot meet with celebrities in the midst of a global crisis—a notion the ghosts of Winston Churchill and Franklin D. Roosevelt would, in all likelihood, dispute. Let's get real. Zelensky is meeting with Western celebrities and appearing in celebrity-focused magazines because that is the only way to keep the crisis in his country at the forefront of the American public's mind."
But Zelensky is not a world leader and the Russo-Ukraine War is only a crisis because Biden made it so with his foolish economic sanctions. Everyone should know by now that sanctions never work. These sanctions backfired as they ignited both a food shortage and an energy shortage in Europe. American presidents should be careful throwing the word crisis around. An archduke's assassination halfway across the world 108 years ago got us sucked into a European war.
117,000 American soldiers died in World War I. That's double the death toll for Vietnam.
The American press fawned over Zelensky like it did Andrew Cuomo. Maybe this will end for Zelensky like it did for Cuomo. The Vogue cover insulted the damage by Putin's Russia to Kyiv.
For once there is a backlash.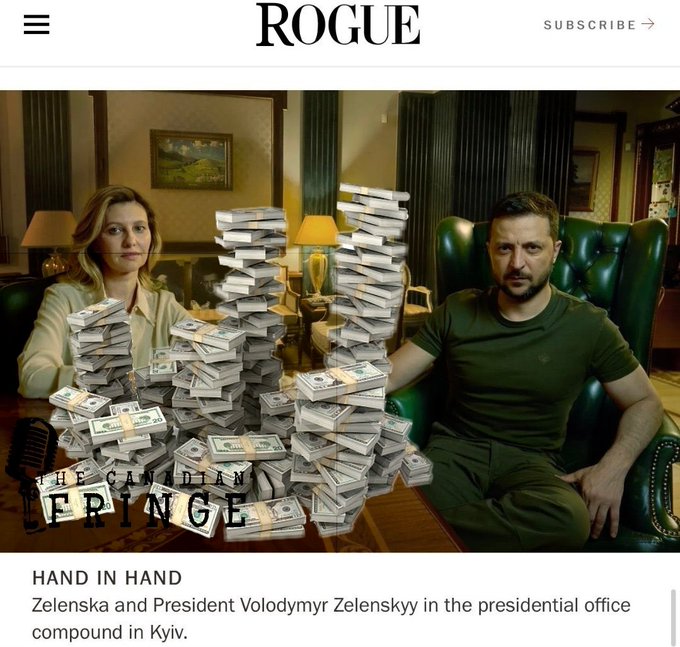 Avi Yemini of Rebel News in Australia tweeted, "I respected Zelensky at the beginning of the war when we were flooded with photos of the Ukrainian President on the frontline in tactical gear.
"Turned out the photos were faked.
"An act like the man himself.
"Now posing for Vogue.
"All to grift billions from western taxpayers."
Republican Congresswoman Mayra Flores tweeted, "Biden: Let's continue to send billions of dollars in foreign aid to Ukraine, they need it!
"Reality: The Zelensky family graces us with a photo shoot to be on the cover of Vogue magazine."
Public reaction does not matter much in DC. It is insulated. But the deep state may be turning on him.
Thomas Friedman of the New York Times wrote, "Dear reader: The Ukraine war is not over. And privately, U.S. officials are a lot more concerned about Ukraine's leadership than they are letting on. There is deep mistrust between the White House and Ukraine President Volodymyr Zelensky — considerably more than has been reported.
"And there is funny business going on in Kyiv. On July 17, Zelensky fired his country's prosecutor general and the leader of its domestic intelligence agency — the most significant shake-up in his government since the Russian invasion in February. It would be the equivalent of Biden firing Merrick Garland and Bill Burns on the same day. But I have still not seen any reporting that convincingly explains what that was all about. It is as if we don't want to look too closely under the hood in Kyiv for fear of what corruption or antics we might see, when we have invested so much there. (More on the dangers of that another day.)"
Like Bob Woodward, he does PR for the intelligence community.
The avarice of Zelensky is breath-taking. Jordan Schachtel reported, "A new US-funded report out of Kiev assesses $108.3 billion in economic damages for Ukraine, but requests a 7x replenishment of $750 billion so that the country can Build Back Better.
"The Kyiv School of Economics has released a new assessment claiming that Ukraine will need hundreds of billions of dollars to Build Back Better from its war against Russia."
Bill Russia.
The only people who profit more from war than the makers of guns and ammo now are the re-building contractors. Hunter will sit on every board.
But Western patience with Zelensky wears thin. We have a shorter attention span these days.
Zelensky won't go down easy. Ukraine is an ATM for Western politicians. They have deposited billions from their taxpayers. They surely will extract some of that through their operatives.
But two summers ago, Cuomo looked invincible.