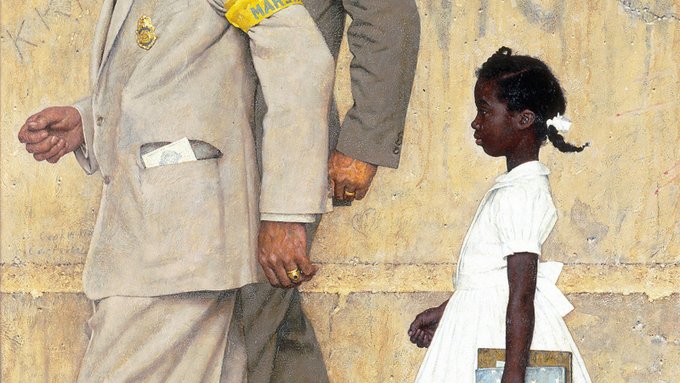 In 1963, Norman Rockwell painted a cover for Look magazine (not the Saturday Evening Post) entitled The Problem We All Live With. The magazine published it on January 14, 1964. It depicted Ruby Bridges walking to the all-white William Frantz Elementary School in New Orleans.
At 6, she crossed the color line.
4 deputy U.S. marshals protected her.
The event was in 1960. It seemed odd to me at the time because Woodland Elementary School in Cleveland, which I attended, was integrated. Even at 7, I followed the news.
As an adult, it strikes me as a bold move by President Eisenhower. He was not going to allow a bunch of klansmen push him around. Three years earlier, he sent the 101st Airborne to Little Rock to protect the 9 black students who were integrating Central High School in Little Rock, Arkansas.
We seldom are more American than when we send the 101st Airborne to protect the rights of 9 black teenagers.
And so it goes with Nancy Pelosi's visit to Taiwan. I don't like her. Few (if any) of my readers like her. But she is Speaker of the House -- two heartbeats from the presidency -- and if we have to move every aircraft carrier we have to the South China Sea to protect her, so be it.
I say this after reading Thomas Friedman's column, "Why Pelosi's Visit to Taiwan Is Utterly Reckless."
His argument was "Nothing good will come of it. Taiwan will not be more secure or more prosperous as a result of this purely symbolic visit, and a lot of bad things could happen. These include a Chinese military response that could result in the U.S. being plunged into indirect conflicts with a nuclear-armed Russia and a nuclear-armed China at the same time."
Chairman Xi does not want her to go to Taiwan?
So what?
Big deal.
We are Americans. We shall not be shoved around by a bully who looks like Winnie the Pooh. The world does not revolve around Red China. If Chairman Xi doesn't like it, who cares?
But Friedman's objection is liberal thinking. Offending someone is a crime to them. Calling a man in a dress a man can get you arrested in England.
This is America. We have guns. We have used them against tyranny for 246 years and counting.
Zero Hedge reported, "Forget inflation, stagflation, recession, depression, earnings, Biden locked up in the basement with covid, and everything else: today's it all about whether Nancy Pelosi will start World War 3 when she lands in Taiwan in 3 hours.
"U.S. stocks were set for a second day of declines as investors hunkered down over the imminent (military) response by China to Pelosi's Taiwan planned visit to Taiwan, along with the risks from weakening economic growth amid hawkish central bank policy. Nasdaq 100 contracts were down 0.7% by 7:30 a.m. in New York, while S&P 500 futures fell 0.6% having fallen as much as 1% earlier. 10Y yields are down to 2.55% after hitting 2.51% earlier, while both the dollar and gold are higher."
The stock market is a rumor mill that is easily spooked.
Friedman is a deep state spokesman, which is why I will read his columns. He gives the intelligence community's side of the story.
He cited the Russo-Ukrainian War as a reason not to upset Red China.
Remember when I bad-mouthed Zelensky in February? I pointed out he helped Democrats impeach President Trump. I pointed out the press was fawning over him like it fawned over Fauci and Andy Cuomo. I pointed out he was a puppet of an oligarch.
Well, a few months later, Friedman wrote, "The timing could not be worse. Dear reader: The Ukraine war is not over. And privately, U.S. officials are a lot more concerned about Ukraine's leadership than they are letting on. There is deep mistrust between the White House and Ukraine President Volodymyr Zelensky — considerably more than has been reported.
"And there is funny business going on in Kyiv. On July 17, Zelensky fired his country's prosecutor general and the leader of its domestic intelligence agency — the most significant shake-up in his government since the Russian invasion in February. It would be the equivalent of Biden firing Merrick Garland and Bill Burns on the same day. But I have still not seen any reporting that convincingly explains what that was all about. It is as if we don't want to look too closely under the hood in Kyiv for fear of what corruption or antics we might see, when we have invested so much there. (More on the dangers of that another day.)"
If I could see it in Poca, West Virginia, they already knew it all along in DC.
But Ukraine bought off Biden a long time ago and he sits in the Oval Office. They have to obey.
Nancy doesn't. She can go to Taiwan and drink all the booze on the way there, while there, and on the way back as far as I am concerned. A pickled Pelosi is a happy Pelosi.
(I wrote this last night. This morning she arrived.)
Friedman wrote, "I seriously doubt that Taiwan's current leadership, in its heart of hearts, wants this Pelosi visit now. Anyone who has followed the cautious behavior of Taiwanese President Tsai Ing-wen of the pro-independence-leaning Democratic Progressive Party, since her election in 2016, has to be impressed by her consistent efforts to defend Taiwan's independence while not giving China an easy excuse for military action against Taiwan.
"Alas, I fear that the growing consensus in Xi's China is that the Taiwan question can only be resolved militarily, but China wants to do it on its own schedule. Our goal should be to deter China from such a military endeavor on OUR schedule — which is forever.
"But the best way to do that is to arm Taiwan into what military analysts call a porcupine — a country bristling with so many missiles that China would never want to lay hands on it — while saying and doing as little as possible to provoke China into thinking that it MUST lay hands on it now. Pursuing anything else than that balanced approach would be an awful mistake, with vast and unpredictable consequences."
We shouldn't provoke Red China?
Wrong.
Red China should not provoke us.
Make me president, and I will poke the panda every day with tariffs and the like. He is going to shoot Pelosi's plane down? As president, I would be on that plane.
Times have changed. Red China was a hermit kingdom in 1964 when Rockwell drew that picture. Now Red China is The Problem We All Live With.
After all this controversy, Nancy could not back down because that would show the world that Red China is in charge.
BREAKING: Nancy Pelosi is welcomed and greeted by the Taiwan's leaders on arrival at Taipei airport

pic.twitter.com/CP0IPvVOvn

— Insider Paper (@TheInsiderPaper) August 2, 2022