ITEM 1: The New York Post reported, "Richard Simmons breaks silence, tells The Post he's 'living the life he has chosen.'"
8 years after Richard Simmons suddenly disappeared from public view, he is the subject of a TMZ documentary that explains his retirement.
The media always took him as a joke, but his fans will never leave him. His Sweatin' to the Oldies video grossed $200 million in 1988. That beat every single movie released in 1988. (Who Framed Roger Rabbit was the No. 1 movie at $156 million.)
The Post story reminded me of why this happy little fellow was important. The story said, "Simmons became a beloved figure after he exploded onto the scene in the 1980s with workout videos that were accessible to people of all shapes and sizes."
He got some people who were depressed about their weight to exercise and feel better about themselves. I would say his is a retirement well earned. God bless you, Richard Simmons.
ITEM 2: NBC reported, "A redacted copy of the FBI affidavit used to justify the Aug. 8 search of former President Donald Trump's Mar-a-Lago estate was unsealed Friday, revealing details of the federal government's efforts to recover classified documents, including top-secret information.
"The 36-page affidavit, much of which was heavily redacted, said that in mid-May, FBI agents conducted a preliminary review of the contents of 15 boxes Trump returned to the National Archives from his Florida property in January, and 'identified documents with classification markings in fourteen of the FIFTEEN BOXES.'"
Sure, Jan. Three of the boxes were stacks of newspapers.
Trump as president declassified everything he took to Mar-a-Lago. The National Archives threw a hissy fit. The FBI used that as an excuse to ransack his home.
Everything in the affidavit is an allegation. The press is sloppy in reporting this.
We know what they won't report.
BOOOM!!! pic.twitter.com/C7CkGgLqq5

— il Donaldo Trumpo (@PapiTrumpo) August 26, 2022
ITEM 3: Meanwhile, Fox reported that NYT has DEMANDED that authorities prosecute Trump.
In 1971, NYT published classified documents on Page One.
Talk to the hand, you communist bastards.
Trump's reaction was Trumpy.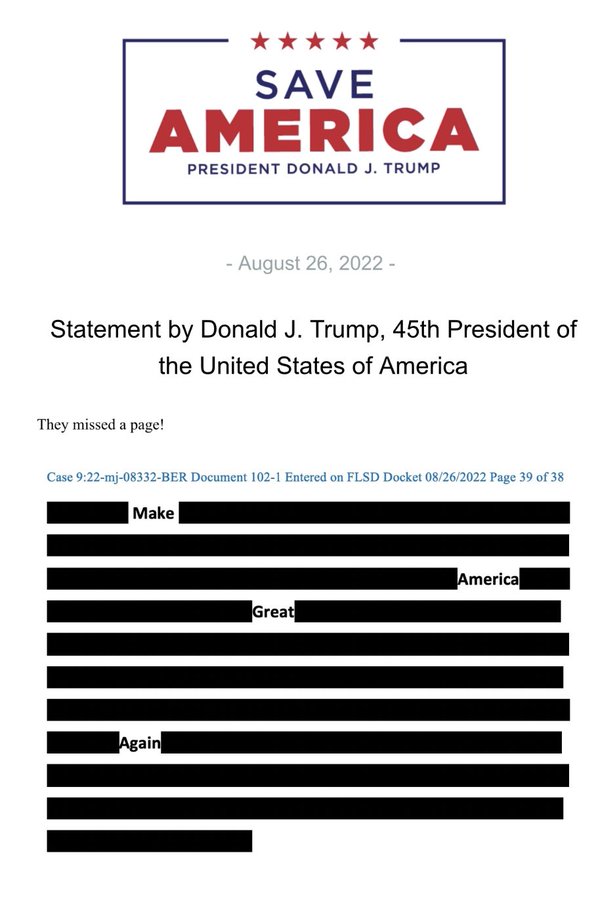 ITEM 4: Vanity Fair reported, "Ashes of Star Trek's Nichelle Nichols Will Boldly Go to Deep Space."
That's great. The ashes of other Star Trek actors and staff are going as well. They deserved it. They inspired continuing to explore space.
But let's not forget it was Lucille Ball who pushed NBC to renew the series after its first season.
ITEM 5: NYT reported, "Jerome H. Powell, the chair of the Federal Reserve, delivered a sobering message on Friday, saying that the Fed must continue to raise interest rates — and keep them elevated for a while — to bring the fastest inflation in decades back under control.
"The central bank's campaign is likely to come at a cost to workers and overall growth, he acknowledged; but he argued that not acting would allow price increases to become a more permanent feature of the economy and prove even more painful down the road.
"Stock prices plunged in the wake of Mr. Powell's comments, as investors digested the Fed chair's stern commitment to raising rates and choking back inflation even if doing so damages growth and causes unemployment to rise. The S&P 500 fell 3.4%, its worst daily showing since mid-June, and investors in bonds began to bet that the central bank would raise rates by more than they had been expecting."
The only known cure for inflation is a recession.
We are in one but it is not deep enough to sink inflation.
ITEM 6: The Epoch Times reported, "DeSantis suspended four Broward County School Board members on Aug. 26, following a grand jury recommendation citing "incompetence, neglect of duty, and misuse of authority."
"A Statewide Grand Jury released a 122-page report accusing the four of a range of 'inexcusable actions… and unacceptable behavior' relating to the Marjory Stoneman Douglas High School shooting on Feb. 14, 2018, when 17 students and staff lost their lives.
"The governor said he took the report's recommendations and decided to act on his constitutional authority as governor."
You're fired.
That was supposed to be Trump's line. Glad to see DeSantis use it.
ITEM 7: Chicks on the Right reported, "Biden Apologizes For Calling On Reporter, 'I Took Control… I'm Not Allowed To Do That.'"
I said Finland is not a serious country for having a Party Girl as PM.
We are no better.
ITEM 8: Axios reported, "Ukraine has enlisted a stable of American and European PR firms to lure business back to the war-torn nation, even as Russian forces continue to occupy swathes of territory in the east and south."
Your big American tax dollars at work to lure American companies to move their factories to Kyiv.
10% goes to the Big Guy.
ITEM 9: Feel good story of the day.
She's 102 yrs old & still working 5 days a week in the @DAYTONA ticket office where she's worked for over 80 yrs… and now, the office is officially named after her. Congrats Lightnin'! Catch her story tonight on @news6wkmg pic.twitter.com/A9yYyf2hvh

— Molly Reed (@Mollyreednews) August 25, 2022
Her parents knew what they were doing when they named her Lightnin'.
ITEM 10: Just the News reported, "The Hungarian Nuclear Energy Authority granted a construction license to the Russian company Rosatom to build two new nuclear reactors at an existing facility in the country, according to Reuters.
"Moscow and Budapest inked a deal on the project in 2014, but a series of delays, not least among them the outbreak of war in Ukraine, which separates the two, have kept the project in limbo.
"Hungary currently maintains a nuclear plant in Paks, which was constructed with Russian aid during the Soviet era. The facility currently boasts four reactors and has a capacity of 2-gigawatts, per the outlet, but the construction plan aims to expand its capacity with two Russian-made VVER reactors, each featuring a capacity of 1.2 gigawatts."
Hungary just gave Zelensky a one-finger salute.
Good.
ITEM 11: The Center Square reported, "Chicago police arrests have dropped 74% from 2012 to 2021, mirroring a national trend.
"The number of arrests in Chicago dropped from 145,390 in 2012 to 38,400 in 2021, according to the city's annual financial report."
That's one way to keep prison costs down.
The story called it the Ferguson Effect.
Democrats want crime. Otherwise, they would crack down.
ITEM 12: His name is Clark.
Mans is out here bringing a bald eagle through TSA at CLT Douglas 😂🦅 pic.twitter.com/zQm0Mlt620

— Elijah Burke (@ElijahWhosoever) August 22, 2022
USA Today reported, "Clark, a 19-year-old bald eagle, traveled through Charlotte Douglas International Airport on Monday, the Transportation Security Administration said."
He lives at the World Bird Sanctuary in St. Louis. The sanctuary said, "Clark was hatched at World Bird Sanctuary's conservation department when we were breeding the then endangered Bald Eagles for release into the wild.
"While all of Clark's siblings were successfully released into the wild, Clark was hatched with scale deformities on his feet. The deformities meant that Clark's feet would not be properly protected from the cold during the winter, and he would suffer from things like frostbite and loss of toes.
"Since Clark is non-releasable, he joined our Eagle Flight Team. Clark started his flight training at a young age, and after months of intensive training, he was ready to begin his career as one of our flying ambassadors."
He always flies Southwest because they are good people.
ITEM 13: National Review reported, "A former Texas fire chaplain who was fired from his volunteer position in December after he wrote blog post critical of biological men competing against women in sports told Fox News the U.S. has 'drastically changed' since he moved to the country more than two decades ago.
"Andrew Fox, who is suing the Austin Fire Department, accusing the department of violating his First Amendment rights, told Tucker Carlson on Thursday that one of the primary attractions of moving to the U.S. from the United Kingdom in 1999 was the First Amendment protections that allow people to 'speak and articulate your thoughts, your concepts, your ideas, religious freedom,' without the threat of government reprisal."
He's a chaplain. His message should be doubly protected by the First Amendment.
ITEM 14: Every time I read something like this in NR, I remember that we had a president who opposed this BS and NR did everything it could to stop him.
I also remember Helen Hunt's line in As Good As It Gets: Why can't I have a normal boyfriend? Just a regular boyfriend, one that doesn't go nuts on me!
The character's mother yells: Everybody wants that, dear. It doesn't exist.
Jack Nicholson played Trump in that movie. We just didn't know it at the time.
ITEM 15: Nick Arama reported, "The Priceless Reaction of Ron DeSantis When He's Asked About Crist Calling Him a Dictator."
DeSantis said, "Over the last couple of years, you had people who kept wanting to lock people down, I was one of the few in this country that lifted people up. We protected people's freedoms, jobs, businesses. We made sure kids could be in school, and we liberated 22 million Floridians from local mandates and restrictions. We protected them against vax mandates so they could keep working."
How do I know someone is not a dictator?

Reporters call him one and harass him.
How do I know someone is a dictator?
Reporters are afraid of him.
ITEM 16: Fox reported, "Pennsylvania high school football game canceled after fight causes false reports of shooting."
The story said, "Amid the commotion, some believed they heard shots being fired which caused players and fans to run for safety."
Welcome to democracy. Chicken Little says he heard a gunshot and everyone runs for cover.
On the other hand, everyone remembers Uvalde and how the cops did nothing but watch.
ITEM 17: WCHS reported, "Nitro holds on to defeat Poca 27-26."
The game was televised live.
The Dots went for two to win the game. That's how men play.
Congrats, Nitro.
FINALLY, right after I get my Baker Mayfield Carolina Panthers jersey, I am ordering this: