Meanwhile…
pic.twitter.com/X81iNRFt1g

— Tammy Bruce (@HeyTammyBruce) August 28, 2022
ITEM 1: Sundance reported, "Here we go. It was only a matter of time before the DOJ-NSD architects of the Trump targeting operation came out from the shadows. This is the moment long-time readers of CTH should have been waiting for. For the past five years Mary McCord has been one of a small and select lawfare group organizing the targeting of President Trump.
"Mary McCord led the support team who created the Carter Page FISA warrant using the Steele Dossier to replace the required 'Wood's file.' McCord was the DOJ-NSD official who traveled with DOJ Deputy AG Sally Yates to talk to former White House counsel Don McGahn which weaponized the Flynn-Kislyak call to remove Trump's National Security Advisor.
"Mary McCord was the person who organized Alexander Vindman and Eric Ciaramella to construct the first impeachment effort. Additionally, it was Mary McCord along with her former legal counsel, turned Intelligence Community Inspector General, Michael Atkinson, who changed the ICIG whistleblower rules allowing an anonymous complaint to underpin the false accusations from Ciaramella against Trump.
"It was also Mary McCord who was appointed by FISA court Judge James Boasberg as an amicus curiae to the court, intercepting issues of false information in filings from the DOJ-NSD to the court as constructed by Kevin Clinesmith."
Yes, there is evil in the world.
There are evil people who would overthrow the American government to gain power.
McCord is a prime example. She reminds me of another Democrat leader.
Jefferson Davis.
ITEM 2: Fox reported, "A federal judge on Saturday announced her 'preliminary intent to appoint a special master' to review records seized by the FBI during its unprecedented raid of his Mar-a-Lago home earlier this month, at the request of former President Trump and his legal team, citing the 'exceptional circumstances.'"
The bad news is it will be Bob Mueller.
Actually, the judge is a Trump appointee. FBI done fudged up when it went to Florida. Gotta play by MAGA country rules in court, Jussie.
ITEM 3: I gotta stop giving Twitter free content.
Democrats reward the mega-billion donors: the college industry

Without loans, sky-high tuition and dorm fees and the like would not be sustainable

The students loaned are pawns who pay for their own indoctrination https://t.co/M0n0uDPyLF

— Don Surber (@donsurber) August 29, 2022
Musk outed Twitter as an Internet Potemkin village.
ITEM 4: The New York Post reported, ""A Ukrainian woman posing as a member of the Rothschild banking family has been outed as a fraud after she allegedly infiltrated former President Donald Trump's Mar-a-Lago estate, according to reports.
"Inna Yashchyshyn, 33, lied to ritzy resort members that she was the heiress to the reputed family's mass fortune, Anna de Rothschild, according to a probe by the Federal Bureau of Investigation.
"She appeared at numerous Mar-a-Lago functions mingling with the likes of Trump, South Carolina Senator Lindsey Graham and others while she held the position as president of United Hearts of Mercy, founded by Florida-based Russian oligarch and former business partner Valery Tarasenko in Canada in 2015, according to the Pittsburgh Post-Gazette.
"After hundreds of thousands of dollars in payments to the foundation, processor Stripe Inc., suspected fraud and halted the funds for the campaign which was supposed to help families devastated by the COVID-19 pandemic."
Set up, like a bowling pin...
ITEM 5: Bleacher Report reported, "Washington Commanders running back Brian Robinson has been shot multiple times in an attempted robbery, according to JP Finlay of NBC Sports Washington.
"The injuries are reportedly non-life threatening.
"Mike Garafolo of NFL Network added Robinson is in stable condition."
Maybe if they call it an insurrection, Congress will do something.
ITEM 7: AP reported that Federal Reserve "leadership has become its most diverse ever. There are more female, black and openly gay officials contributing to the central bank's interest-rate decisions than at any time in its 109-year history. Many are also far less wealthy than the officials they have replaced.
"Over time, economists say, a wider range of voices will deepen the Fed's perspective as it weighs the consequences of raising or lowering rates. It may also help diversify a profession that historically hasn't been seen as particularly welcoming to women and minorities."
Meanwhile, the economy has regressed 50 years to the 1970s when we had high inflation and a recession. Why are all the diversity hires so dumb?
ITEM 8: The New York Post reported, "Overwhelmed city officials are struggling to provide a promised intake center and hotel rooms to migrants being shipped by the busload from Texas to the Big Apple, The Post has learned.
"The Department of Homeless Services acknowledged to The Post that it has abandoned its initial plan to operate an intake and processing center dedicated to the recent arrivals alongside a 600-room shelter at the ROW NYC hotel on Eighth Avenue in Midtown.
"Officials would only say Sunday that they have finally selected a finalist to operate the-yet-to-open Manhattan facility but would not reveal the contractor's name or its location."
Sucks being a sanctuary city now.
ITEM 9: Reuters reported, "British household energy bills to jump 80% to over $4,000 a year."
BoJo reaction was pure New World Order.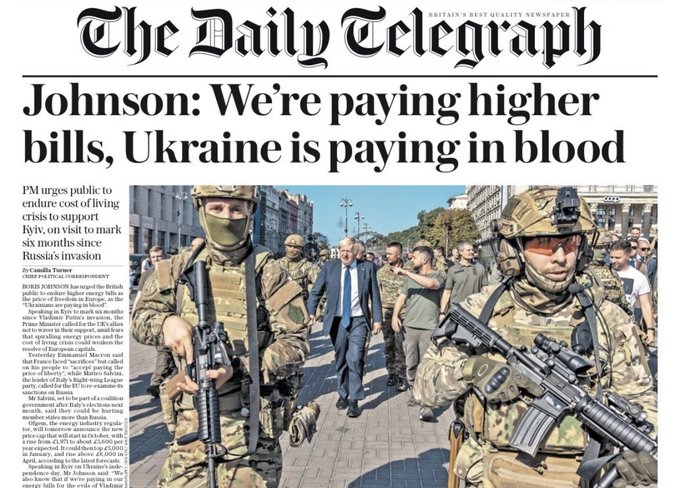 It is Bidenism, which is when your leadership cares more about Ukrainians (or illegal aliens) than you.
ITEM 10: The Baltimore Sun reported, "Producers of a TV series based on a bestselling novel by local author Laura Lippman stopped a downtown film shoot Friday afternoon after receiving a threat of violence, according to the Baltimore Police Department.
"During production of the series Lady in the Lake in the 200 block of Park Avenue, people in the area threatened producers 'that if they didn't cease production, they would come back later' and shoot someone, police spokeswoman Det. Niki Fennoy said in an email to The Baltimore Sun.
"The people 'then told the producers that if they paid them, they would allow the production to continue,' Fennoy said, adding later that the amount was $50,000."
Pay because Democrats neutered the Baltimore police in the Freddie Gray riots.
ITEM 11: Not all heroes wear capes.
In front of Nike in #NYC where animal rights activists were rallying in front. A man comes off the streets and starts mocking the activists and eats Shushka Bob in front of the activists. Activists start yelling at the man#pita #animals pic.twitter.com/puQ1I9EJlV

— Viral News NY (@ViralNewsNYC) August 27, 2022
Protester: "You have blood all over your face."
I believe that is ketchup.
ITEM 12: Zero Hedge reported, "'This Is Beyond Imagination:' Polish Homeowners Line Up For Days To Buy Coal Ahead Of Winter."
The local paper has preached for years that coal is dead.
Its circulation dropped like a rock. Its previous owners went bankrupt. It shares its staff with half the state.
West Virginia has 1.6 billion tons of recoverable coal left.
ITEM 13: Steve Sailer reported, "The single most important fact about crime in the United States is the extraordinarily high rate at which African Americans die violently: almost ten times the rate of white Americans. That's one of the most gigantic racial ratios in all the social sciences."
The key quote: "If you divide the black homicide rate by the white rate to get the racial ratio, you'll find that the races are somewhat less unequal in the South. The lowest black-white ratio at 4.8 to 1 is in West Virginia, where the whites tend to be ornery and the blacks relatively well-behaved."
Fact check, true.
I'll take Black Lives Matter seriously when black people start worrying about the young men in the graveyard as much as they care about black men in prison.
ITEM 14: CNN reported, "Six months after invading Ukraine, Russia is bogged down in a war of attrition it didn't anticipate but it is having success on another front — its oil-dependent economy is in a deep recession but proving far more resilient than expected.
"'I'm driving through Moscow and the same traffic jams are there as before,' says Andrey Nechaev, who was Russia's economy minister in the early 1990s."
The ruble is the fastest growing currency in the world and the United States is in a recession with high inflation. Those are some sanctions that Biden imposed.
ITEM 15: Insider reported, "It's now illegal for anyone under 21 to buy canned whipped cream in New York, officials say it's to stop teens from inhaling nitrous oxide."
Herb Alpert.
Drug pusher.
ITEM 16: The Hill reported, "The FBI said that it routinely notifies private sector entities, including social media companies, of information related to potential threats after Meta CEO Mark Zuckerberg said Facebook limited the distribution of a controversial story leading up to the 2020 presidential election because of an FBI warning.
"The statement followed Zuckerberg's appearance on Joe Rogan's podcast on Thursday in which Zuckerberg said Facebook limited stories on the news feed related to the New York Post's article about President Biden's son, Hunter Biden, and his laptop after the FBI warned the company to be aware of potentially polarizing content."
The Constitution forbids this.

OK, Republicans, punish them.