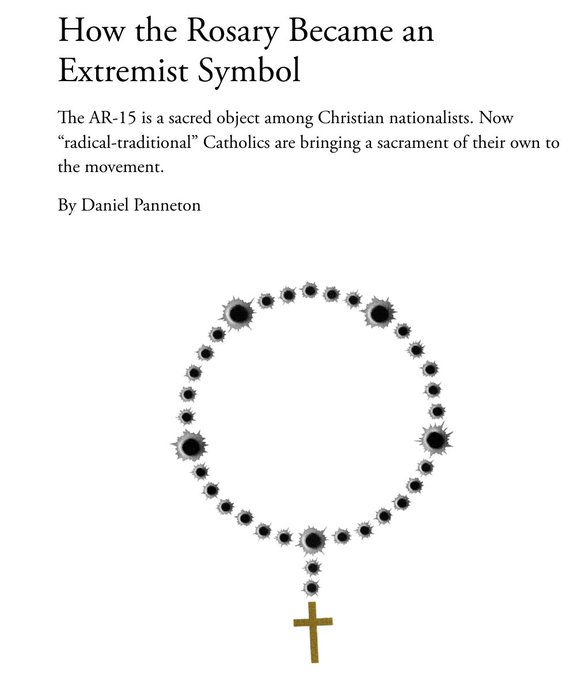 ITEM 1: Catholics understandably are upset with The Atlantic for calling the rosary a symbol of extremism.
But consider it a compliment. Christianity is feared by tyranny because it has brought many a thug down. Upon taking power, Stalin razed the beautiful churches and cathedrals of Moscow. Those beads Catholics hold in their hands help them tap into the most powerful force in the universe.
Prayer works, which is why elitists want it silenced.
ITEM 2: Peter Heck reported, "It's happening: 'LGB drop the T' keeps trending on Twitter as gay activists turn on transgender activists."
Heck wrote, "the transgender movement has brought excess cultural baggage that involves the erasure of sex distinctions in athletics, public locker rooms, bathrooms, dressing rooms, the denial of biological realities, coining of pretend pronouns with bizarre sounding names like zir, mix, and zhe, and even the attempted normalization of age-inappropriate drag performances for children.
"None of that has anything to do with the original objectives, intents, and purposes of the lesbian, gay, and even bisexual equality movement. And it seems as though there is a growing, and increasingly vocal contingent of those individuals who have had enough."
Trying to kick Martina Navratilova to the curb has consequences. I mean, even Bruce Jenner (now Caitlyn) thinks the T-girls went too far.
ITEM 3: Breitbart reported, "Only 84 days remain until the November 8 midterm elections, and House Republicans are preparing to smother Democrats with a massive $180 million ad blitz, Breitbart News has learned exclusively."
Will it offset the billion dollars in free promotion Democrats will get from TV news?
ITEM 4: DeSantis speaks truth to power.
WATCH — Florida Gov. Ron DeSantis on FBI raid of Trump's Mar-a-Lago:

"I'm trying to remember — maybe someone here can remind me — about when they did a search warrant at Hillary's house in Chappaqua when she had a rogue server and she was laundering classified information." pic.twitter.com/8ArZ0gAKeg

— Breaking911 (@Breaking911) August 15, 2022
The sound is beautiful.
ITEM 5: AP reported, "The Justice Department on Monday rebuffed efforts to make public the affidavit supporting the search warrant for former President Donald Trump's estate in Florida, saying the investigation 'implicates highly classified material' and the document contains sensitive information about witnesses.
"The government's opposition came in response to court filings by several news organizations, including The Associated Press, seeking to unseal the underlying affidavit the Justice Department submitted when it asked for the warrant to search Trump's Mar-a-Lago estate earlier this month.
"The court filing — from Juan Antonio Gonzalez, the U.S. attorney in Miami, and Jay Bratt, a top Justice Department national security official — argues that making the affidavit public would 'cause significant and irreparable damage to this ongoing criminal investigation.'"
The only criminality in this investigation is by the FBI.
By going to Florida, they screwed up. They won't get a DC jury when they are tried in 2026 or so.
AMAZING WOMAN:
🇺🇸 How man American presidents could you name 🇺🇸 pic.twitter.com/5iliiJ3avP

— Citizen Free Press (@CitizenFreePres) August 15, 2022
Name the one president she left out. And no, I could not name that many off the top of my head.
ITEM 6: Just the News reported, "Former President Trump on Monday accused the FBI of stealing his passports during the raid last week of his Mar-a-Lago estate in Florida."
You need a court order to do that. Prosecute.
In a separate report, Just the News said, "In an acknowledgment the FBI over-collected evidence during the Mar-a-Lago raid, the Justice Department informed Donald Trump's team Monday that agents seized the former president's passports and are obligated to return them, Just the News has learned.
"The department was making plans Monday evening to return the passports and has also alerted defense lawyers the FBI may have obtained materials covered by various privileges that will be returned in the next two weeks, two sources told Just the News."
Two weeks?
Send Garland to prison for two years for that.
ITEM 7: We Love Trump reported, "FBI Erects Barricade Around DC Headquarters."
Great.
Make them all stay there 24/7/365.
ITEM 8: The Washington Examiner reported, "The effort to recall Los Angeles District Attorney George Gascon has failed to gain enough support for ballot qualification.
"A total of only 520,050 of the 715,833 signatures collected in the recall effort were valid, the registrar-recorder's office in Los Angeles County announced. The recall effort needed 566,857 signatures to qualify."
Rejecting 28% of the signatures is one way to keep a pro-criminal Democrat in office.
ITEM 9: News Busters reported, "ABC on Monday avoided the words Joe Biden while recounting one year of Taliban rule in Afghanistan. Reporter Ian Pannell lamented how sad, isolated and hungry the country has become in the wake of the takeover, but never mentioned the President who presided over the collapse. NBC and CBS Didn't do much better, saying Biden's name just once each."
NBC chose the peacock as its mascot because it wanted to promote its programs that were in living color.
The ostrich now is the mascot for all three networks with its head in the sand.
AP also failed to mention Biden -- the man who decided to surrender.
ITEM 10: David Hawkins reported, "Laura Ingraham Turns on Trump: 'Maybe It's Time to Get Someone Who Has All Trump's Policies, Who's Not Trump.'"
Maybe it's time to get someone who has her timeslot who's not her.
As Tina Turner sang:

You know, every now and then
I think you might like to hear something from us nice and easy
But there's just one thing
You see we never ever do nothing
Nice and easy
We always do it nice and rough
So we're gonna take the beginning of this song
And do it easy
But then we're gonna do the finish rough
This is the way we do
Proud Mary
.
ITEM 11
:
The Epoch Times reported
, "San Bernardino County, California's largest geographically, will put the question of seceding from the state on the ballot in November. It is so fed up with California's leaders, with no prospect for change, that it is seriously considering leaving to become its own state."

West Virginians: Been there, done that, would do it again.
ITEM 12
:
Yahoo Sports reported
, "The Tampa Bay Buccaneers have reached agreement with free-agent defensive end Carl Nassib on a one-year deal, ESPN's Adam Schefter reports.
"Nassib, 29, most recently played two seasons with the Las Vegas Raiders. He's best known for coming out in 2021 as the NFL's first active openly gay player."

The Buccaneers.
Of course.
ITEM 13: The Daily Caller reported, "Ford Raises Electric Truck Price By Up To $8,500 After Democrats Pass $7,500 EV Tax Credit."
The Inflation Rejuvenation Act.
ITEM 14: Fox reported, "Illinois health care workers who were fired or otherwise impacted by their hospitals' COVID-19 vaccine mandate will receive a $10 million settlement after filing a lawsuit challenging the rule."
Good.
Make the governor pay it. He's a billionaire. He's also a bully.
ITEM 15: Weirld (cq) News reported, "On Tuesday, August 7th, 43-year-old Kurt Michael Fulton was arrested after he allegedly hid cherry pies, VHS tapes, and other various items underneath the parked cars of women drivers so he could see them bend over and pick them up whilst he watched from a distance with binoculars."
He's weird but what about those purple-haired teachers who are grooming kindergarteners?
FINALLY:
The good news about this season is the Red Sox are single handedly ending childhood obesity. Bravo 👏 pic.twitter.com/R2LWniKs28

— Thomas Carrieri (@Thomas_Carrieri) August 9, 2022